Race Report - Ventura County Stage Race
By Neil Shirley
5/22/09 - I have to admit it's been a while since I climbed onto the top step of a podium. I think I nearly forgot how to do a victory salute. Well, after two days and three stages of hard racing in Ventura County I was fortunate to put my first check mark in the win column this season.
Ventura County Stage Race started off with a 1.7 mile technical Prologue through the old Downtown. It was a good venue with plenty of shops and restaurants to choose from. Justin Kerr from Liquid Fitness smoked the time trail to take the yellow jersey. Brandon Gritters of Kahala-La Grange was second and I rounded out the podium in third. Time gaps were so close that everyone knew it would really come down to the next two stages to determine the overall winner.
Stage one's criterium was in the same location as the time trial, smack dab in the middle of Downtown. By the time 6:30 pm rolled around the streets were abuzz with spectators. The 75-minute crit was going to be a tough one. Each lap had a hill in it that was going to bite the legs each time up. The race started out aggressively with the teams firing guys up the road. I attacked a few times before I was able to finally get a gap. Strong-man Rudy Napolitano from Liquid Fitness bridged across to me and then it became a two man time trial for the next 30 minutes. We worked well together and with two laps to go I was able to get a small gap and hold on for the win. Rudy took second and a hard charging Eric Barlevav from Mountain Khakis won the sprint for third. With the win I was able to take the race lead.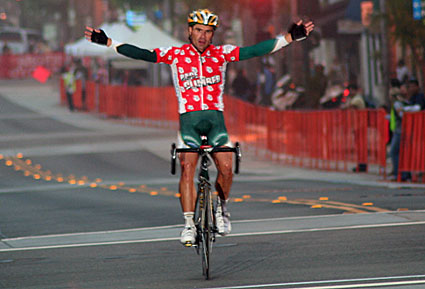 Neil Shirley (Kelly Benefit Strategies) had a succesful weekend at the
Ventura County Stage Race winning both the criterium and Overall GC.
photo © SoCalCycling.com

Stage two was up the hill from Ventura in Ojai, a small touristy town that was the home to the Garrett Lemire Grand Prix the last few years. The organizer had found a great 5.5 mile circuit outside of town. Each of our 11 circuits included a 1-mile climb that was in the 7-8% range. Although the climb was hard I knew the temperature would be as big of a factor on the race as the course. While Saturday was overcast with cool temperatures Sunday was the opposite. It was sunny and dry with temperatures reaching in the 90's. It was a shock to my body going from extreme to extreme. Sunday would be the true test.
Without any teammates to help control things and one minute in time bonuses up for grabs throughout the stage I would need a little luck to pull off the overall win. The race actually started out fairly leisurely the first couple of laps. I think everyone knew it would be a hard day by the end. Kahala-La Grange sent Anthony Aker up the road to collect KOM points and in doing so got quite a nice gap of three minutes. I was fine with riders going solo especially with still more than half the race to go. But when Roman Kilun from Ouch went up the road I started to get nervous. Roman won multiple NRC races last year and is not someone you want to let off the leash. With Roman's lead building to almost two minutes I had to go on the attack. I waited until the base of the climb on lap six and attacked the climb as hard as I could. I got a gap over the top and started my time trial in pursuit of the leaders. It took two full laps to finally catch Roman but once I was there I knew I had the race wrapped up. We rotated together for the last four laps and Roman took a deserving stage win and moved himself up to second overall.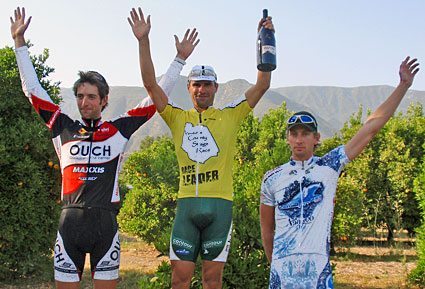 Ventura Stage Race Overall GC: 1st Neil Shirley (Kelly Benefit Strategies),
2nd Roman Kilun (Team Ouch) and 3rd Justin Kerr (Liquid Fitness) .
photo © SoCalCycling.com

I was especially impressed with Corey Farrell from Swamis and Vincent Owens of Lombardi Sports. They both had breakthrough rides this weekend. Watch out for them in the future. Overall, I was really happy to get through the weekend with good results but also great training and a confidence boost going into my next goals of the season. Up next on my schedule is Air Force Classic Clarendon Cup (formerly CSC Invitational) in Arlington May 30 and the Air Force UCI road race the 31st. The next weekend is the big one, Philly. After that I will either be doing Tour de Beauce or Nature Valley Grand Prix.