News

Landis on Larry King Live Tonight
7/28/06 - In a prime-time exclusive, Tour de France champ Floyd Landis speaks out on his positive drug test tonight at 9 p.m. ET on CNN (6 p.m. on the West Coast).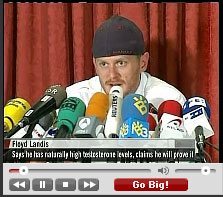 ESPN Video Coverage: News Conference, Teleconference, Lemond, Eustice
What Do You Think?
Landis Denies Doping Allegations
7/27/06 - Tour de France winner Floyd Landis insisted on Thursday he was not a drugs cheat despite failing a dope test which threatens to see him stripped of his title and sacked from his team. "No, c'mon man," Landis told Sports Illustrated when asked if he did it. The 30-year-old tested positive for testosterone, his Phonak team said. They also insisted that he would be sacked if the B sample confirmed the result. more >
Landis Tests Positive
7/27/06 - The Phonak Cycling Team confirmed Thursday that Tour de France winner Floyd Landis is the rider who submitted a positive "A" sample following the 17th stage of this year's Tour de France. Landis tested positive for high levels of testosterone during the race, his Phonak team said in a statement issued Thursday. The statement came a day after the UCI, cycling's world governing body, said an unidentified rider had failed a drug test during the Tour. More >
Frankie Andreu Fired from Toyota-United Pro Cycling Team
7/26/06 - Frankie Andreu has been relieved of his duties as co-Team Director of the Toyota-United Pro Cycling Team, it was announced today by Team Owner Sean Tucker. "Frankie has contributed greatly to this team's success and helped with the team's early development. Unfortunately, due to other obligations and commitments, Frankie was not able to fulfill his contractual obligations," said Mr. Tucker. "This left us no choice but to terminate our relationship. We do wish him only the best as he pursues other interest. Harm Jansen will continue as Team Director for Toyota-United, and we are fully confident that Toyota-United will continue to be successful throughout the rest of the season." More on VeloNews >
Chevron Manhattan Beach Grand Prix Set for August 13
7/25/06 - The 45th Annual Chevron Manhattan Beach Grand Prix will take place Sunday, August 13, 2006, race officials announced. Record crowds are anticipated to support over 1,000 racers battling for $25,000 in prize money and the coveted winners' jerseys. More than 10,000 cycling fans will join the festivities and witness the two main events: the Women's Pro Race beginning at 11 a.m. and the Men's Pro Race at 1 p.m. This year's Chevron Manhattan Beach Grand Prix will also crown the Inaugural Women's Cycling Challenge champion. The Cycling Challenge was created for woman racers in Southern California and Nevada of all levels, to encourage and support participation in the sport.

Tour Withdrawals
7/24/06 - Is anyone else out there suffering from Tour withdrawals? The last three weeks I have become accustomed to waking up and turning on OLN for my Tour fix everyday. Of course, I couldn't wait to know what happened, so I'd log onto VeloNews, like an addict, to see how the stage went down before even watching it. Today I got up, brewed my cup of joe and felt lost cause the Tour was no longer on the tube. Before I started to shake and sweat, I got online and got a partial fix, since there was some post Tour coverage. Thankfully, I didn't have to quit cold turkey, like the time I decided to quit caffeine for a month. Is there a TDF Anonymous for TDF junkies?
National Championships Race Report - By Dan Vinson
7/21/06 - This year's National Championships were appropriately held at the Seven Springs resort in Champion, Pennsylvania. Week one consisted of Junior and Elite Championships, while the second week was reserved for the U23 and Masters competitions. I went out to do the Elite road race and all three Masters events (time trial, criterium, and road race). Before leaving on my trip, my form was pretty good and I was looking forward to the racing. Even more, I was looking forward to escaping the heat wave that we were experiencing here in California! more >
Landis Wins Tour de France
7/23/06 - Floyd Landis enjoyed a celebratory ride into Paris today to claim the 93rd Tour de France. Thor Hushovd (Credit Agricol) won the field sprint on the Champs-Elysées. I am not surprised by Floyd's victory at all, as he has proven himself this year as a leader with overall wins in the Tour of California, Tour de Georgia and Paris Nice. I was also not surprised by his comeback to erase an eight minute deficit and ride back into Yellow. There was a time in the late 90's when Floyd was a Pro mountain biker and raced the Devils Punch Bowl Road Race as a Cat 4 starting several minutes behind the Pro 1/2 field. Floyd went on to catch and pass all of the Pro 1/2 riders and just kept on going. Congratulations Floyd! Savor the moment!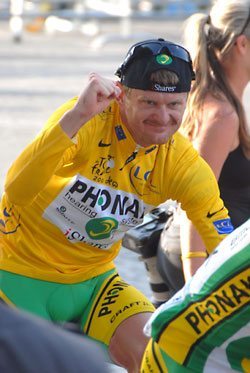 Floyd Landis (Phonak) celebrates his first
Tour de France victory on the Champs-Elysées.
Photo © Paul Strauss
Mission Accomplished, Back in Yellow!!
7/22/06 - Floyd (Phonak) managed to snatch the Yellow Jersey off of Oscar Pereiro's back by pulling off a much needed fast time trial. His effort was good enough to finish third on the day, 1:11 behind Sergei Gontchar (T-Mobile) and 41 seconds behind Andréas Klöden (T-Mobile). Now Landis can cruise into Paris in Yellow and enjoy his efforts on the Champs-Elysées with a sweet glass of bubbly. I think I'll join him!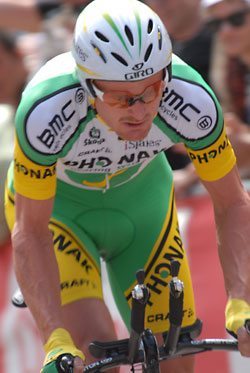 Floyd Landis (Phonak) on cruise control heading for Yellow in the final TT.
Photo © Paul Strauss
Amgen Tour of California Announces 2007 Host Cities
7/20/06 - Between the opening Prologue in San Francisco and the finale in Long Beach, the 2007 race will visit 12 host cities for official stage starts and finishes, while the many communities along the route will have the opportunity to witness the excitement of elite bicycle racing. Host cities for the eight daily stages include: San Francisco, Sausalito, Santa Rosa, Sacramento, Stockton, San Jose, Seaside, San Luis Obispo, Solvang, Santa Barbara, Santa Clarita and Long Beach.

Landis Blows Race Apart and Wins Stage 17
7/20/06 - As I predicted, Floyd opened his big can of whoop ass on the rest of the field today during the 200.5 km stage from St. Jean de Maurienne to Morzine. Floyd didn't have anything to lose and had everything to gain by launching an early solo attack 125 k from the finish. He managed to ride himself back into contention for the Overall GC and now sits just 30 seconds out of the lead. This was a ride that will go down in Tour de France history. Get ready for the Time Trial on Saturday, when he busts out the next can!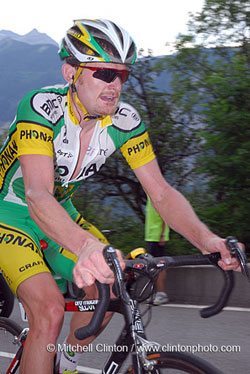 Floyd Landis (Phonak) on his way to taking the yellow jersey on L'Alpe d'Huez.
Photo © Mitchell Clinton / www.clintonphoto.com
Free Women's Cycling Clinic on July 23 at Pasadena Incycle - Flyer >
Detonation for Landis
7/19/06 - Luck was not on Floyd's side today, as he blew into a million pieces up the final climb to La Toussuire. The great thing about stage racing is if you have a bad day, you get another chance the next day to come back and put in a good ride. Unfortunately, when you are wearing the Yellow Jersey in the Tour de France and blow hard you may not get the chance to get the jersey back, if you lose too much time. From what I've seen, Floyd is taking it in stride and has a good attitude. I am betting that Floyd ceases this opportunity to open a major can of whoop ass on his opponents in the next few days.
Cycle for Life Crit 1/2 Race - Video by Ken Kendall
Congratulations to the SoCalCycling.com Team on finishing 1,2!!!
Landis Regains Yellow Jersey as Schleck Wins Race Up L'Alpe d'Huez
7/18/06 - American Floyd Landis reclaimed the Tour de France's overall lead Tuesday, taking back the yellow jersey after an uphill finish on the famed L'Alpe d'Huez. The 15th stage, won by Luxembourg's Frank Schleck, was the first of three straight days of grueling Alpine treks, which are likely to identify the top contenders to win the first Tour of the post-Lance Armstrong era. more >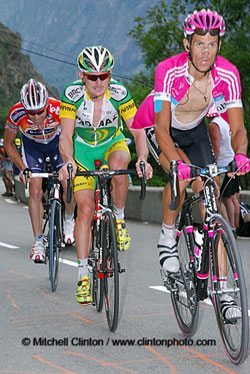 Andreas Kloden (T-Mobile), Floyd Landis (Phonak) and Cadel Evans
(Davitamin-Lotto) climb L'Alpe d'Huez.
Photo © Mitchell Clinton / www.clintonphoto.com
Surf City Cyclery in Huntington Beach to Celebrate it's Grand Opening on Saturday, July 29th!!
7/18/06 - Surf City Cyclery, the nation's largest Specialized Concept Store, will celebrate its official Grand Opening on Saturday, July 29, 2006. With almost 11,000 square feet of floor space, Surf City Cyclery offers the consumer an unparalleled selection of bikes, parts, accessories, and clothing, as well as a state-of-the-art, fully staffed service department. In addition to Specialized, Surf City Cyclery carries complementary bike brands such as Felt, Bianchi, Ridley, Litespeed, Yeti, and Intense. Some of their other apparel selections include Castelli, Fox, Shebeest, Pearl Izumi, Descente, Giordana, Nema, and Sidi. more >
What Do You Think?
USA Cycling National Festival at Seven Springs, PA
7/15/06 - Congratulations to the So Cal riders that recently won the National Championship Title in their respective categories. Full Results and Coverage >
Trebon, Gould Take Elite Mountain Bike Titles
7/15/06 - Two first-time winners stood atop the podium at the 2006 USA Cycling Mountain Bike National Championships brought to you by X-Fusion Friday as Ryan Trebon (Corvallis, Ore./Kona-Les Gets) and Georgia Gould (Ketchum, Idaho/Luna) captured national titles in the elite cross country event. Their surprising performances earned them each an automatic nomination to represent the United States at the 2006 UCI Mountain Bike World Championships later this summer in New Zealand and represent a possible changing of the guard on the domestic pro mountain bike circuit. more >
David Clinger in Prison After a Bar Room Brawl
7/13/06 - According to the Reading Eagle David Clinger, who was back east racing at the T-Town Velodrome, was arrested after getting into some fisticuffs with a female bar customer at the Toad Creek Bar in Topton, PA. He was imprisoned in lieu of posting a $5,000 bail. I've been to T-Town and don't recall the Toad Creek Bar, just lots of diners. more >
Landis in Yellow, Leipheimer 2nd in Epic Stage!
7/13/06 - Floyd Landis and Levi Leipheimer both had great rides in today's epic mountain stage, which covered five grueling mountain climbs. At the end, a select group formed that included Denis Menchov (Rabobank), Levi Leipheimer (Gerolsteiner), Floyd Landis (Phonak), Cadel Evans (Davitamon-Lotto and Carlos Sastre (CSC), with Evans and Sastre eventually coming off. Menchov won the three up sprint, with Leipheimer taking 2nd and Floyd 3rd with enough time over Cyril Dessel (Ag2r) to move into Yellow. Unfortunately, Hincapie lost 21:23 and is no longer in the GC hunt. Perhaps the Jenny Craig weight loss plan caused a loss of power. Full Story and Video >
Zabriskie Podcasts, the DZ Experience
7/12/06 - The TV interviews with Dave Zabriskie only give you a small glimpse of this off the wall dude. To get the full DZ Experience check out his podcasts, where he talks about mullets and Eric Zabel's ring tones. Like I said, Zabriskie should be tested for Psychedelic Drugs .... or maybe we just need to take them to maximize the DZ Experience.
7-Eleven Serves up Free Slurpee Drinks because it is 7/11!
7/11/06 - Every year, July 11 marks the day that the world's No. 1 convenience retailer observes its birthday. This year is 7-Eleven's 79th year in business, longer than any other convenience retailer in the world. To celebrate, participating 7-Eleven stores across America will serve up 3 million free 7.11-ounce Slurpee drinks in special "Happy Birthday!" cups to customers as long as the cups last. Get your Slurp on for free!
Will Ride for Food
7/10/06 - Seems like the "Studs in Spandex" got together for another ride in Malibu and forgot their wallets this time. Matthew McConaughey was caught on tape bumming money off of the paparazzi for some sandwiches. Is it just me, or is Lance starting to look like a Master's rider?
Floyd Landis to Undergo Hip Replacement Surgery After the Tour
7/10/06 - Floyd is suffering from a degenerative condition called osteonecrosis, or bone death, in his right hip. This was caused by a bike crash that broke his hip a few years ago while training. This surgery will help alleviate the pain he has been suffering through. We wish Floyd a speedy and complete recovery! New York Times Article >
Tour Observations

Floyd is so confident in his form, that he is faking mechanicals to give his competition a chance
Bobby J as team leader = Bobby J crashing in the TT
Leipheimer TT = WTF?
Yellow shorts are a fashion don't, if you know what I mean!
Zabriskie should be tested for Psychedelic Drugs
Tom Boonen is the New Sexy
Brokebike Mountain
7/7/06 - Lance Armstrong was recently seen pedaling around LA with Brokeback Mountain star Jake Gyllenhaal and Matthew McConaughey. "You are too much for me Ennis. I wish I knew how to quit you". video >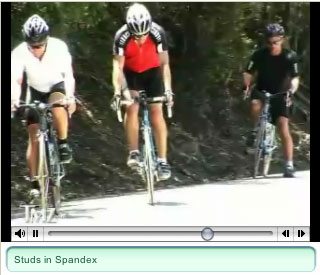 Breaking Away
Early on, Floyd Landis Learned the Last Shall Be First. Then Came the Tour de France.
7/7/06 - Landis's family was devout -- church was at the center of their lives, and there was no television, or radio other than Christian broadcasts -- but, as many Mennonites do, they made compromises with the outside world. Paul Landis owned a carwash and laundromat. Floyd Landis attended public school, where most of his friends were non-Mennonites. That's how he got gradual tastes of the world beyond Farmersville -- though at times they were too much to bear. When he was about 8, he spent the night at a friend's house, where he watched "Jaws" on video. It terrified the uncorrupted boy."I didn't sleep all night," Landis says. "I just lay there shaking. I was scared. They all just sat there watching it like it was normal. I was thinking, 'What is wrong with these people?' " more >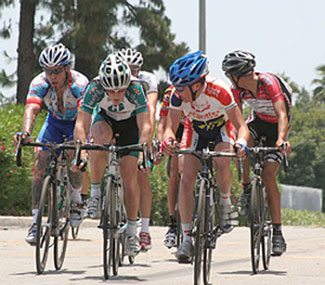 The winning break works together at La Mirada, trying to survive the heat.
photo © Kennybz.com
Sheryl Crow Talks about Armstrong, Cancer
7/6/06 - Sheryl Crow says it was difficult to be apart from ex-fiance Lance Armstrong after she was diagnosed with breast cancer earlier this year. "It was difficult, you know," Crow tells Vanity Fair magazine in its August issue. "I know he wanted to be there." Crow and Armstrong announced their breakup in February. The 44-year-old rocker says the split was "devastating" for both of them. "I do think about Lance every day," she says. "And I think about his kids every day." When Crow learned she had cancer, she contacted the seven-time Tour de France champion, who was on a solo road trip from Lake Tahoe, Calif., to Oregon. more >


Cut pro rider Carlo Dieckmann took first place in the premier Freeraid Classic Dirt Jump competition at Les 2 Alpes, France.
Watch out for the Green Hands and Happy 4th of July
7/4/06 - So far the Tour has provided enough excitement that I have not really missed Basso and Ullrich yet. I am sure once they hit the mountains that may change. The prologue was a nail biter as the seconds ticked away as Floyd was MIA for 6 seconds. Then Hincapie narrowly missed winning the Prologue by less than one second. George raced smart in Stage One picking up a few seconds in the intermediary sprint and moved into Yellow, while poor Thor Hushovd nailed a few spectators and a green PMU hand in the sprint causing massive bleeding. Stage 2 featured a 2 man break from the first k and some great sprint action during the intermediary sprints and finale with Thor slipping back into Yellow after pulling out of his pedal. The green hands are now banned in the last 2 k, but that still doesn't stop those crazy spectators from hanging over the barriers and frantically waiving some other foreign object around! Vive le Green Hands!