Cycling News

Astana Wins Giro Team GC, Looks Toward the Future Despite Financial Difficulties
5/31/09 - The Astana Cycling Team won the Team's classification in the Tour of Italy. The team under the guidance of Johan Bruyneel, Alain Gallopin and Viatcheslav Ekimov had an advantage of 24 minutes and 15 seconds over Team Columbia-High Road and 27 minutes and 17 seconds over Serramenti PVC Diquigiovanni – Androni. "I am not disappointed", said Levi Leipheimer in Rome. "Over the three weeks, there were five guys a bit stronger than me. Basically I decided to do the Giro more out of preparation for the Tour de France. I raced here against riders that were really targeting this race. What makes me happy is that I finished the Giro a lot stronger than last year and that we rode as a real team. Lance Armstrong proved to be a good domestique, but also Steve Morabito, Andrey Zeits, Jani Brajkovic, Chris Horner, Dani Navarro , Yaroslav Popovych and Chechu Rubiera gave me a ton of support. Of course I would have preferred to win a stage. In the historic time trial of Cinque Terre I was very close to it, but already there Denis Menchov was better. Today, I preferred not to take any risk." Lance Armstrong was more than happy with his 12th place in the overall GC. "I came in open minded. I did not know what to expect, obviously because of the crash in Castilla y León, the time off the bike and the trip over here. In my view it has been a hard three weeks. In the second half of the race I showed that I was certainly getting better and I think we can take that away from here. It is promising for June and July. I may have disappointed some fans and people in the pressroom expecting that I immediately should start winning big races. That is crazy. I am almost 38 years old. Both of my feet are firmly on the ground. It's taking a lot of work up to this point but we might ride strong and be in the front in July." The next races for the Team are the Tour of Luxemburg, Dauphiné Libéré, Tour de Suisse and Tour de France. "I am hopeful and confident that we can ride those races", tells Team Manager Johan Bruyneel. "The financial woes that left salaries unpaid are not completely resolved yet. I hope that the team sponsors will meet the deadline for the bank guarantee and the payments. Moreover the UCI now wants more guarantees about the team for the rest of the year. The UCI will decide soon about the near future of the Team. We hope to know more in the coming days. The best solution is that we can continue with our current structure. I expect that we will have a team at the start of the Tour de France."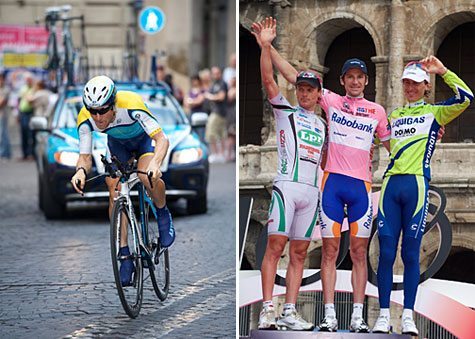 Leipheimer tackles the final time trial in Rome and hangs on to 6th GC at the Giro d'Italia.
Final GC: Denis Menchov wins the Giro, Di Luca put up a good fight for 2nd, with Pellizotti in 3rd.
photo © Mitchell Clinton / www.clintonphoto.com

The Amazing Race's Phil Keoghan & NOW MS Society Profile
By Kendall Seyer
5/30/09 - Do you think your training schedule is tough? Phil Keoghan of CBS's The Amazing Race just completed a cross-country bike ride: 41 days, 3,500 miles and one great cause—to raise money and awareness for The National Multiple Sclerosis Society. He persevered across snowy treacherous Rocky Mountain passes, gusty Midwest winds, a nasty crash on slippery railroad tracks and endless days of pouring down rain to make his goal and exceed everyone's fundraising expectations—nearly half a million dollars! When he's not making headlines across the country and around the world, bikes are a big part of Keoghan's life. He trains and races with a great team to back him. Here's a favorite story about the team as told by Keoghan himself: It was an early weekend morning on a group ride when I stopped to help a fellow rider, Abigail, fix a flat. We were soon joined by Louise and Barry, two more from our cycling clan. All decked out in our team kits, we must have looked like a small growing army alongside Pacific Coast Highway in Malibu. As we joined forces, we heard a lone rider, who had stopped with his own mechanical issue, yell out from across the road, "Wow ... you guys really stick together, huh? I didn't even get a wave from my guys." more >
IMBA Announces Opportunity for New Mountain Bike Access in Marin County
5/28/09 - California State Parks has announced a proposal to open a singletrack trail for mountain biking in Marin County, on the shoulders of Mt. Tamalpais. The agency plans to allow bicycle use on the 4-mile Bill's Trail segment, and is soliciting public comments on the project. The commentary period ends on 6-26. "I'm urging mountain bikers across the country to send comments in support of this project," says Mike Van Abel, executive director of the International Mountain Bicycling Association (IMBA). "It's hard to imagine a more important location than Marin, where mountain bikers have worked incredibly hard to regain access to the very trails that helped bring our sport into the world." This landmark opportunity is the direct result of more than three years of partnership building with the parks department by IMBA California, Access4Bikes and the Bicycle Trails Council of Marin. A successful opening of Bill's Trail will set the stage for bicycle access to several other singletrack trails in Marin, which is widely considered to be one of the birthplaces of modern mountain biking. Despite its historic role, Marin has seen precious few opportunities for mountain biking open to the public in recent years. IMBA issued a call to action, asking mountain bikers to tell California State Parks that they support the decision to open Bill's Trail to bicycles.Within 24 hours of posting the alert, IMBA has recorded nearly 1,000 comments that have been submitted in favor of mountain bike access. A small number of local hiking and equestrian groups have vowed to fight against any new access for mountain biking in Marin County, despite plentiful evidence that well-designed trails can be successfully shared by various user groups, and that mountain biking is a sustainable, low-impact form of recreation. California State Parks is expected to announce opportunities for bicycling on other nearby routes in upcoming months.
Astana's Chris Horner is Sidelined with a Tibia Fracture
5/28/09 - An MRI scan in San Diego revealed a hairline crack in the lateral tibia plateau of Chris Horner's left leg. Horner crashed in the 10th stage of the Tour of Italy (Cuneo-Pinerolo), where he finished the stage but he was unable to start the next stage. After one week of rest Horner resumed his training but has been suffering from leg pain. Horner will have to rest for two more weeks, but the injury should heal rapidly and he still hopes to ride in the Tour de France. Horner has had some bad luck with crashes this season and also fractured his collar bone and a rib in the Tour of the Basque Country earlier in the season.
Former World Champion Judith Arndt Returns to Racing in Montreal World Cup
5/27/09 - Columbia-Highroad's former World Champion Judith Arndt will make her return to racing in the Montreal World Cup in Canada following a period of almost eight months off the bike. Arndt broke her collarbone early in the season and then on her return race in Holland this Spring, she crashed and broke her wrist. But doctors have finally given Arndt the all-clear. Arndt will return to racing in the Montreal World Cup this Saturday, a race she has twice won – in 2008 and 2006 – and finished another three times on the podium. Her teammate Mara Abbott has also finished second in the race, back in her World Cup debut in 2007. "Judith's still in pain and it's not going to be easy, but she's extremely motivated," commented Columbia-Highroad women's team manager Petra Rossner. "Part of the problem with the wrist injury was that she had an uneven position on the bike and it was very hard to train. She's made up for that as best she could with a lot of running. She's only raced 30 kilometres since the World Championships last October, and to get good race condition she'll need to do exactly that – race." The only road cycling World Cup event to take place on the North American continent, Montreal is famous for being one of the toughest on the calendar. The main challenge will be the Mont Royal climb, to be tackled 11 times on Sunday, making a total race distance of 110.6 kilometres. Team Columbia-Highroad for Montreal World Cup: Mara Abbott (USA); Kim Anderson (USA); Judith Arndt (Ger); Kate Bates (Aus); Ellen Van Dijk (Hol); Alex Wrubleski (Can).
Video - Climbing Techniques and Tips
5/26/09 - CycleFilm has produced a video that contains some great tips on climbing techniques. Whether you enjoy climbing the switchbacks of GMR (Glendora Mountain Road) for fun or are looking to drop your competitors in the next road race it is worth watching.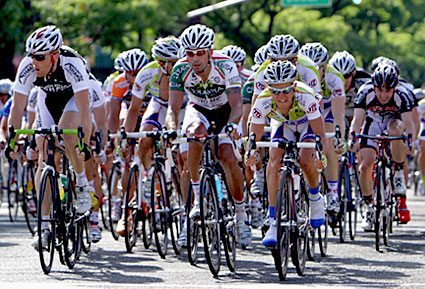 Team Type 1's Fabio Calabria heads the Kugler-Anderson Memorial men's pro race at
the Lantus Tour of Somerville. The Australian was one of seven riders who have
Type 1 diabetes who competed in the afternoon of racing.
photo © Marco Quezada Photography

District Road Race Championships Come to Bakersfield June 6th and 7th
5/25/09 - The 3rd Annual Golden Empire Classic/SCNCA District Road Race Championships are ready to roll June 6th and 7th in Bakersfield CA. The event will feature a challenging 32 mile loop consisting of farm roads and rolling hills North of Bakersfield. One moderate climb with a rising straight to the finish will test the racing savy of all categories. District Champion jerseys will be awarded in all masters and elite categories and there is racing for Category 5/beginner racers, as well. This is a quality race with an excellent road championships course! Please visit kernwheelmen.org for more information.
SoCal Junior and U23 Riders Represent Team USA in Europe
5/24/09 - Team USA scored at the Interland International Juniors Track Races at the new Dutch Velodrome and future site of the UCI World Track Championships in Apeldoorn, Holland. Team USA's SoCal contingent includes Coryn Rivera (Proman), Kendall Ryan (NOW MS Society), Kit Karzen (NOW MS Society), Danny Heeley (SBW), Ian Moir (Rock Racing), Iggy Silva (Rock Racing), Justin Williams (Rock Racing), Eric Bennett (NOW-MS Society) and Austin Carroll (BMC). Karzen and Heeley won a first ever international junior madison along with Coryn Rivera who took the girls Derny race. Moir was 2nd in the points race and Karzen 2nd in the Derny race. The US competed in the historic premiere start in the girls madison with Rivera and Ryan, while Moir, Heeley, Karzen and Juan Carmona finished third in the team pursuit. The top international teams included Great Britain, Czechoslovakia, Holland and Belgium. In addition, Rivera (Proman) won her first European victory, winning the Marieke-Bornem kermesse in Belgium. Rivera, 16, attacked on the final lap of the 9-lap, 59-kilometer race and soloed to the milestone win. Coming up, Silva, Williams and Bennett are scheduled to compete in the U23 Roubaix on May 31.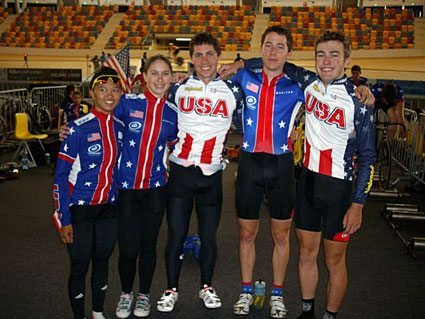 SoCal's Juniors have had great success in their European Campaign with Team USA.
(L-R) Coryn Rivera (Proman), Kendall Ryan (NOW MS Society), Kit Karzen (NOW MS Society),
Danny Heeley (SBW), and Ian Moir (Rock Racing).

Race Report - Ventura County Stage Race
By Neil Shirley
5/22/09 - I have to admit it's been a while since I climbed onto the top step of a podium. I think I nearly forgot how to do a victory salute. Well, after two days and three stages of hard racing in Ventura County I was fortunate to put my first check mark in the win column this season. Ventura County Stage Race started off with a 1.7 mile technical Prologue through the old Downtown. It was a good venue with plenty of shops and restaurants to choose from. Justin Kerr from Liquid Fitness smoked the time trail to take the yellow jersey. Brandon Gritters of Kahala-La Grange was second and I rounded out the podium in third. Time gaps were so close that everyone knew it would really come down to the next two stages to determine the overall winner. Stage one's criterium was in the same location as the time trial, smack dab in the middle of Downtown. By the time 6:30 pm rolled around the streets were abuzz with spectators. The 75-minute crit was going to be a tough one. Each lap had a hill in it that was going to bite the legs each time up. The race started out aggressively with the teams firing guys up the road. more >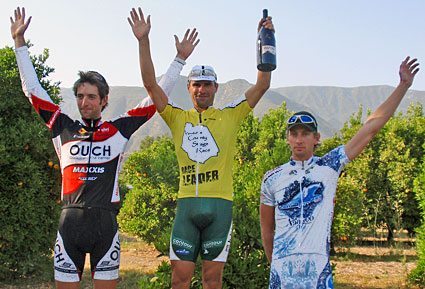 Ventura Stage Race Overall GC: 1st Neil Shirley (Kelly Benefit Strategies),
2nd Roman Kilun (Team Ouch) and 3rd Justin Kerr (Liquid Fitness).
photo © SoCalCycling.com

2009 NorCal High School Mountain Bike Racing Series State Championships
5/22/09 - The first full state championships for high school mountain bikers took place on Sunday, May 17, at Boggs Mountain, Cobb, California, when 374 students from as far south as San Diego and as far north as Redding converged for the California High School Mountain Bike Championships, presented by Touchstone Climbing and Fitness. With 39 teams, including six composite teams, students from more than 50 schools participated. "Once again these kids, and their parents, and the coaches leave me speechless with admiration. We now have more than 600 school kids competing in California high school leagues. The SoCal riders did just great; we can see there is a lot of talent already in that league. There is so much going on in high school mountain biking, but as the pinnacle of what we are doing, this event made me proud," said League director and founder Matt Fritzinger. New faces from the upstart SoCal League made their mark, getting all the way to the top of the results in some categories and showing that although the NorCal riders benefit from the depth and intensity of the competition they have created for themselves, the talent pool covers the entire state. If the event had a theme, it was camaraderie. The intensity of the racing made it clear that everybody was riding as fast as they could, but the stories about riders stopping to help fallen colleagues, and the excitement for the success of others showed that this event was about much more than winning. Results >
SCNCA Championship Season is Here! Women of So Cal Shine Bright!
By Dorothy Wong
5/21/09 - The SCNCA Championship season kicked off last weekend and with it the future of women's cycling shining bright on the track with the Junior Track Championships at the Encino Velodrome. In the 10-12 category Rachel Cross (Sho Air/Sonance) commandingly won her events. In the 13-14 field Cal Pacific's Tara McCormick and Sara Chen (CPT) traded victories throughout the day, with Tara winning the sprint and Sara the endurance events. Amanda Duarte (Eddie B) swept all of the championships in the 17-18 women's events. In the 15-16 junior women's events, Christine Barron, of Hawk Relay Team, is the undisputed speedster and sprint champion of the track. She was able to lay down blistering speed during the 500meter time trial, the 200meter time trial and the matched sprints, to win first place over all in the omnium, but tactics played an important role in Christine's victory as the winner of the matched sprints. more >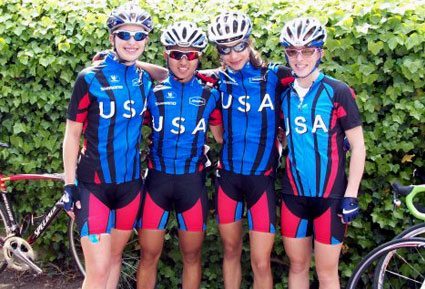 2009 Jr. Women's National Team: (L-R) Kendall Ryan, Coryn Rivera, Anna Young, Kaitie Antonneau.
photo © Benjamin Sharp

Central Coast Cycling Classic: Two Days of Racing, Family Fun & Bigger Cash Prizes
5/20/09 - San Luis Obispo County lights up with fun activities on Independence Day weekend. With firework displays strewn throughout the coastal regions, community parades, beach parties, and Concerts in the Plaza, SLO County is on the map for a lovely summer getaway for people all around the state. Add exciting road racing to the scene and it's a cyclist's perfect vacation scenario. The Camp SLO Road Race has joined the SLO Downtown Criterium Festival to create the Central Coast Cycling Classic weekend on July 4 and 5. In its fourth year since its revival, the SLO Downtown Criterium on Sunday will host the SCNCA Elite Criterium Championships and is proud to be increasing its purses, including equal cash amounts of $3000 to both Men Pro/1/2 and Women Pro/1/2/3. Shaba Mohseni, Director says, "We want to make a statement through equal rewards. It's a pleasure to reward the Pro/Elite women for their passion and hard work; and to support the huge growth potential of the female demographic. Women pour just as much effort in and should get the same return." More information on the weekend can be found at CenCalCycling.com.
Christian Vande Velde Continues to Recover as New Injuries Surface
5/20/09 - Christian Vande Velde, who crashed out of the Giro d'Italia during stage three, continues to undergo medical evaluation and as anticipated, additional imaging studies have revealed the extent of his injuries. Conclusive results show that he sustained a total of six fractures, including three vertebrae fractures (spinous processes), a pelvic fracture and two rib fractures. "Christian sustained a significant impact and the additional imaging results uncovered more fractures, which is not uncommon," said team physician Prentice Steffen. "The good news is, we now know the extent of his injuries and are working with him on his recovery. He just needs to take it day by day." Vande Velde, who was going about 62 kilometers per hour when he crashed, remains cautiously optimistic: "I feel better every day," he said. "I understand that it is going to take a lot of work to come back from this, but I'm feeling positive. It is too soon to say when I'll be racing again but I am incredibly motivated by my family, my team and our supporters." Vande Velde will continue to undergo treatment at his home in Girona. Please check the Team Garmin-Slipstream Web site for continued updates on his progress.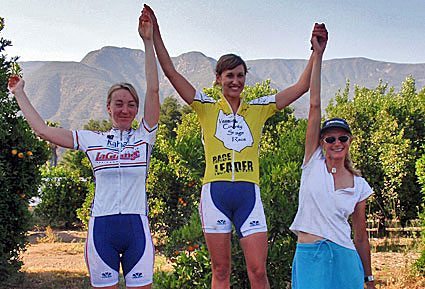 Katie Donovan (Kahala-LaGrange) won the Overalll GC at the Ventura County Stage Race
with teammate Morgan Kapp in second and Pam Schuster (Helens) in 3rd.
photo © SoCalCycling.com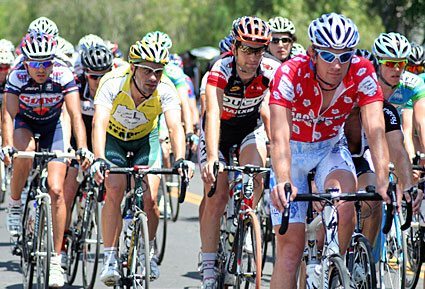 The Pro 1/2 men's field rolls through the start area early on in the Circuit Race.
photo © SoCalCycling.com

Teutenberg Takes Second Win at the Tour de L'Aude, Neben in Yellow
5/18/09 - Columbia-Highroad's Ina-Yoko Teutenberg avoided a major last-kilometre crash on stage three of the Tour de L'Aude to take her second win in three days. Already the winner on Saturday, 48 hours later in the stage starting and finishing in Lezignan Corbieres, Teutenberg once again was the first across the line. The German now has 17 stage wins in the Tour de L'Aude, an all-time record, and is holding the lead in the points classification. "I was the only one to get through the crash, so I reached the line alone," Teutenberg said afterwards. "The rider who crashed slid and took out a lot of the others, but luckily I was able to get through." Teutenberg paid tribute to her Columbia-Highroad teammates who worked hard during the hilly 116- kilometre stage to reel in several dangerous moves. "We collaborated with another team to bring back one rider and set things up for a sprint. Then they put me in the right position. With a team of just six riders it's never easy to do everything but they did a great job." Amber Neben (Equipe Nürnberger Versicherung) moved into the yellow jersey after yesterday's Team Time Trial.
Follow Amber Neben at the Tour de L'Aude Via Twitter
5/16/09 - World Time Trial Champion Amber Neben will be providing live twitter updates while at the Tour de L'Aude from May 15-24 at twitter.com/amberneben. Neben, who resides in Irvine, won the Tour de L'Aude in 2005 and 2006. The last two years she assisted her Flexpoint teammate Susanne Ljungskog (Sweden) in winning the overall GC at the Tour de L'Aude. This year, Neben has changed teams and is now riding for Equipe Nürnberger Versicherung, which will allow her the freedom to go for the win against Ljungskog, who is the current World Road Race Champion.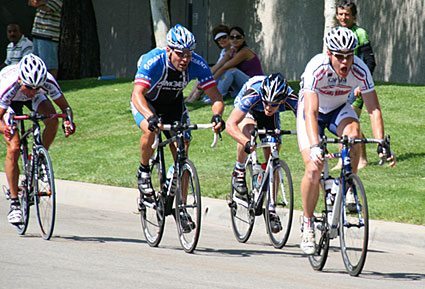 Brandon Gritters (Kahala La Grange) wins the Brea Old Course Criterium.
photo © Kristy Morrow

Team Type 1 Rider Simon Bennett Performs Life-Saving Rescue In Mid-Flight
5/15/09 - Simon Bennett, a rider on Team Type 1's development cycling squad, put his training in first aid to work Thursday night to save the life of a man who collapsed on board a Northwest Airlines flight. Bennett used an automatic external defibrillator (AED) and portable oxygen tank to revive the man, whose heart stopped during the flight from Minneapolis to Chicago. "He was trying to reach the call button, but all of a sudden he slumped over and his face turned white," Bennett said. When flight attendants didn't initially respond to Bennett's repeated attempts to get their attention through the call button, Bennett said he stood up and yelled "emergency!" Another passenger helped him quickly move the man into the aisle. "I checked his pulse twice and there was none," Bennett said. "So the flight attendants got an oxygen tank and brought us the paddles. I shocked him once and he came right back to us. He kept saying, 'I'm fine. I'm fine.'" The quick-thinking actions of the 25-year-old Australian who has had Type 1 diabetes since 1997 not go unnoticed by the flight crew. "They gave me a $10 voucher to use at the airport but by the time we arrived, everything was closed for the night," Bennett said. "This wasn't about recognition anyway. I just wanted to make sure the guy was all right." Bennett said it was the second time he has used the emergency medical training he gained as a personal trainer to save someone's life. Three years ago, he performed CPR on a child who walked out on a covered swimming pool cover and fell through.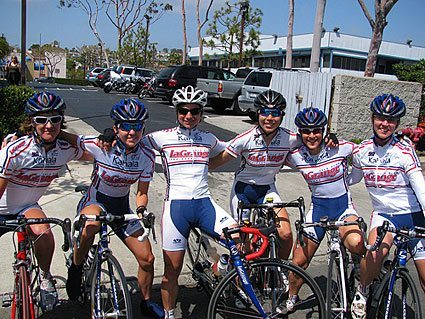 The Kahala La Grange Women's Team.
photo © Bill Cordero

SoCal Interscholastic Cycling League Hires Matt Gunnell as Executive Director
5/14/09 - Only eight months after its inception, the SoCal Interscholastic Cycling League has hired Glendale Composite Team Coach, Matt Gunnell, as its Executive Director, to start officially in June. The league sees this as a tremendous boost to the new SoCal mountain bike program which has been directed and operated primarily by the staff of the NorCal High School Mountain Bike Racing League, based in Oakland. In its inaugural season, over 100 riders from 14 teams competed in the racing series, which ran March through May. The founder and director of the NorCal High School Mountain Bike Racing League, Matt Fritzinger, stated "Matt Gunnell has been involved with the SoCal League from the ground up as a founding committee member and he's also built the Glendale Composite high school team. He brings a wealth of experience that combines working with kids in the classroom, and his experience as president and race organizer for the highly successful Pasadena Athletic Association Cycling Club, he was the obvious choice for the job. We expect this new League to grow like wild fire." Gunnell, who is already busy planning the next season, commented "I am thrilled to have the opportunity to build on the work of Matt Fritzinger, Quintin Easton, and the many people who have made high school mountain bike racing a reality here in SoCal. I believe that the model for high school mountain bike racing developed by the NorCal League has the potential to revolutionize mountain biking, and cycling in general, in the U.S. The NorCal League successfully created a wedge by getting clubs started in a few schools. After that they were able to successfully address the concerns of risk management, proper youth coaching, and create a model season. In other words, they have created a template that is understandable by students, parents, administrators, coaches, and sponsors. Once you see it you get it." The founding president, Quintin Easton, will work closely with Gunnell to continue the success of the SoCal League.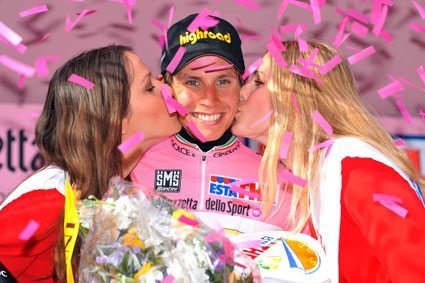 Thomas Lovkvist (Columbia-Highroad) took over the Maglia Rosa after Stage 4 of the Giro.
photo © TDWSport.com

Team Type 1 Signs Recently Fired Rock Racing Rider Michael Creed
5/13/09 - Team Type 1 bolstered its men's team roster Wednesday with the addition of Michael Creed, a 10-year professional who has won nearly two dozen national titles on the road and track. Team Type 1 is the only professional cycling team in the world with a mission to instill hope and inspiration for people around the world affected by diabetes. "It's nice to be in a position to help out a deserving American rider like Mike Creed," Team Type 1 Director Sportif Vassili Davidenko said. "He will definitely be an asset for us in some of the biggest races in the United States this year." Creed, 28, has six times represented the United States at the world championships while finishing a career-best sixth place in the Under 23 individual time trial in Hamilton, Ontario, Canada in 2003. His 22 national titles include victories at the Under 23 time trial championships in 2001, 2002 and 2003. Last year, the Colorado Springs, Colo., resident competed in nearly all of America's top stage races, including the Amgen Tour of California, the Tour of Missouri, the Larry H. Miller Tour of Utah and the Nature Valley Grand Prix. He also raced a number of times on the international front, including the Tour of Qinghai Lake in China where he helped a teammate win the overall title. Creed said he looks forward to racing for Team Type 1 beginning at Saturday's Bank of America Wilmington Grand Prix in Wilmington, Del., and the BikeJam/Kelly Cup to benefit World Bicycle Relief on Sunday in Baltimore, Md. "I'm excited to be racing for a team that is spreading such an inspirational message," Creed said. In his 10 years as a professional, Creed has ridden for 7-Up/Colorado Cyclist (2000), Prime Alliance Cycling Team (2001-2003), U.S. Postal presented by Berry Floor (2004), Discovery Channel Pro Cycling (2005), TIAA-CREF (2006) and Team Slipstream (2007). Last season, he competed for Rock Racing but was not part of the squad's professional team for the 2009 season.
Bike Week Pasadena Presents...Ladies Night at One Colorado: A Progressive Party
5/12/09 - On May 13th from 5pm-9pm, the historic One Colorado will be the host for Bike Week Pasadena's Ladies Night, an evening featuring bicycle rides, a bicyclist fashion show, demonstrations, shopping and dining. Participants will be treated to a progressive party that travels from store-to-store and will receive discounts, free treats and other goodies courtesy of One Colorado merchants. You Go Girl! It's all about the ladies at One Colorado. Special merchant discounts, "The Ladies of Leisure: Pedal de Pasadena" ride, mini-clinics, fashion show, live music, free champagne and awesome raffle prizes. Free bike and shopping valet available! And don't miss the Velo Vixen Fashion show featuring fashion and accessories from: Pasadena Cyclery, Trek WSD, DeTours, Elisa B, Evomo, Fuel Belt, Fun Reflector, Harlot, Ibex, In SOHO, Luna Sport, Revolution Cycle Jewelry, Sheila Moon, Sporteve, Sock Guy, Swrve, Timbuk2, Totally Tubular, Third Eye Mirrors, Twin Six, Voler Team Apparel, Velowear and Zoic.At the conclusion of the fashion show, don't miss the raffle for some fantastic prizes from the Ladies Night supporters including at Trek Allant bicycle! Ladies Night is part of Bike Week Pasadena! Bike Week Pasadena 2009 encompasses a week of festivities and rides that celebrate and encourage bicycling as a healthy alternative to the automobile, May 11 through 16, 2009. All Bike Week Pasadena activities are free and open to the public. more info >
San Francisco Twilight Criterium Has Been Postponed Until Next Year
5/12/09 - Organizers of the San Francisco Twilight Criterium say the event will be postponed until September of 2010, due to a lack of adequate sponsorship. "Unfortunately, in this lackluster economic climate, securing sponsorship dollars is a tough task," said race director Ryan Dawkins of Project Sport, LLC. "We had a choice between putting on a smaller event or waiting until next year to do it right, and on the grand scale our fans expect." USA Cycling National Events Manager Tom Vinson said he supports the race's postponement. The San Francisco Twilight Criterium is the latest in a number of events on the National Racing Calendar (NRC) that have had to be called off due to challenging economic conditions. "While we always hate losing an event, we look forward to having the race back on the calendar next year, just as strong and well-run as it was in 2008," Vinson said. Large crowds turned out last year to see national cycling champions and Olympians race through one of San Francisco's most scenic neighborhoods, on a course that included the city's equivalent of Rodeo Drive. But when Dawkins put out the call for additional sponsorship, there were few takers. "We had some nibbles, but nothing in the form of a title sponsor that would have made it possible to have a world-class event," he said. "But we are already well into our planning for next year. We look forward to finding a company that realizes the benefits of putting their name on an exciting, family-friendly event that promotes the healthy lifestyle cherished by so many people in the Bay Area." Next year's San Francisco Twilight Criterium is scheduled for Sept. 4, 2010. Companies that are interested in becoming part of the 2010 edition of the race can contact Dawkins directly at ryan@projectsport.com.
Bike Week Pasadena Offers Cycling Festivities All Week
5/11/09 - Bike Week Pasadena 2009 encompasses a week of festivities and rides that celebrate and encourage bicycling as a healthy alternative to the automobile, May 11 through 16, 2009. All Bike Week Pasadena activities are free and open to the public. Events throughout the week include a community screening of the documentary Contested Streets, a Presentation: Lose up to 3,000lbs. in One Day : The Amazing Car-Lite Diet, Ladies Night at One Colorado, C.I.C.L.E.'s Bike Salon, Bike Night at the Rose Bowl, C.I.C.L.E. Workshop: Go Shopping by Bike and East-West Express Ride to the Closing Pedal Party at One Colorado. Please visit CICLE.org for more information on these great bicycling events.
Celebrate California's Bike to Work Week
5/11/09 - California is celebrating Bike to Work Week this week. Events may be planned in your area, including bike tune-up clinics, morning "buddy rides," pit stops, energizing stations and noon-time rallies. Visit California Bike Commute to find more information on the festivities in your area.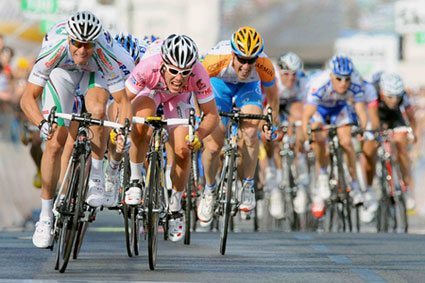 Alessandro Petacchi (LPR-Brakes ) beats Cavendish (Columbia-Highroad) in stage 2 of the Giro.
photo © TDWSport.com

Team Ouch's Sutherland and Team Type 1's Powers Win Joe Martin Stage Race
5/11/09 - Rory Sutherland of the OUCH Pro Cycling Team Presented by Maxxis came into the challenging final Stage criterium of the Joe Martin Stage Race with a nine-second lead over Ben Jacques-Maynes (Bissell). It was the same margin he held following Stage 2, thanks to the work of his teammates during a hectic Stage 3 on Saturday. "The guys pulled it together and did their jobs again today," Sutherland said. "They were on the front from the get-go. They'd let little groups go, but kept everything under control." For the second consecutive day, Bissell threw repeated attacks at Sutherland and his OUCH Presented by Maxxis teammates. "We did what we've done here the last two years," said Sutherland, who finished 7th in the final stage. "The other teams threw down again like yesterday, but the guys weathered it." Team Type 1's Chris Jones won the final stage by crossing the finish line one second ahead of Luis Amaran (Colavita-Sutter Home), who had been his breakaway companion for the final eight laps. Amaran finished two seconds ahead of the charging pack that was led in by his teammate, Lucas Sebastian Haedo. In the women's race, U.S. National Time Trial Champion Alison Powers (Team Type 1) motored away from the field near the end of Sunday's criterium to score an impressive win that sealed her overall victory in the National Racing Calendar event. Powers' teammate, Jen McRae, won the field sprint to help Team Type 1 earn a runner-up finish to Webcor Builders in the team classification. "Our plan was to race aggressively," Team Type 1 women's team director Jack Seehafer said. "Part of our goal initially for Alison and the team was to bring her on as a GC rider. With the way this team is, we have been able to fine tune that, especially with our other riders filling other important roles." Powers' wire-to-wire victory – her ninth of the season and the 24th overall for the Team Type 1 women – also means she retains her overall lead in the Women's Prestige Cycling Series (WPCS). Teammate Kori Seehafer leads the WPCS sprint classification. Both will wear their leaders jerseys at next month's Nature Valley Grand Prix, the third event of the WPCS. It was Seehafer's attack toward the end of Sunday's criterium that provided the springboard for Powers to launch her race-winning move. "Kori has won on this course before and she had some amazing attacks that just wore people down," Powers said, "I knew after the last one she did, I would be ready to attack. I was just waiting for it to happen. Jack saw the lull and told me 'attack now' on the radio."
Cycling for Sight - Unites Blind & Sighted Cyclists in a Benefit Tour Along CA's Coast
5/10/09 - Five years ago two avid cyclists on a trek from Washington to California dreamt up a new tour for the blind and visually-impaired. Three days, 220 miles, a chance to change the way we all see the world. This is the motto of Cycling for Sight (CFS), a 3 day tour along the beautiful California coastline from Santa Barbara to San Diego. With the help of sponsors and dedicated cyclists, CFS has raised over $125,000 to support therapy against eye diseases and promote education and job training for blind youth at Braille Institute in San Diego. There is a one-day ride category from Carlsbad to San Diego on Aug 9th. Join the Blind Stokers Club, pairing sighted captains and blind stokers in a year-round cycling club, on the final 35 miles into a grand Finish Line celebration in San Diego. The 5th Annual Annual 220 mile CFS Tour will be held August 7th – 9th. By riding in Cycling for Sight, you can help us fulfill a key mission of enabling blind and visually-impaired cyclists to directly enjoy cycling and to obtain career services for young adults at Braille Institute. More information can be found at cyclingforsight.org.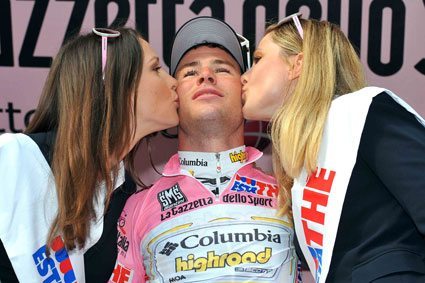 Columbia-Highroad's Mark Cavendish enjoys being in the Maglia Rosa.
photo © TDWSport.com

Columbia-Highroad Wins Giro D'Italia Opening Team Time Trial, Cavendish in Pink
5/9/09 - Columbia-Highroad's Tour of Italy got off to a perfect start as the team blasted to victory in the opening team time trial on Saturday, with Mark Cavendish the race's first leader. The squad was first to start in the 20.5-kilometre team trial in Venice, but after more than two hours, their time of 21 minutes and 50 seconds remained firmly at the top of the classification. Columbia-Highroad's 21st victory of the season enabled Mark Cavendish, the first rider across the finish line, to claim his first-ever leader's jersey in a major Tour, and to become the first Briton in history to lead in the Giro D'Italia. "It's me who's wearing the leader's jersey, but it's the team's victory. They all participated in it and they all gave it 100 percent," Cavendish said afterwards. "This is really big for us. It's the centenary edition of the Giro and after winning Milan San Remo now we've won the opening stage of the Tour of Italy. I was watching the race in the press tent after we'd finished, and I was really nervous, but it all turned out well in the end. I have to thank everybody in the team. Everybody did their job well and they rode a perfect race. It's a victory we've all shared in, even if I'm wearing the leader's jersey." "This is probably the biggest win we've ever taken," added manager Bob Stapleton, "not just because it's the centenary Giro, but also because events like this are what Columbia-Highroad is all about. A team time trial is all about working well together as a unit, and what we saw was a truly great performance by all nine riders in the squad." Cavendish confirmed that he will be gunning to defend his leader's jersey and simultaneously go for a bunch sprint win on Sunday's stage, 156 kilometres long and running from Jesolo to Trieste. If he succeeds, it will be Cavendish's third stage win in the Giro and seventh in a major Tour, as well as his ninth of the 2009 season. Garmin-Slipstream finished in second in 0:06 back, while Team Astana was third at 0:13 back.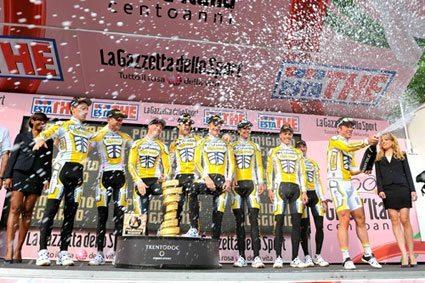 Columbia-Highroad celebrates their Team Time Trial victory at the Giro.
photo © TDWSport.com

Tom Boonen Tests Positive for Cocaine Again
5/9/09 - I knew when I started getting a stream of twitters from Fake Tom Boonen with links to the songs Cocaine and White Lines something was up. After doing some digging it appears that Tom Boonen has tested positive in an out-of-competition test for cocaine held by Flemish authorities. The positive has been confirmed by his Quick Step team and has been suspended from the team. Boonen just won his third Paris-Roubaix a few weeks ago, as well as the World Championships in 2005. It is unlikely that Boonen will receive a suspension from the UCI since they do not hand down penalties for positive out-of-competition cocaine tests, however he could face criminal charges. Boonen also tested positive in February 2008 for cocaine and was removed from Quick Step's Tour de France team as a result.
Team Ouch's Sutherland Moves into 1st overall at the Joe Martin Stage Race
5/9/09 - Rory Sutherland of the OUCH Pro Cycling Team Presented by Maxxis came into Stage 2 of the Joe Martin Stage Race just over a second behind Ben Jacques-Maynes (Bissell) in the chase for the overall lead. But Sutherland's second consecutive 2nd place gave him the time bonus he needed to move into the overall lead after Stage 2. "We wanted a sprint at the end of the stage," he said. "We knew we had some seconds to make up and we wanted to make them up sooner rather than later." Everything went according to plan. When a two-rider break got up the road early, the peloton settled down and gave the duo enough leash to extend their gap out to eight minutes. At that point, Jacques-Maynes' Bissell squad began to up the temp to bring the break back. "When the gap got down to two minutes, we helped out with the chase," said team directeur sportif Mike Tamayo. "When we got down to 8km to go, we just took over the front." "The boys did some good work the last 8km," Sutherland added. "When you have Pinfold, Menzies and Murphy looking after you, I was more worried about getting ridden off their wheel. But they did a great job." Menzies and Pinfold led out Sutherland to the last corner, with Pinfold dropping off his teammate with 350 uphill meters to the line, while Murphy sat on Sutherland's wheel. Lucas Sebastian Haedo (Colavita/Sutter Home) was able to get over Sutherland to take the stage win, while Shawn Milne (Team Type 1) came 3rd. Murphy held on for 9th on the stage. The 10-second time bonus Sutherland earned put 0:09 ahead of Jacques-Maynes, and 0:22 ahead of his Bissell teammate, Jeremy Vennell. "We're excited to be in yellow and defending the lead tomorrow," Tamayo said. "It's a race we've won the last four years and we'd like to keep that streak going."
Columbia-Highroad and Cavendish Aim for the Pink Jersey at the Giro
5/8/09 - With Saturday's start of the Giro D'Italia fast approaching, Columbia-Highroad's nine riders for the three-week event are in top condition and raring to go. In a pre-race press conference this Friday morning, Milan-San Remo winner Mark Cavendish confirmed that he will be looking to get a spell in the pink leader's jersey as well as going all out for victory in as many sprints as possible. However, he also insisted that all nine of the Columbia-Highroad riders, not just him, will be on the hunt for victory - and it won't just be the flat stages that he and his teammates will be targeting. "We've got 21 chances of success in the Giro and a chance of overall victory," he said. "I want to win stages and I want to wear the maglia rosa or the points jersey if possible as well. But I'm not under pressure because we've got such a versatile team that can perform well overall and on every stage. There are four or five opportunities for me this year but there are four or five for other sprinters as well. I'm more mature as a rider this year. I'm stronger, I'm climbing better and I'm more established," he said. "The Giro is a beautiful race and Venice is a beautiful backdrop for the race. The Italians make the most of the special occasions and you can appreciate that. It's a great race to ride." Team owner Bob Stapleton added, "I think the Giro is going to be one of Europe's great sporting events and we've brought a very strong team to make sure we honor it properly. As recognition of that, our riders will be using a special edition team jersey for the Giro with pink sections on the sides and sleeves." Columbia-Highroad roster for the Giro D'Italia: Michael Barry (Can); Edvald Boasson Hagen (Nor); Mark Cavendish (GB); Thomas Lovkvist (Swe); Marco Pinotti (Ita); Morris Possoni (Ita); Mark Renshaw (Aus); Michael Rogers (Aus); Kanstantsin Sivtsov (Byl).
Universal Sports to Air the Giro d'Italia
5/7/09 - Universal Sports will be airing coverage of the Giro d'Italia May 9-31. Online coverage of the Giro will play live as the event takes place each day and will play on TV at noon EST each day with replays at 9 pm and 11 pm EST. Universal Sports wants to include the Giro on Dish & Direct TV. You can help get the Universal Sports Channel by calling them directly & asking for it! Call Dish at 1.888.825.2557 and Direct TV at 1.800.DirectTV. Schedule >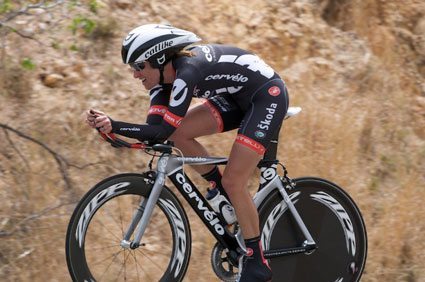 Olympic Gold Medalist Kristen Armstrong sets a new course record in the Gila Time Trial.
photo © Mitchell Clinton / www.clintonphoto.com

Training - Overcoming Iliotibial band (IT) / Runners Knee Syndrome
Michael Lovegren, M.S. Biomechanics
5/7/09 - Running is a great sport that can be done in a group or alone. Running is a safe sport that enhances your health and helps prevent cardiovascular disease. Out of all the endurance sports, running is considered a high impact sport. The reason running is considered a high impact sport for every step you take there is an opposing force. The opposing force also known as ground reaction force can sometime exceed the eccentric forces of the lower extremity. Eventually without proper stretching the repetitive motion leads to overuse injuries like Achillies tendonitis, patellar tendonitis, plantar fasciitis, and Iliotibial band syndrome. This repetitive injury Iliotibial band syndrome can also happen to cyclist. The common name that I used today is the "Runners Knee Syndrome". Symptoms: Once you acquire pain outside (lateral) of your knee. This discomfort could be sporadic, which could disappear with rest. Other times you will feel a faint or continuous pain when ever you extend your knee. Usually this pain will be present most of the time during running or cycling if not treated. more >
The Tour of California is Moving to May in 2010
5/6/09 - In 2010, the Tour of California will be moving from it's February date of the past four years and will be held from May 16-23, becoming a ProTour event in 2011. In 2006 and 2007, the Tour of California was held under sunny skies making it a favorite race for the riders to get in some early season racing. However, the last two years dished up some cold and rainy conditions, which weren't ideal for the riders or the fans. On the plus side, moving the race to May will allow better weather and the opportunity to hold stages in the High Sierras, which could offer a much needed mountain top finish. The downside is that the new dates will conflict with the Giro d'Italia, which is celebrating it's 100th birthday this year. It will be interesting to see if the Euro team's will make the trek across the pond to compete in the Tour of California over the Giro and if the quality of the field at the Tour of California will be as high this time of year. Let us know your thoughts on the Tour of Calfornia's new dates with a vote and a comment.
Cannondale Six Carbon 3 Review
By Frank Sarate
5/5/09 - As the 2009 race season gets underway, I have had the opportunity to test and race the all new Cannondale Six Carbon 3. After riding the Cannondale Super Six and Six 13 for most of the 2008 season, the Carbon Six 3 feels and rides very similar to the Super Six, but is slightly heavier with a smaller price tag.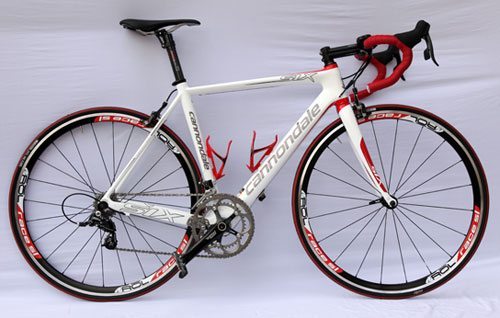 The SoCalCycling.com Team bike has SRAM Rival components, ROL wheels,
Race Face bars, stem and seatpost and Serfas seats, tires and bar tape.
The Six Carbon 3 is Cannondale's mid line race bike and the Super Six's little brother that delivers. The Six Carbon 3 inherits a lot of what makes the Super Six such a great ride. The down tube and bottom bracket with the BB30 are similar to Super Six's, however the head tube and top tube shapes are uniquely shaped. There is a sleek triangle shaped top tube that tapers down near the seat tube and flares out near the head tube that almost fits flush with the integrated headset. The head tube is tapered and the rear of the head tube extends slightly to make the head tube a little stiffer. The tube shapes make this bike pleasing to look at. review and photos >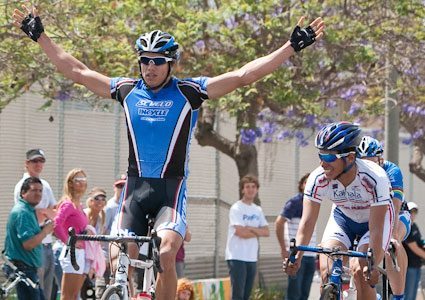 Jeremiah Wiscovitch has been on a winning streak adding the Barrio Logan GP to his resume.
photo © Mark Johnson/Ironstring.com
Pro Mountain Biker Sid Taberlay to Speak at Rock N' Road Cyclery on May 7th
5/4/09 - Team Sho-Air/Specialized US factory cross country rider Sid Taberlay will be a guest speaker this Thursday night, May 7th at Rock N' Road Cyclery in Irvine, CA. The five-time Australian National Champion, 2004 Athens Olympian and 2009 Kenda Cup West Pro XC champion will be doing a meet and greet with the stores club team at 7:30pm. This relaxed Q & A will be a chance for racers and riding enthusiast to ask Taberlay all sorts of questions and gather knowledge and insight to take their next ride or race to another level. Sid will talk to guests about his past and current race experiences, as well as offer a bit of training, nutritional and pro insight on what it takes to compete at the highest level in the sport. US Cup Series sponsor H2O Overdrive will be raffling off some free 20 oz samples of there new drink. In addition US Cup Series representatives have donated some official US Cup T-Shirts and swag to be raffled off during the evening for all attending participants. The Sid Taberlay meet and greet starts promptly at 7:30pm and is open to everyone free of charge at the Rock N Road Cyclery in Irvine, CA. more info >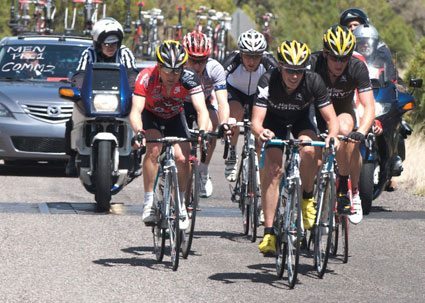 Mellow Johnny's Levi Leipheimer, Chris Horner and Lance Armstrong, Fly V's Phil Zajicek and
BMC's Chad Beyer made the lead group at Gila's toughest stage, known as the "Gila Monster".
photo © Mitchell Clinton / www.clintonphoto.com

Phil Zajicek and Kristen Armstrong Win the Tour of the Gila's "Gila Monster" Stage
5/3/09 - Phil Zajicek of Team Fly V Australia not only tamed the 'monster' but slayed a couple of 'giants' in the process. Stage 5 of the Tour of the Gila is aptly named 'Monster', 170km and 2,800 meters (over 9,000 feet) of climbing is good enough reason for the name to stick. With a race profile resembling that of a jagged saw tooth and two major climbs inside the last 50 k, it was always going to be a case of last man standing wins. With 50 k remaining on the Cat 1 climb, Chris Horner (Mellow Johnny's) forced the pace such that there were only 6 left in contention over the top. It was a case of hang on if you can as Armstrong, Horner and Leipheimer inflicted as much pain as they could muster on the bunch. Phil riding shot gun on the Mellow Johnny's train was riding himself onto the podium for the overall and to the rarefied atmosphere of those bold enough to trade punches with such cycling luminaries as Armstrong and Leipheimer and come out on top. "The last part of the final climb is severe as you come into the finish it really kicks up. Levi was turning the screws, I was on Armstrong's wheel with Beyer (BMC) on Leipheimer's wheel. When Beyer lost contact, Lance must have been under some pressure and yelled at Leipheimer to go! I attacked straight away and was lucky enough to have timed it so that I immediately got away." Said Phil. Phil went on to say, "beating Armstrong and Leipheimer when they were giving it everything for the stage win is really special and to finish on the podium with them is a highlight in my career". Levi Leipheimer secured his overall win in the 23th SRAM Tour of the Gila (New Mexico, USA) while teammate Lance Armstrong moved up to second overall in the fifth and final stage. In the women's race, Kristin Armstrong (Cervelo TestTeam) soloed to victory on the tough course ahead of Catherine Cheatley (Colavita) and Alison Powers (Team Type 1). In addition, Kristen Armstrong won the Overall GC after winning three stages making it a very successful tour , followed by Alison Powers (Team Type 1) in second and Kathryn Mattis (Webcor)in 3rd.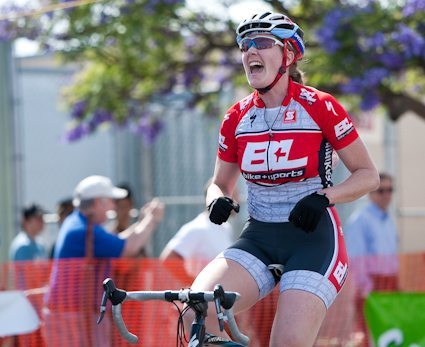 Anna Lang (B+L Bike and Sports) celebrates winning the Barrio Logan Grand Prix.
photo © Mark Johnson/Ironstring.com
Troupe Racing Report - 24 Hours of Adrenaline
5/3/09 - The women of Troupe decided to go out and give the boys a run for their money this weekend at the 24 Hours of Adrenaline at Hurkey Creek. After a couple of last minutes cancellations and a mad scramble for replacement riders, the line up would be Michelle, Monica, and Laura joined by guest riders Amanda and Natalie. First and foremost big "ups" to Amanda for driving down from Santa Barbara and to Natalie for agreeing to ride with less than two weeks notice. The women were the only women riding in the 5 person open category. The other 9 teams were comprised solely of men. The race started at 12:00 with its traditional Le Mans start. Michelle stepped up and volunteered to be part of the chaos that ensues during the running sprint. But that's just half the battle; negotiating the gridlock on the single track lends to the craziness of the initial lap. Despite a small hiccup on the downhill section, Michelle turned in a solid lap to start the race. The women would continue the relay without much incident during the day and turn laps consistently within 5 minutes of each others times and they held 7th/8th for the first hours of the race. more >
Leipheimer Wins in Record Time at Tour of the Gila Time Trial, Armstrong Podiums
5/1/09 - There are still two days to go, but Levi Leipheimer has taken an option on the final victory in the 23th SRAM Tour of the Gila. Leipheimer was impressive in stage 3, the Dan Potts Memorial individual time trial in Tyrone over 25 km (16.15 m). The leader in the race (after winning Stage 1 on Wednesday) completed the course in course-record time of 32.59. For Levi Leipheimer it is his 7th victory of the season, his third in an individual time trial. Tom Zirbel (Bissell) finished 2nd, 53 seconds behind Leipheimer. Levi's Mellow Johnny's teammate Lance Armstrong took his first podium place of the season, finishing 3rd at 1'23". In the GC, Levi Leipheimer has now a comfortable advantage of 2.39 to Peter Stetina (Felt - Holowesko Partners - Garmin). "I simply do my best," commented a happy Leipheimer after the finish. "Yes, I am a specialist in this work, but that doesn't mean that it is so easy. Having to climb the Little Burro Pass twice made it not so easy. A good test for the Tour of Italy anyway. It is always better to tune-up your time trial skills in a race." The Tour of the Gila marks Armstrong's first event since he broke his collarbone on March 23th at the Vuelta a Castilla y León. "It was a tough course, deceivingly hard," he said. "There were a lot of false flats out there with a combination of hills, wind and altitude. I think I buried myself in parts and couldn't bring it back because of the altitude, but the ride was not so bad all things considered." The SRAM Tour of the Gila ends on Sunday. Saturday's stage is a climber criterium in Silver City while Sunday's queen stage (the Gila Monster Road Race) will take the riders to the mountaintop at Pinos Altos.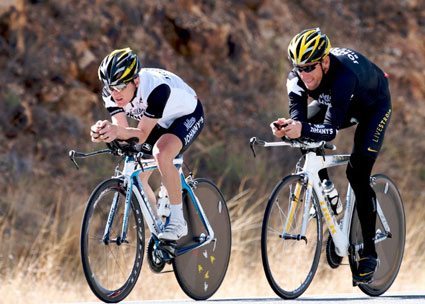 Levi Leipheimer and Lance Armstrong warm up for the time trial at the Tour of the Gila.
photo © Mitchell Clinton / www.clintonphoto.com

Mark Reynolds San Luis Rey Road Cycling Classic Course Has Been Changed
5/1/09 - The Mark Reynolds San Luis Rey Road Cycling Classic course had to change due to the County not being able to permit a road race on Old Hwy 395. The course is now a moderately hilly 14.7-mile circuit on well-paved roads. Descend from the start down West Lilac, turn left onto Camino del Rey. Continue to the turn-around at the I-15 underpass. Return to West Lilac and turn right. From there it's ~3.1 miles back to Sullivan Middle School. The finish is in front of the school just before the second turn-around. The last 2.5 miles of the course includes over 400 feet of climbing. Total climbing per lap is approximately 530 feet. Feeding will be allowed only in the designated feed zone just after the Camino del Rey turnaround. Please see the latest revision to the Mark Reynolds San Luis Rey Road Cycling Classic based on input from Jan Luke-Hamasaki, Pacific Regonial Coordinator for USA Cycling. One lap has been removed from each race. Any questions, please contact Don Elling, Celo Pacific Secretary & 2009 Road Race Director, Don_Elling@msn.com, Cell: 760-917-4777. new flyer >
Landis Goes on the Attack at Tour of the Gila
5/1/09 - Rory Sutherland of the OUCH Pro Cycling Team Presented by Maxxis benefited from teammate Floyd Landis' presence in the main break of Stage 2 of the SRAM Tour of the Gila to take a strong 3rd place in the stage behind winner Lucas Sebastian Haedo (Colavita/Sutter Home). A determined Landis helped establish the four-rider break on the technical Sapillo Springs descent. The quartet stayed away for some 47 miles of the 80-mile stage, building up a lead that reached nearly five and a half minutes at one point. "Our intent was to make Mellow Johnny's work today," said OUCH Presented by Maxxis directeur sportif Mike Tamayo. "We wanted to be aggressive and put some pressure on them. It's a long race, and a hard one to defend a lead with just two teammates. Ben Jacques-Maynes (Bissell) made a bid to bridge to the lead quartet, a move that OUCH Presented by Maxxis rider Bradley White covered. Along with a rider from Fly V, the chase group built a gap of three minutes on the main bunch, but they were caught with 15km to go. With 5 km remaining in the stage and the break down to three riders, Shawn Milne (Team Type 1) put in an attack that Landis marked. With Landis up front, the rest of the OUCH Presented by Maxxis squad got a free ride, while the Astana trio of Lance Armstrong, Chris Horner and race leader Levi Leipheimer – all racing under the Mellow Johnny's banner – spearheaded the chase, along with Kelly Benefit Strategies and Bissell.When it became apparent that Landis was going to be caught inside 2km to go, the team's focused shifted, and OUCH Presented by Maxxis began to set up to deliver Sutherland for the sprint. "We tried to put Rory in position to win the sprint, but there were still a few pure sprinters left in the bunch coming to the line," Tamayo said. Sutherland's 3rd place finish followed his 7th place in the opening Mogollon Road Race, which Leipheimer won to take the race lead. Sutherland earned a four-second time bonus, which moved him to 1:32 behind the three-time Tour of California winner. Sutherland will look to move up the general classification Friday during the 16-mile individual time trial. The out-and-back course climbs over 6,394-foot Little Burrito Pass twice.

Colavita / Sutter Home's Haedo won the field sprint during Stage 2 of Tour of the Gila.
photo © Mitchell Clinton / www.clintonphoto.com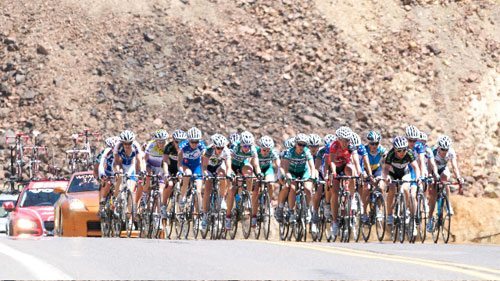 The Pro Women experience New Mexico's desert landscapes at the Tour of Gila.
photo © Mitchell Clinton / www.clintonphoto.com

Video - Dana Point Grand Prix Pro Men's Race
4/30/09 - Watch USPRO Criterium Champion, Rahsaan Bahati (Rock Racing), win the Dana Point Grand Prix NRC Pro Men's Bicycle Race in front of an enthusiastic crowd in downtown Dana Point.