I knew today's race was going to be difficult knowing that Jamie Paolinetti had such a strong team that wanted him to maintain his lead in the Ontario Series.  Early in the race Monster Media sent a few moves up the road. With most still having fresh legs and with the aid of a strong wind the field stayed together.
At the mid-point of the race both Jamie and Kayle LeoGrande attacked. Knowing that I had good legs I wanted to stay close. One lap later a group was formed with four Monster Media, Michael Johnson, myself and a few other riders.  The pink train was working well and motivated to keep the move until the end. My plan was to save the legs until the final few laps, as the sprint was going to be difficult.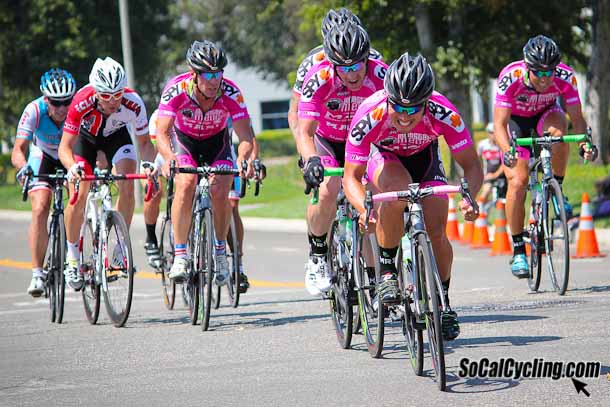 With about three laps to go M.J flatted and with his misfortune Monster Media's leadout began.  With two to go and then one to go it was Kayle left to deliver Jamie to the finish. Rounding the final corner the sprint started and thanks to the pace of the lead out we crossed the line in that order.  Kayle leading from the corner and Jamie holding me off at the line where I finished third.  Thanks to Pacific Sunset Velo for another great race.
By Shawn VanGassen, SoCalCycling.com/Echelon Design Team
This page contains affiliate links, where we get a commission if you decide to make a purchase through the links(at no cost to you) and helps support the site. As an Amazon Associate, we earn from qualifying purchases.