Elevate-KHS teammates Sam Bassetti and Scotty Law showed the rest of the pro men's field a clean pair of heels after a fast and furious 90-minute downtown Redlands criterium. Yesterday's Highland Circuit Race champion, Sebastian Haedo (UnitedHealthcare Pro Cycling), rounded out the podium in third.
"Today was all about the team," Bassetti said. "We basically set it up and paced it perfectly at the end there. I was on the edge, it was either I'm going to make this corner or I'm going to crash and that's kind of how sprinting is. When it works out, it pays off with a win. I've been doing this race for 6 years now, and to come away with a result like this is really big for me, and it's really big for Elevate KHS."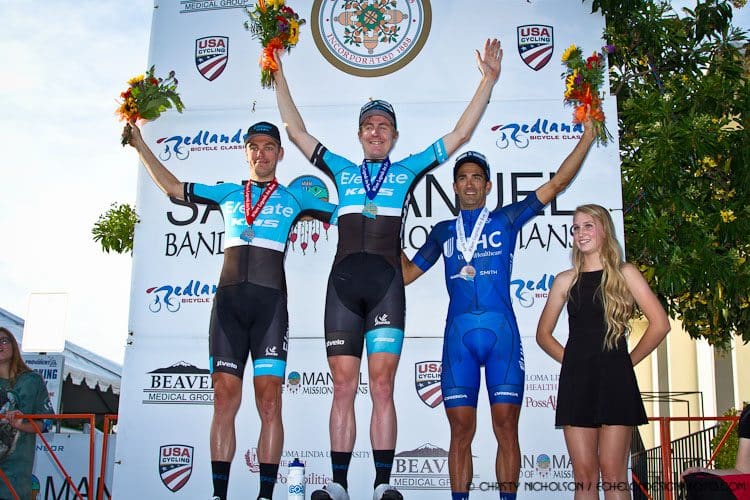 Race leader Thomas Revard's Axeon Hagens Berman team was on call to neutralize any potential threats, and did so in a textbook manner. The entire U23 team formed at the front of the race with 10 laps to go and controlled the last three-man break of the day containing Ruben Companioni (Holowesko), Jonny Clarke (UnitedHealthcare Pro Cycling), and Cyclus Sport's Oliver Flautt.
With two laps remaining, the boys in blue of Elevate-KHS ramped up the pace in the main bunch to more than 30 miles an hour in the closing laps, making it next to impossible to gain placings with three laps to go. Around the last corner, Law and Bassetti started their sprints and never looked back, both having enough time to post up to celebrate.
"We couldn't have scripted this better," Law said at the finish. "As plans go, it was for me to go for the win but bike racing never goes as planned. It's never a case of one person or the other person going for the win. No matter who it is who gets his hands in the air, as long as it's a black and blue jersey, we're happy. When we lined up with 3 to go and took over the front and Sam took it off the back straight there, I just knew it was his. It's unbelievable."
Jessica Cerra of Hagens Berman Supermint crossed the line with a sizeable lead for the first stage win of her career, and the first of the season for the team. The 2014 Best Amateur winner at Redlands Bicycle Classic had launched an attack to nab the final sprint points for the day securing her lead in green, before looking back and realizing she had gaped the break. Keeping her head down in the final laps, she surprised even herself, finishing ahead of Allison Beveridge (Rally Cycling), and Lauren Hall (UnitedHealthcare Pro Cycling).
"It just means everything to our team," Cerra said at the finish. "We have incredible teamwork but we haven't come up with a win yet. Today was important for us to go and try to put Starla (Teddergreen) in the points jersey. I just tried to cover that move and be smart in the break. When I went for the last sprint, I had a gap and just had to put my head down. I'm not a sprinter, and not really a time triallist so I really had to believe in myself. I'm really happy to get the win today for them, and for Tad [director sportif], he was in my ear the whole time. This is my first stage win, I didn't even know!"
The sprinting points classification was the battle of the day, with no change in the general classification despite two time bonuses available in the stage and several small crashes in the 60-minute race. Katie Hall (UnitedHealthcare) remained safe in the pack to maintain her lead in yellow. Sara Bergen (Rally Cycling) sits 26 seconds down, and two seconds ahead of Edwige Pitel (Jakroo Racing).
The day belonged to Hagens Berman Supermint, with both UnitedHealthcare and Rally Cycling protecting their places on GC and not contesting for the sprints. A 7-rider break was established not long into the race, on the highly technical, 9-turn criterium course. Other notable riders in the break included both Lauren Hall, and Beverage, along with Amber Pierce racing for Amy D. Foundation.
Katie Hall (UnitedHealthcare) stays in yellow for the final stage. Cerra heads into the Sunset Loop with a healthy margin in the sprint classification with 28 points over Jennifer Tetrick's (Team TIBCO) 15. Sara Bergen (Rally Cycling) remains in the red QOM classification, and Katie Clouse (Amy D Foundation) continues in the Best Amateur on GC.
Tomorrow is the final stage of the 2018 edition of Redlands Bicycle Classic, the 94-mile Beaver Medical Group Sunset Road Race and the last chance for GC contenders make their mark.
Racing begins with the pro women Sunday at 10:00 AM followed by the pro men at 2:00 PM.
Pro Men's Stage 4 Results
Pro Men's GC Results after Stage 4
Pro Women's Stage 4 Results
Pro Women GC after Stage 4
Full results www.redlandsclassic.com
This page contains affiliate links, where we get a commission if you decide to make a purchase through the links(at no cost to you) and helps support the site. As an Amazon Associate, we earn from qualifying purchases.