The 805 Thousand Oaks Grand Prix was held this past weekend in Thousands Oaks, which is also the home of Amgen headquarters. The Circuit Race was held on Saturday and a Criterium was held on Sunday
With the heat being a factor all week in training, the hot temperatures also lingered for the 805 Criterium Series over the weekend. In the Circuit Race, the heat took its toll on some of the riders. However, it cooled down a little to make it a bit more bearable to race in. The Circuit Race course wasn't your typical four corner crit, so the riders had to come prepared to be challenged. The climbing wasn't too hard, but over time and along with the heat, these key elements took their toll on some of the riders in the field.
As the Pro 1/2 race took off from the line, Leo Bugtai (SoCalCycling.com Team) took off right from the gun to open up a gap and stayed out there for a few laps finally to be joined by Jason Paez (Los Angeles Bike Club). The two riders opened up the gap and seemed to work well together. However, with the heat, wind and some anxious riders waiting to not let the move just roll away, there would be a reshuffle later in the race.
Once again, the SoCalCycling.com Team was active in the move with Ethan Batt and Leo Bugtai both present in a group of five riders. However, Ama Nsek (Methods to Winning) wanted to make sure he wasn't left out, so he bridged with another rider very quickly. This move caused panic in the remaining field and would shed riders due to the effort being made to weld the remaining groups that were forming.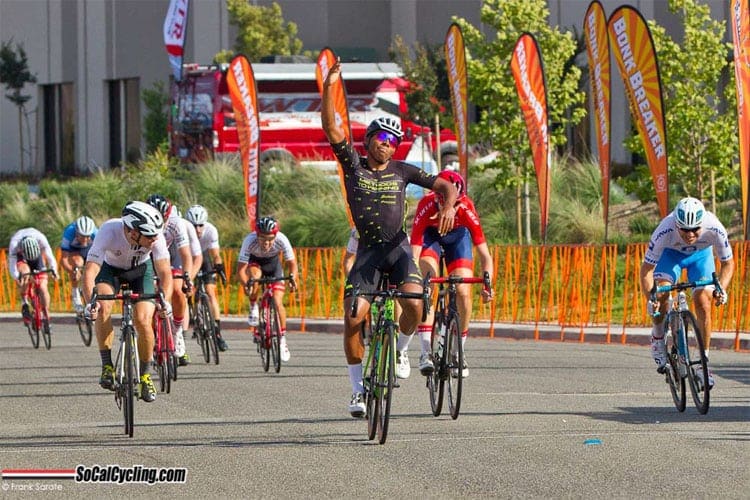 Once all the remaining groups came back together that were close in distance, it was going to come down to a small field sprint.
The strongest riders were headed into the sprint and Ama Nsek's explosive sprint made it look easy to come across the line first. Rounding out the podium was Joshua Carling in 2nd and Jon Janneck (Southern California Velo) in 3rd.
Special thanks to race promoters Tom Fitzgibbon and Mike Hecker and all the volunteers and sponsors that helped bring 805 Criterium Series to the race scene. We need more of these types of events and supporting them makes for better racing.
Photos & Report by Frank Sarate / SoCalCycling.com
This page contains affiliate links, where we get a commission if you decide to make a purchase through the links(at no cost to you) and helps support the site. As an Amazon Associate, we earn from qualifying purchases.