Kevin Vermaerke continued the domination of Hagens Berman Axeon at Redlands Classic, winning the 58.1-mile Highlands Circuit Race while his teammate, Cole David, took second in the uphill field sprint. Alex Cowan (Floyds Cycling) was close behind in third place.
"We had a solid team, especially after yesterday we were in a strong position overall," said Vermaerke, who's racing Redlands Classic for the first time. "We knew this would be a good stage for us. Our main goal was to keep our GC positions and not lose time overall. As the race went on, we knew the climb was going to be critical. Going too early was an easy mistake to do, it looks a lot shorter until you're on it and you realize you have a long way to go. We had the whole team on the front. We took control with about a lap to go. We kept it strung out with our GC guys in good position, and we held it until the line to be able to finish first, second, and I believe fifth with Sean. It was a good day in the office for the team today."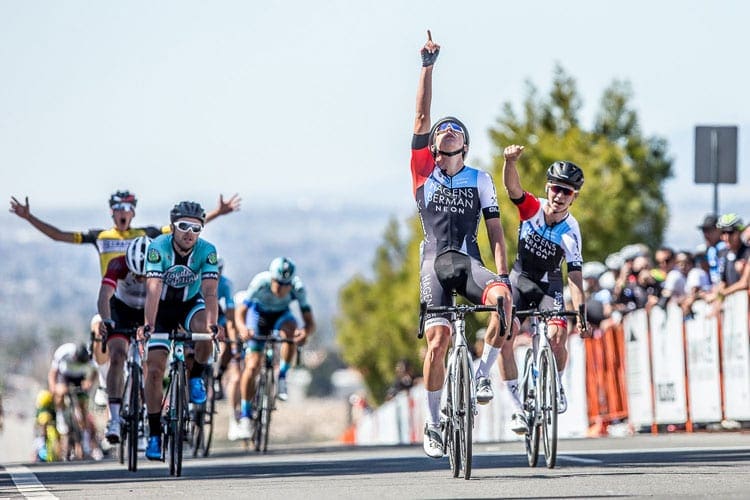 Finishing in fifth, Sean Quinn, also Hagens Berman Axeon, remains in the leader's jersey 13 seconds ahead of his teammate, Vermaerke. Jordan Cheyne (Elevate KHS) is third at 21 seconds. Quinn said he's confident for stage 3's mountain top finish at Oak Glen.
"Kevin and I rode Oak Glen last Thursday, and it looks perfect for us. We've have a strong team as you can see by the results today. We're pretty excited for it."
After stage 2, Quinn is leading the mountains classification and Jarrett Oldham (First Internet Bank) is the best amateur rider.
In the women's race, Megan Jastrab brought home the win for her Rally UHC team. The 17-year-old sprint phenom timed a textbook lead-out by her "rally cat" teammates and flew by US criterium champion Leighann Ganzer (Supermint-Hagens Berman) and Lauren Stephens (Tibco-SVB) for victory.
"Our game plan was to ride it and see what we could do because we're not in the best position on GC. We were set up to work on everyone's strengths today, and that resulted in an early breakaway with Abby (Mickey) and Gillian (Elsay) up the road," Jastrab said. "The team was confident they could handle it. And they did, they rode amazing, and it made our jobs easier. Those of us in the field stayed back. We covered moves and trusted that Abby and Gillian did their job in the break."
After the recent passing of her teammate, Kelly Caitlin, Jastrab said the win was more than just placing first.
"It feels amazing," she said. "It was a whole team effort. And with the how hard it's been, losing a teammate who was practically a family member, it was really important that we rode together for her, and it showed during the race."
Redlands Classic is the first big test of the season for many teams including Supermint Hagens Berman. Crit specialist Ganzer said she was pleased with second place, proving that she and her team are in good form for the rest of the week.
"I was grateful that we all did our job, at the finish I made sure I did my job, which was to stay in position," Ganzer said. "When the final moves went the last time up the climb, I was able to hop on some wheels and then it was a drag race with a bunch of strong women. This is the first big race of the year for us, so the first big test. It's also my first year on the team, so it feels nice to be able to put us on the podium."
Race leader Amber Neben (Trek Red Truck) remains in the yellow jersey and used today to conserve for the challenges ahead.
"I just tried to stay as relaxed as possible and save energy," Neben said. "There's so much racing left this week. Rally did an excellent job today, and Supermint raced hard."
Lauren Stephens will wear the queen of the mountains jersey for tomorrow's stage and Zoe Ta-Perez (LUX) retains the white jersey as best amateur rider.
Official Hashtag: #RedlandsClassic
Full results available on www.redlandsclassic.com
Photos – Dan Munson
This page contains affiliate links, where we get a commission if you decide to make a purchase through the links(at no cost to you) and helps support the site. As an Amazon Associate, we earn from qualifying purchases.