As restrictions for the COVID-19 pandemic are beginning to be lifted by each State across the United States, USA Cycling has released the following message regarding the 2020 USA Cycling National Championship events and tentative National Championship schedule.

As we enter what would normally be the height of our National Championship season, we continue to work on solutions to hold our events later in the year. We continue to have weekly calls with our Local Organizing Committees, review and monitor state and local re-opening guidelines, and discuss the challenging topic of finances with our equally impacted host communities.

As an option for postponement of Pro Road Nationals, we have looked at combining this event with our Masters Road Nationals. We are currently waiting on final date confirmation of the UCI Road World Championships and will continue to work through alternative options.

We are working with our partner, Winter Park Resort, to stay up to date on the potential restrictions to be placed on our venue for Mountain Bike Nationals. We hoped to have additional information at this time, unfortunately, the Governor's office and the county are still assessing summer operations for ski resorts.

As higher education institutions weigh their options for a fall semester, we along with the collegiate clubs, teams and students wait to see what the outcome of their assessments will be. We will also consider the safety, qualification requirements and the viability of school participation for the fall Collegiate Nationals. We will be consulting with schools over the coming weeks as decisions are made in regard to in-person classes, athletic policies and team travel and funding restrictions.

We continue to look at postponement dates and have listed the revisions for several events below. There are many considerations when rescheduling these events, including condensing four months of racing into a two-month window, finding dates that work with our host communities' revised local calendars, and the logistics of moving required equipment and staff. We recognize that not all of these dates will fit with people's schedules, other events that have been postponed to the fall, or with other scheduled National Championship events.

We want to be clear that even though events may be currently postponed, if we cannot reasonably ensure the safety of our members, volunteers and host communities we will not run a National Championship.
We will continue to provide status updates over the next couple of months and provide dates by which final decisions will be made in the next update. We will not open any registration until we are confident we can successfully and safely hold an event. 

Please continue to ride safe, enjoy the start of summer and we'll be in touch.

*Unless relevant information dictates an earlier notification.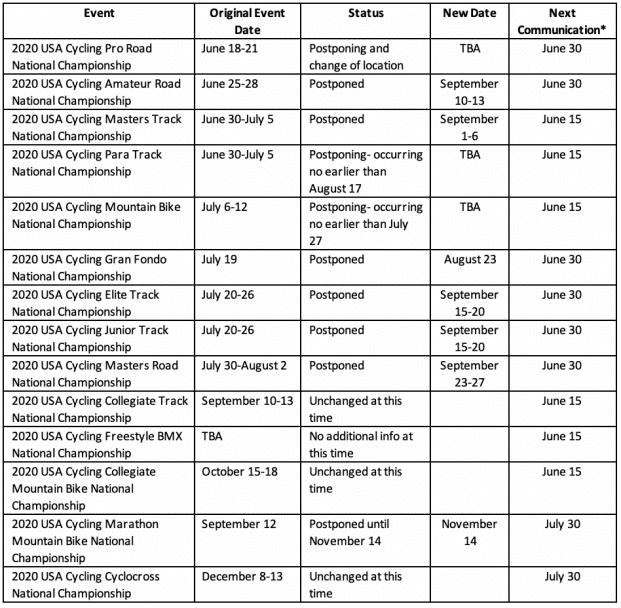 This page contains affiliate links, where we get a commission if you decide to make a purchase through the links(at no cost to you) and helps support the site. As an Amazon Associate, we earn from qualifying purchases.