Despite the fact that large events, get-togethers, indoor dining and other activities have temporarily come to a halt as a result of the pandemic – birthdays, anniversaries and other life milestones do not. CicLAvia is about to celebrate its 10th Anniversary. Known for catalyzing vibrant public spaces, active transportation and good health through car-free streets, and working on future events as soon as the city provides the go-ahead, LA's beloved CicLAvia is going strong as it ventures into its' next decade.
CicLAvia has become the largest event of its kind in the U.S. and a leader in the global Open Streets movement.
The first CicLAvia event took place on October 10, 2010, with a stretch of open streets from East Hollywood through downtown L.A. into Boyle Heights. More than 100,000 Angelenos turned out with people-powered transportation (bicycles, walking, skateboarding, scooters, running, pedicabs, etc.), exceeding expectations.
Inspired by the Bogotá, Colombia's ciclovía events that started 45 years ago, CicLAvia began as a grassroots initiative by individuals who recognized that Open Streets events could address active transportation, urban land use, and public health needs in L.A.
Ten years and 35 CicLAvias later, more than 1.8 million people of all ages (averaging 53,000 participants at each event) have explored nearly 226 miles of open streets in L.A. County. Each CicLAvia route is 6-8 times larger than the median size of L.A.'s existing public parks.
CicLAvia has allowed L.A. to imagine what air quality, mobility and public health would be like via car-free Open Streets events. CicLAvia routes change every other month creating greater equity for L.A.'s most park-poor communities – extending its reach and impact beyond any one community. One silver lining from the pandemic is that we got a taste of the positive impact of Open Streets when CicLAvia was forced to temporarily suspend their events and Slow Streets emerged as COVID-19 wreaked havoc on the City of Los Angeles, disrupting lives, costing lives, and severely hampering our economy. Making active transportation safer can provide all Angelenos mobility alternatives, especially those without access to a vehicle –

https://streetsforall.org/covid19

.

Attendees come from both the host neighborhoods – and all over L.A. – to share and enjoy the day. CicLAvia builds a unifying social fabric connecting neighborhoods and neighbors to each other through a spirit of play.

CicLAvia is free, fun and inclusive. Neighbors, families and new friends can more intimately explore neighborhoods, historic sites, and hidden gems along with food, shopping and educational resources available along each route.

For those participating with children, CicLAvia is an opportunity to get exercise, explore the city, have fun, to bike and walk in a safe environment without traffic, and to simply get their children outside.

By locating routes near public transportation, a broad range of local communities can easily participate. CicLAvia entices people to go places they haven't visited. Metro ridership increases 30% during CicLAvia, with some riders taking trains and buses for the first time. CicLAvia happens with communities not to communities. All routes, whether unique or recurring, are designed, planned, and implemented with local communities in mind.

CicLAvia's participants mirror L.A.'s demographics. They come from 75% of City of L.A. zip codes, and 50% of LA County zip codes. In a region that has at times struggled for harmony, CicLAvia creates a joyous, shared urban forum. Everyone is welcome… even dogs. Attendees start wherever they want along the route and enjoy as long as they like.

These well-coordinated days are due to the hundreds of volunteers who work alongside public safety workers to close streets to cars and open them to celebratory fun. By design, CicLAvia routes traverse the centerpiece boulevards that distinguish L.A.'s many unique neighborhoods.

Each route is punctuated by Hubs that turn intersections into recreation and rest areas, where people can find fresh water, food, entertainment, bike repairs, art, first aid, conversation, shared activities, and the joy of being outdoors, bringing people together, whether they live on the same block or in the same county.
What's new right now with CicLAvia – Over the summer, CicLAvia's impact was punctuated with these two prestigious awards:
1) High Line Network – a community of North American nonprofit organizations developing or operating infrastructure reuse as public spaces based on CicLAvia's redefining what a park can be, and commitment to building truly equitable spaces for Los Angeles communities, and
2) Urban Land Institute's (ULI) Open Space Award Special Mention – Though unconventional, CicLAvia is a "best park" with enormous reach and impact beyond any one community. CicLAvia builds a unifying social fabric connecting neighborhoods –and neighbors– to each other.
In celebration of CicLAvia's 10

th

Anniversary, artist Brian Rea created a commemorative illustration that captures the joy, excitement, and energy that CicLAvia brings to LA streets and communities. "When I participated in CicLAvia the first time, it completely changed my attitude about Los Angeles. We all know LA by driving in our cars, but when you get out and walk around the city, you get a completely different perspective of the city. And there's no other event that allows you to do that," exclaimed Rea. (illustration image attached). New merchandise incorporating illustration will be available soon.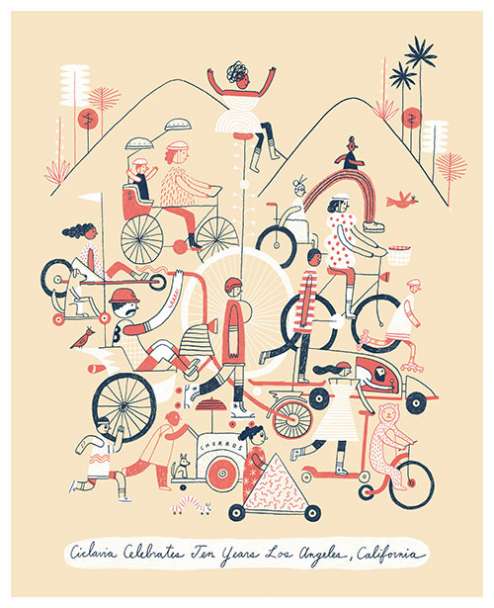 For more information visit CicLAvia.org.
This page contains affiliate links, where we get a commission if you decide to make a purchase through the links(at no cost to you) and helps support the site. As an Amazon Associate, we earn from qualifying purchases.