Katie Clouse is that age when kids are leaving the nest to take on the big, bad world and enter into the rat race . . . or in her case, the bike race. The top junior rider in America, Clouse has opted to leave her comfort zone. She's departing from DNA Pro Cycling team, which is based not far from her hometown of Park City, Utah and is joining Minnesota-based Rally Cycling.
"When Jonas Carney reached out this season, I felt like I was ready to make the move to a bigger team and race bigger races," Clouse, 19, said on the Rally Cycling web page. "Rally Cycling has a big presence in Europe and I'm excited to take the next step in my career."
Across the best sportsbooks, Clouse would be a lock as a favorite in just about any junior cycling event in the USA, as well as in any riding discipline. Equally at home in road cycling, mountain biking, and cyclocross disciplines, Clouse has won 31 U.S. national titles over her riding career.
Still In A Learning Curve
One of the factors that Clouse hopes to be able to determine via her move to Rally Cycling is deciphering at which of the riding disciplines she is most adept and should focus her energies toward in preparation for the future.
"European one-days are my absolute favorite kind of racing," Clouse said. "My cyclocross background really comes in handy when racing short, punchy climbs over mixed terrain."
Rally Cycling will also present her with riding opportunities that wouldn't be accessible had she stayed with DNA Pro Cycling.
"I've been with DNA probably for five years and did a lot of guest riding for them too. I have been with DNA for so long and very grateful for all of that," Clouse told Cyclingnews. "Everything in the US is so uncertain still (due to COVID-19), and racing in Europe is a little bit more certain, so the move to race internationally was huge for me.
"I can't wait to get over there with the team."
On the European circuit, Clouse finished sixth at Trofeo Binda and fifth in Gent-Wevelgem, both in Junior Nations Cup races in which she represented the U.S. National Team in 2019.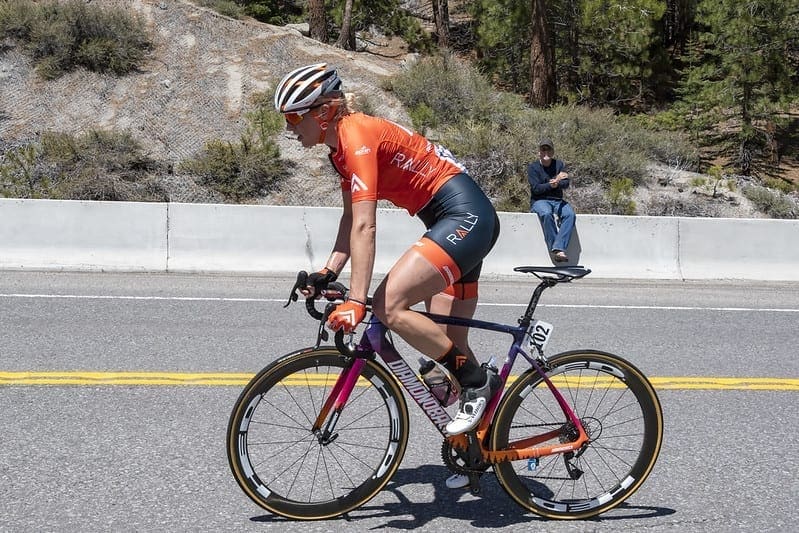 "Erica Allar of Rally Cycling on Kingsbury Grade" by Ray's Professional Cycling Page is licensed under CC BY-SA 2.0
"I'm very motivated to help people win big races against the best competition in the world," Clouse said. "I believe that helping teammates win in Europe is what's going to make me a stronger and better bike racer.
"I think it is the traveling I miss the most. My whole life I've traveled. For 'cross last year I was on a plane every single Monday and Friday. It's really been different not having to travel these past eight months. I'm just super-excited to going back to Europe and honestly, have that feel of racing. It's been a long time."
Heading To California
Clouse recently underwent surgery required to repair a torn labrum she suffered after dislocating her shoulder.
"I dislocated it last winter when I was racing a cyclo-cross World Cup over in Europe," Clouse explained. "Then about two months ago I was riding my mountain bike and I had a silly crash, went over the bars and popped it out again. That's what caused the tear.
Facing six weeks in a sling, Clouse is confident she will be back on the trainer in the coming days.
"I can get back on my bike probably mid to end of December. I'm doing a lot of gym stuff right now. The trainer work really doesn't compare to riding outside.
Clouse is expected to be fully healed and ready to join her new teammates at their first training camp in Oxnard, CA in January.
California Teaming
There's plenty of California influence that Clouse will encounter on the Rally Cycling roster. On the men's side, Robin Carpenter is a resident of San Diego and Kyle Murphy is from Palo Alto.
Clouse's mates on the women's team include Krista Doebel-Hickok of Marina del Ray and Megan Jastrub from Apple Valley.
"I haven't talked to them face to face, but have interacted with them all since they found out I am joining the team," Clouse said. "I'm excited to get to know all of them."
Top Photo – "Team USA" by ADPascuas is licensed under CC BY 2.0
This page contains affiliate links, where we get a commission if you decide to make a purchase through the links(at no cost to you) and helps support the site. As an Amazon Associate, we earn from qualifying purchases.