LA's Pedal-Powered Fundraising Celebration
Featuring Entertainment from KCRW DJ Chris Douridas & Indie Rock Band Westerner
Bringing together cyclists from daily commuters to weekend warriors & everyone in between!
The Los Angeles County Bicycle Coalition (LACBC) invites you to join them at their inaugural 2022 LA Bike Fest – the ultimate bike party and LA's Pedal-Powered Fundraising Celebration taking place on Saturday, November 5, 2022 from noon – 4p.m. Tickets to this year's event will help raise funds and awareness to help transform greater Los Angeles into a safe, healthy, and equitable biking region. Everyone can help make a difference. LACBC welcomes all riders and all ages from beginners to experienced cyclists. LA Bike Fest celebrates the community on bikes with rides and a party at Bike Shed Moto Co. LACBC) will also be honoring leaders from the bicycle-riding community to receive a Spoke Award! Our honorees are passionate, dedicated, and collaborative in their efforts to make Los Angeles a more bikeable region for everyone.
Attendees will join LACBC members, elected officials, community leaders, corporate partners, bike-friendly businesses, and transportation advocates for a fun afternoon with KCRW DJ Chris Douridas, live music from the indie rock band Westerner, amazing food, drinks, bike expo, silent auction, games, special giveaways, and more. Initially established as a cool, inclusive motorcycle club in Central London, Bike Shed Moto Co. has recently opened a location in Downtown Los Angeles's Arts District. Attendees are encouraged to bike and/or take public transportation to LA Bike Fest with LACBC hosting feeder rides from Long Beach, Santa Monica, Montebello, and West Hollywood.
LACBC will honor leaders from the bicycle riding community who are passionate, dedicated and collaborative in making Los Angeles a more bikeable region for everyone. This year's Spoke Award honorees include Councilmember Nithya Raman, Council District 4, Yolanda Davis-Overstreet from the West Adams Safety Project, and Jimmy Lizama, E-bike Pilot Partner.
Sponsors include Waymo, The Wonderful Company, Tranzito-Vector, Sierra Nevada Brewing Company, BXP, among others.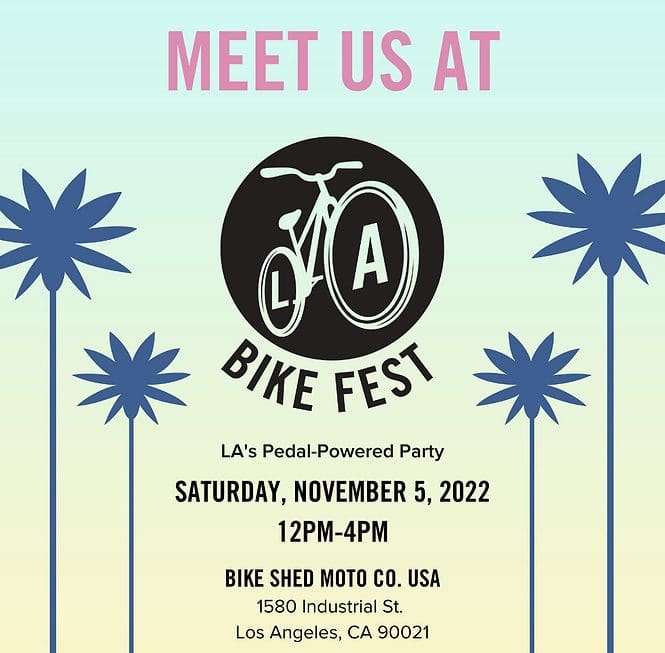 Where: Bike Shed Moto Co. USA, 1580 Industrial Street, Los Angeles, CA 90021 (free bike valet)
When: Saturday, November 5, 2022; 12 p.m. – 4 p.m.
Tickets: $100pp or fundraise for $250; VIP Millennium Lounge $1,000
Information & Tickets: https://www.la-bike.org/labikefest

Los Angeles County Bicycle Coalition (LACBC) is a membership-based nonprofit organization that works to make all communities in LA County healthy, safe, and fun places to ride bicycles through advocacy, education, and outreach. LACBC envisions a Los Angeles County that is a great place for every day, year-round bicycling. People want to live in healthier, more vibrant communities, where the air is cleaner, and streets are both quieter and safer for everyone. More women, families and children ride their bikes, and appreciate opportunities to enjoy their neighborhoods and their city.
In addition, there is a lack of investment for safe and accessible networks for walking and biking particularly in low-income communities of color, which have the highest rates of traffic injuries and fatalities. LACBC recognizes our role in shaping regional policy to address these disparities and advocates for intentional policies to address inequity. All people, of varying cultures and backgrounds, should be able to ride their bikes everywhere, safely, and conveniently. We believe that cycling is not only a great form of recreation but is a great form of transportation that not only can help improve one's physical and mental health, but also bring together our communities in brand new ways.
Photo by Elsa Tung
This page contains affiliate links, where we get a commission if you decide to make a purchase through the links(at no cost to you) and helps support the site. As an Amazon Associate, we earn from qualifying purchases.