CicLAvia – Mid City Meets Pico Union
Presented by Metro & in Partnership with Accelerate Resilience L.A.
Earth Day is Every Day – Let's Support Each Other in Creating a
Climate-Resilient L.A. and Celebrate the City we Love
at a New Open Streets Event for All
Sunday, April 16, 2023; 9 a.m. – 4 p.m. Rain or Shine
On Sunday, April 16; 9 a.m. – 4 p.m. CicLAvia presented by Metro and in partnership with Accelerate Resilience L.A., will connect Mid City and Pico Union with four miles of open streets for people to experience in a transformative, car-free way.
The CicLAvia – Mid City meets Pico Union represents the 44th edition of the beloved open streets event which began in 2010. Free to attend, participants are encouraged to jog, ride, bike, skate, run, walk, skateboard, or spectate along the route. CicLAvia is always a celebration of our diverse and vibrant communities, and CicLAvia car-free streets connect all of us to the neighborhoods where we live, work, shop, learn, and play. As active participants at CicLAvia, we use people-powered mobility to navigate our public streets in a safe and joyful way. Along the way, we shop at our local businesses, we are introduced to cultural and architectural gems, we use our streets as spaces to connect with each other, and we do our individual part to make a positive impact on our environment by creating a more sustainable and climate resilient city and region.
Los Angeles is a city known for innovation and creativity, and CicLAvia has partnered with Accelerate Resilience L.A. (ARLA) which helps envision Los Angeles as a climate-resilient region that is safer, healthier, and more prepared for our new climate reality. ARLA's mission is to engage, empower, and activate individuals and communities to collectively accelerate meaningful, equitable, and holistic resilience to climate change.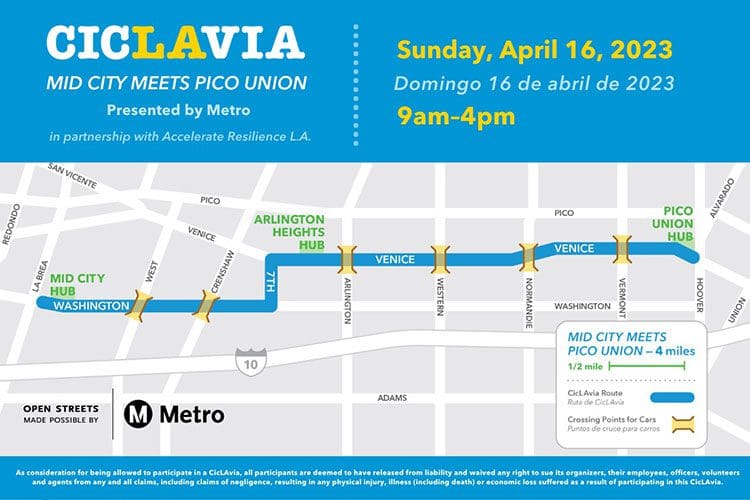 "CicLAvia has been helping to share a new narrative for a sustainable Los Angeles," says the nonprofit's executive director, Romel Pascual. "As such, Accelerate Resilience L.A.'s participation in our April event highlights the strong connections of CicLAvia Sundays to direct environmental improvements, as well as an impact on individual behavior toward participants' interaction with their environment."
"ARLA is thrilled to partner with CicLAvia on this climate-themed event that celebrates and uplifts the resilience of our communities in the face of climate change," says ARLA founder Andy Lipkis. "We are pleased to bring together community organizations who are already serving Los Angeles and delivering even more programs and services to our communities."
With three (3) hubs of activities and programs along the April route, the CicLAvia experience will be both fun and engaging for all to enjoy. Hubs are walking zones (bike dismounts) and meeting points along the route and offer additional programming and activities. CicLAvia – Mid City meets Pico Union will have three hubs: Mid City Hub on Washington Blvd (east of La Brea); Arlington Heights Hub on Venice Blvd (west of Arlington Ave); and the Pico Union Hub located on Venice Blvd (west of Hoover St). Hubs have family-friendly activities, restrooms, free water refilling stations, free basic bike repair, bike parking, and first aid. In addition, free pedicab rides, sponsored by AARP, are available at each information booth.
In addition, there are many local gems, activities, and businesses to check out near and along the route – discover them through CicLAvia's new Interactive Digital Map. Hubs have family-friendly activities, restrooms, free water refilling stations, free basic bike repair, bike parking, and first aid. In addition, free pedicab rides, sponsored by AARP, are available at each information booth.
CicLAvia has many positive impacts on Air Quality:
Air quality is improved by nearly 50% in surrounding areas on CicLAvia days
Particulate Matter 2.5 micrometers and smaller declined by 49% on route
Ultrafine Particles reduced by 21% on CicLAvia streets
Particulate Matter reduced by 12% on streets off-route (still open to traffic)
Over the past 13 years, CicLAvia has grown into a beloved staple of the Los Angeles landscape. More than just an open streets movement, CicLAvia helps communities re-imagine a greener and cleaner Los Angeles, while also promoting equitable transportation options, healthier lifestyles, and closer connections to community. Inspired by Bogotá's weekly ciclovía, CicLAvia has been temporarily closing streets to car traffic and opening them as public parks in Los Angeles since 2010. With more than 270 miles of open streets, Mid City meets Pico Union is CicLAvia's 44th event.
Only people-powered vehicles are allowed. No electric scooters, electric skateboards, hoverboards, electric unicycles, motorcycles and other non-people-powered vehicles are allowed at CicLAvia. Class 1 e-bike pedal-assist allowed. Class 2 e-bikes allowed when throttle is powered off. Class 3 e-bikes allowed when pedal-assist is powered off. Motorized wheelchairs are allowed. Learn more here.
Participants assume all known and unknown risks of participation in CicLAvia. More information regarding participants rights can be found here: https://www.ciclavia.org/ciclavia-safety
Upcoming 2023 CicLAvia events include: May 21: New CicLAmini – Watts; June 18: South LA – Vermont Ave; August 20: Koreatown Meets Hollywood; September 17: New CicLAmini – North Hollywood; October 15: Heart of LA; and December 3: South LA – Leimert Park meets Historic South Central.
Free for all, CicLAvia is a nonprofit organization committed to introducing Angelenos to the vibrant civic and cultural treasures throughout Los Angeles. CicLAvia highlights important issues to all Angelenos – from environmental health and air quality improvement to access to safe and open parks, physical and mental well-being. CicLAvia has captured the imagination of more than 1.8 million people who have traveled together along more than 270 miles of streets. CicLAvia builds unifying social fabric, joyously connecting culturally diverse neighborhoods and neighbors to each other through open streets. CicLAvia is not just about cycling, it's also about multiple modes of people-powered transportation. Whether one walks, strolls, skate, jogs, scooters, or bikes, CicLAvia creates so many incredible moments and experiences enjoying our city streets together.
More Information
Visit https://www.ciclavia.org/mid_city_meets_pico_union23 for more detailed information
Photo credit – Courtesy of CicLAvia
This page contains affiliate links, where we get a commission if you decide to make a purchase through the links(at no cost to you) and helps support the site. As an Amazon Associate, we earn from qualifying purchases.