FRS has created a full line of antioxidant products that will cover all of your daily wellness needs, help reduce fatigue by providing an energy boost and improve sports performance with daily use.
FRS stands for Free Radical Scavenger. Free Radicals are byproducts of normal metabolism, created when cells produce energy and can damage healthy cells, weaken your immune system, cause premature aging and more than 60 diseases. I don't know about you, but these are not things I want happening to my body (especially the premature aging!). Thanks to FRS, we don't have to worry about these nasty Free Radicals doing any more damage.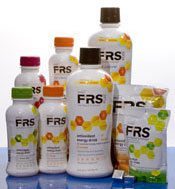 I had the opportunity to try the FRS Concentrate, FRS Drink Mix and FRS Soft Chews. I like that FRS has a variety of products that meet your needs depending on your situation. The FRS Concentrate is available in a delicious Orange flavor, with a low calorie option, as well. Just mix 2 oz with 6 oz of water and you have a tasty drink that also provides an energy boost. I love FRS Concentrate in the afternoon when I am starting to fade and need a quick pick me up. The FRS Drink Mix is available in a low calorie Lemon Lime flavor and comes in a stick pack of powder that you mix with water and is the perfect solution for those that travel. The FRS Soft Chews come in Orange and Lemon Lime and are individually wrapped chews that you can take with you anywhere for a little extra energy during the day. I even carried a few in my jersey pocket for a mid ride boost.

I encourage you to try FRS for yourself and experience these powerful benefits first hand.