Fresh off a pair of US National cross country titles last week, Specialized riders Chris Blevins (U23 Champion) and Kate Courtney (Elite Women) look to defend their newly earned stars and stripes on home soil at this weekend's Boston Rebellion UCI HC mountain bike event. The Boston Rebellion is the fourth and final round of the US Cup XC series, which opened at Fontana back in April.
The young US riders have been nearly flawless since the series opener and have established a "New World Order" in American mountain biking. Both riders have a firm grip on the US Cup series title with one round to go, and look to pocket the $20,000,00 winner take all pay day for series champions.
But it won't be a walk at the park for the two American riders, as a strong contingent of domestic and international competitors are set to line up this weekend at Adams farm.
Australians Dan McConnell and Rebecca Henderson, along with newly crowned Canadian national cross-country champion Emily Batty are set to race. Additionally, a strong Latin American contingent with newly crowned Chilean National champions Sebastian Miranda and Pilar Corvalan are among the few World Cup regulars set to use the Boston Rebellion for a tune up, before heading to the UCI World Cup in Mont- Sainte Anne the following week.
Schedule:
The women kick things off at 1:35pm local time on Saturday, as they head out for five laps on the 3.5-mile cross-country circuit. While no major climbing with only 260 feet per lap, the tight, technical and twisty east coast course will challenge riders to be smooth and mistake free. The Shimano "A" line drop is back for another year and is always a favorite among the rides and fans alike. Here riders can choose to jump a 10-foot gap, or take a "B" line.
The men launch off at 3:30 pm for six laps on the course, as they do battle for precious UCI point and $4,000 + in prize money on the day. The Shimano "A" line drop is sure to be a crowd favorite as in years past, where plenty of heckling and gather will take place, as pro's clear a 12-foot gap out on mid-course.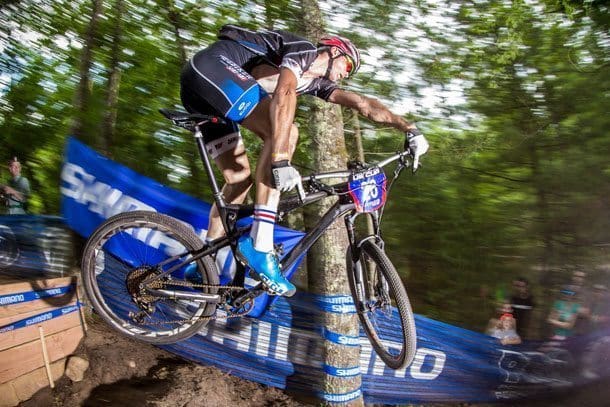 Sunday, the pro's return for some high intensity short track racing on a one mile circuit for an all-out twenty minute plus one lap effort to crown the 2017 US Cup series champion. Women race at 3pm and men at 3:45pm local time.
Women's US Cup Standings:
1: Kate Courtney (Specialized)-350
2: Rose Grant (Notubes/Pivot)-320
3: Kelsey Urban (Whole Athlete)-176
4: Lea Davison (Clif Pro Team)- 168
5: Alexis Skarda (Stans Notubes)-142
Men's US Cup Standings:
1: Christopher Blevins (Specialized)-346
2: Todd Wells (SRAM/TLD)-209
3: Howard Grotts (Specialized)-200
4: Luke Vrouwenvelder (Bear Development)-161
5: Nic Beechan (Trek Test Team)-159
For more information visit www.uscup.net
This page contains affiliate links, where we get a commission if you decide to make a purchase through the links(at no cost to you) and helps support the site. As an Amazon Associate, we earn from qualifying purchases.