Students Set out on a Journey to Discover What it Takes to Create Bike-Friendly Cities
Harvey Mudd College is proud to host the premiere of the new, award-winning bicycle activism documentary Bicycle Revolution at Rose Hills Theatre on Thursday, November 9, 2017. In the heart of car-dominated Los Angeles, a group of students set out on a journey to discover what it takes to create bike-friendly cities. The result is an inspiring call to action for people everywhere.
Co-directed by Dr. Paul Steinberg of Harvey Mudd College and Kevin Foxe (whose credits include the original Blair Witch Project), and featuring new music from the Los Angeles indie rock scene, Bicycle Revolution documents the experience of 15 students in a one-of-a-kind college course that takes place entirely on bicycles. Together the students explore a question on every young person's mind these days: Is meaningful social change possible? In their search for answers, they meet with mayors, city council members, community activists and city staff who are on the front lines of struggles to make sustainability a reality.
The premiere of Bicycle Revolution will be accompanied by a discussion session led by Paul Steinberg, director of the film and Professor of Political Science and Environmental Policy at Harvey Mudd College. Students from the Bicycle Revolution course will also be present to participate in an exclusive Q&A after the presentation of the film.
Bicycle Revolution is intended to spark conversations around the nation between governments and community members, urging attendees to think about and become engaged with cycling policy in their communities.
Screening Date: Thursday, November 9, 2017
Screening Time: 7:00 pm – 8:45 pm
Screening Location: Rose Hills Theatre (Lower Smith Campus Center, Pomona College)
This event is free and open to the public.
For additional information, please contact Paul Steinberg at [email protected].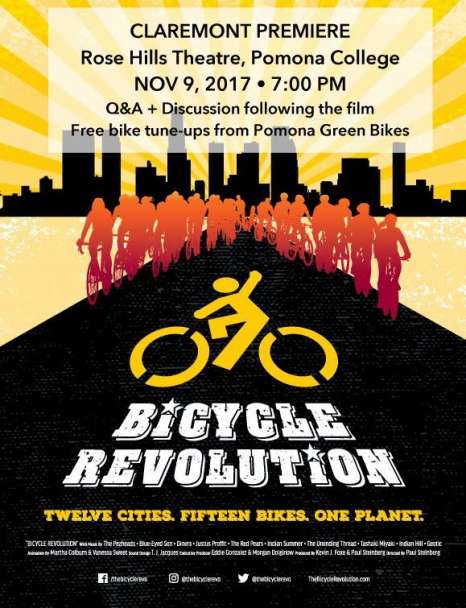 This page contains affiliate links, where we get a commission if you decide to make a purchase through the links(at no cost to you) and helps support the site. As an Amazon Associate, we earn from qualifying purchases.