Day 1: Old Tucson/McCain Loop prologue TT: 3.0 miles.
By Sarah Muench @ clippedin.bike and updates/overview by Steve Bohn, TBC founder/promoter. Photos by Ted Tucker (Sky West Media) and Damion Alexander.
Beautiful, mild springtime weather brought relief to the Sonoran desert just a week after nearly 4" of snow fell in Tucson. 425 riders in 23 USAC categories came to the start line on the challenging, technical rolling TT vying for the $10,000 cash purse. 8 domestic UCI teams and other quality squads at the Classic gained early success in the pro fields at the Stage 1 Prologue on Friday.
Hagens Berman | Supermint and Floyd's Pro Cycling opened with leaders' jerseys on their backs as they headed into Saturday's road race and Sunday's circuit race
Pro fields
Lindsay Goldman (Hagens Berman | Supermint) took her first TBC win, though her team has had success at the stage race in the past. She set the pace at 8 minutes and 37 seconds, just two seconds ahead of Sho-Air TWENTY20's Jennifer Leubke and five seconds ahead of Leubke's teammate, Emma Grant.
"It was a great feeling to win today – I've been working on my time trialing and trying to improve, so it's nice to see that effort pay off," Goldman said.
She attributed success to her teammates, director, husband, coach and bike fitter for their wisdom and support after her pregnancy just over a year ago.
"I would not be here racing without this incredible crew supporting me, pushing me to keep going, and teaching me how to be a stronger, smarter, faster racer," Goldman said.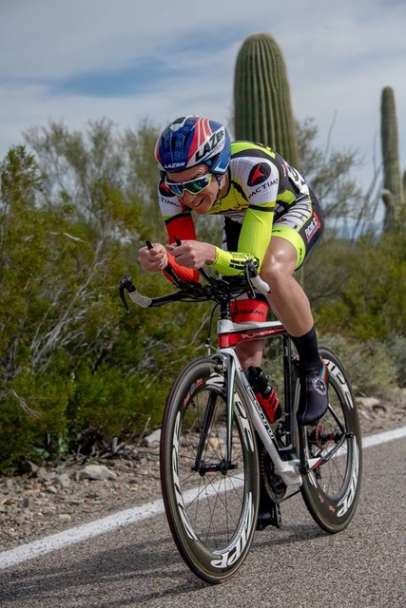 She said her team plans to race hard Saturday and play the cards they have – utilizing sprinter Harriet Owen and road captain Liza Rachetto.
On the men's side, Serghei Tvetcov (Floyd's Pro Cycling) blazed through the 3.2-mile prologue in 7 minutes and 16 seconds and took a 4.5-second lead on Adam Roberge (Elevate-KHS Pro Cycling) with Tvetcov's teammate, Nickolas Zukowsky, nine seconds back in third.
"It feels great to be apart of a great team, and Serghei confirms his world class attributes in the time trial discipline," said Gord Fraser, team director of Floyd's Pro Cycling. "Amazing he stepped over his Van Dessel machine for the first time earlier that day. We look to move up our other riders throughout the weekend."
Day 2: BroadPath Healthcare Solutions Road Race
Breakaway shakes up GC for women; men's overall holds
A four-woman break and the race leader's disqualification (and later reinstatement) on Saturday at the Broadpath Healthcare Solutions Road Race led to a shake-up in the Women's Pro 1/2 field General Classification standings.
A professional mountain biker takes the stage; showing a last minute decision to race the TBC pays off. After another stage win by Floyd's Pro Cycling in a sprint finish, the Men's Pro/1 field GC remains unchanged.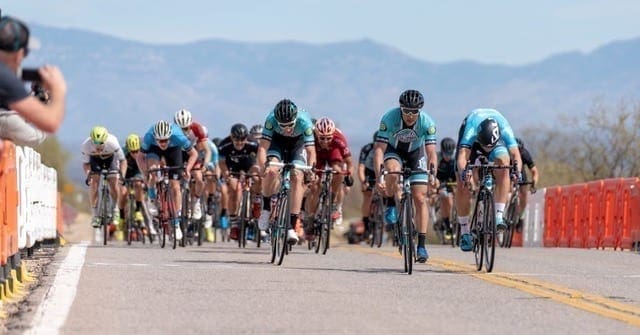 Women's Pro Field
During the second lap of a 61-mile road race, four women broke away from the field – pro mountain biker Erin Huck (Bicycle Haus/CZ Racing), Marie-Soleil Blais (Astana Women's Team), Irena Ossola (Servetto – Piumate- Beltrami TSA) and Harriet Owen (Hagens Berman | Supermint).
As the wind picked up, efforts to pull the break back failed, and by the final time the riders crossed the line, Huck had broken away in a solo victory with Blais not far behind, then Owen, then Ossola.
"It was a lot of fun being in the break and I thought our group worked really well together," Huck said. "I figured today was my chance to gain any time on GC, and sprinting is not my strong suit, so I put in a big effort with 1k to go."
Huck, a short-track, cross-country and cross-country mountain biking national champion and a Pan Am Continental Champion, said she made a last-minute decision to come to Tucson for TBC due to rough winter conditions in Colorado.
"I needed a solid training block before the full MTB season kicks off, and honestly, road racing is a big step out of my comfort zone, which can be a really good thing," Huck said.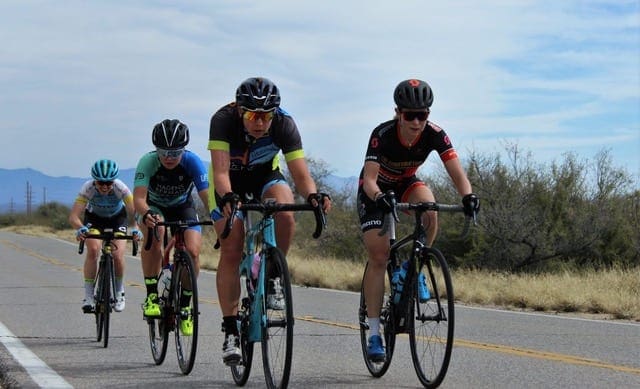 Going into Saturday's race, Huck trailed GC by 15 seconds and Blais was down six seconds. After the road race, the two climbed up the rankings, with Blais now in the yellow jersey and Huck four seconds back.
Owen is 25 seconds down from getting Hagens Berman | Supermint an overall win, virtually an impossible task if relying on time bonuses only. Owen will have to break away to overtake the lead. If she doesn't, it will be one of the rare occasions when a solo rider or a rider with a small team is able to out-gun a large team contingent at TBC.
"We had a good group in the break, and I'm glad the girls all wanted to work together so we could stay away," Blais said. "Tomorrow is another day."
Blais said she is happy to see her form coming along, which happened to be enough to surpass the firepower of larger teams.
"Well, I raced as an independent long enough – trying to get on those big teams – I know how to use that to my advantage," she said.
The previous day's race leader, Lindsay Goldman (Hagens Berman | Supermint) and Aurela Nerlo (TKK Pacific Toren Nestle Fitness) originally were disqualified for allegedly crossing over the center line.
Goldman, who finished the race with the peloton remained in 4th 39 seconds back after her team appealed the ruling well into the night.
Men's Pro Field
After multiple breakaway attempts, the Men's Pro/1 field finished in a bunch sprint that sent Floyd's Pro Cycling's Travis McCabe (2017 TBC champion) through to victory and kept the yellow jersey on the back of his teammate, Serghei Tvetcov.
"Today pretty much went as planned," McCabe said. "We didn't really want a big break to go up the road but expected something. We tried to split the field a couple times in the cross winds, but nothing really stuck. So it came down to a sprint."
McCabe said the sprint, which was into a strong headwind, was all about timing.
"Sergie and Nick led me out, and we were able to go first and third again today, so everyone is happy," McCabe said. "So far the racing is going as planned and we will continue to take responsibility tomorrow."
Team director Gord Fraser said he wanted to integrate two riders fresh out of the junior ranks – Canadians Miles Carson and Robin Plamondon. The two went to the head of the race and set the pace leading into the finish.
"We defended well, kept the race under control for our sprinter Travis which was our primary goal," Fraser said.
Tvetcov goes into Sunday with the yellow jersey and a four second lead over Elevate-KHS Pro Cycling's Adam Roberge and five seconds over Roberge's teammate, George Simpson as well as Tvetcov's teammate, Nickolas Zukowsky.
Time bonuses are available for three, two and one seconds during an intermediate sprint as well as 10, six and four seconds for the finish.
Day 3: Tucson Shoulder, Elbow + Hand Circuit Race
Solo rider takes Women's Pro GC win; Floyd's dominates Pro Men GC at TBC
With the smallest of margins separating the top General Classification placings Sunday at the Tucson Bicycle Classic Stage 3 Circuit Race, riders had plenty of opportunity to steal victory.
But any efforts to swipe precious seconds via time bonuses or attacks were thwarted as temperatures increased and GC leaders cleared their paths to the podium.
GC
Solo rider Marie-Soleil Blais (Astana Women's Team) gained one second via time bonus on pro mountain bike racer Erin Huck (CZ Racing/Bicycle Haus) to take the overall win by five seconds.
"It's nice to win and to have the opportunity to show my new team's sponsors early in the year," Blais said. "I was confident about today because I like the course. Everything went well and kept under control despite some hard moments."
Blais said it was her third time doing TBC and training in Tucson.
"I've been getting a lot of support from locals here over the years, so I'm really thankful and I'm happy they could enjoy this win with me," she said.
Next, Blais said she will head to the Redlands Bicycle Classic then to her first European block.
Serghei Tvetcov (Floyd's Pro Cycling), with help from his team, held off competitors who were only four or five seconds away from raining on his team's TBC parade. He took the overall win by two seconds, and his teammate, Nickolas Zukowsky, moved into second.
"Always great to be on top; it's special with great support," Tvetcov said. "This win – it was a great intro for the season. We have young guys which never have experience to protect yellow. We glad that we can do such a great effort before the big races."
Team director Gord Fraser said TBC was a great start for Floyd's.
"I knew bringing in proven winners like Tvetcov and (Travis) McCabe was going to be rewarding, and they demonstrated to my young riders how to take responsibility and race professionally," Fraser said.
Fraser said the team will have training camp in Tucson next, then divide and conquer the Redlands Bicycle Classic and Tour of Taiwan.
Circuit Race
The Men's Pro circuit race started out at a blazing pace of 28-30 mph the first 4 laps on the rolling, challenging course. In the end, it came down to a four-up sprint between Zachary Nehr (Project Echelon Racing), Leo Bugtai, Alexander Cowan (Floyd's Pro Cycling) and Conor Schnuck (Gateway-Harley Davidson) after the four broke away from the field. It was Nehr for the win and the first victory of the season for Project Echelon Racing.
"It feels amazing to get the first win of the season for Project Echelon Racing," Nehr said. "Our guys have been stacking the podium already this season, but we were still in search of that elusive first win. What happened today was a culmination of hard work, determination and our belief in ourselves and our teammates."
Nehr said his team's plan was to race aggressively, but they took a hit when teammate Matt Zimmer, who was in sixth place for GC, crashed on the third lap and had to be taken to the hospital, where he received 11 stitches to his right elbow, according to teammate David Greif. Another Project Echelon teammate, Tim Savre, who was in ninth place overall, suffered a mechanical and wasn't able to catch back on.
With two of their strongest riders down, Nehr said he and his remaining teammates never gave up.
"I launched an attack the final time up the climb and got away with a group of five," Nehr said. "Coming into the finish, we all started looking at each other. But with a long, uphill sprint into a headwind, I knew I needed to be patient and wait to launch my sprint for as long as possible. Inside 150m to go, I finally launched and gave it everything I had to the line."
"Words cannot describe how happy I was to cross the line first, and take the first win of the year for Project Echelon Racing!" Nehr added.
The Women's Pro circuit race finished in a bunch sprint with solo rider Summer Moak (Rally UHC Cycling) edging out Hagens Berman | Supermint's Harriet Owen at the line.
"It felt really good to win today," Moak said. "I was disappointed to miss the winning breakaway yesterday, so my goal was to win the race today. I had to be smart about the moves that I followed as a solo racer, and I knew that the finish was long and girls would go too early, so I just stayed protected most of the race. Coming into the finish, I was patient and surfed other teams wheels until I knew it was a good time to go."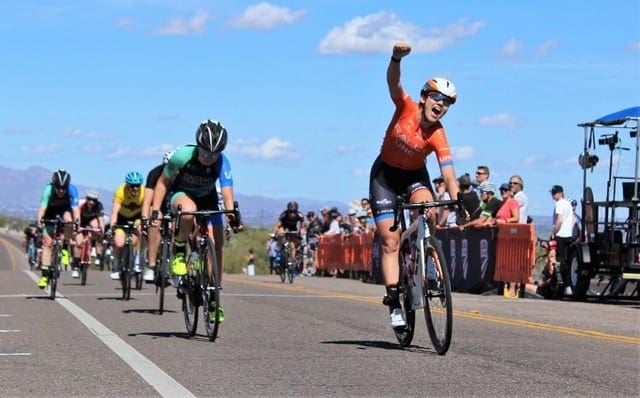 Top 10 GC overall podiums for Pro Men and Women below, photos credit Damion Alexander
Full race results:
http://www.tucsonbicycleclassic.com/2019Results/
Race Overview
33 years of history clearly makes the TBC one of the most vital and popular multi-category USAC stage races in the west. The unique format of a short, challenging TT and 2 road races, no criterium, provides racing for position in every stage. The TBC is inspired to give back to the community, donating over $105,000 over 33 years to local charities and organizations while generating $1M to the local economy each year. Here are some inspiring stories that came out of the long weekend.
James Webster, a local bike shop owner, strong cat 1 master and TBC sponsor, crashed his TT bike Thursday on a recon ride, cracking his carbon handlebars. A quick carbon repair and sleepless night lead to a 4:30 am wake up call from Fed Ex to pick up and dial in eventual 2019 TBC champ Marie-Soleil Blais's TT bike before her 12:47 start time. After a less than stellar TT and continued pain, he considered abandoning the 45+ race. But Saturday morning strong legs and stellar teamwork from his StoneHouse/PS Specialized/Monster Media squad helped a 3-man breakaway stick and he finished 2nd, despite a seatpost shearing and dispensing his saddle 3K from the uphill finish. Now he was 15 seconds behind the GC leader entering the circuit race and took the 3 second intermediate time bonus on lap 3. On the final lap he launched a full mile from the finish, winning the stage by 3 seconds and with combined time bonuses won the overall GC by a second.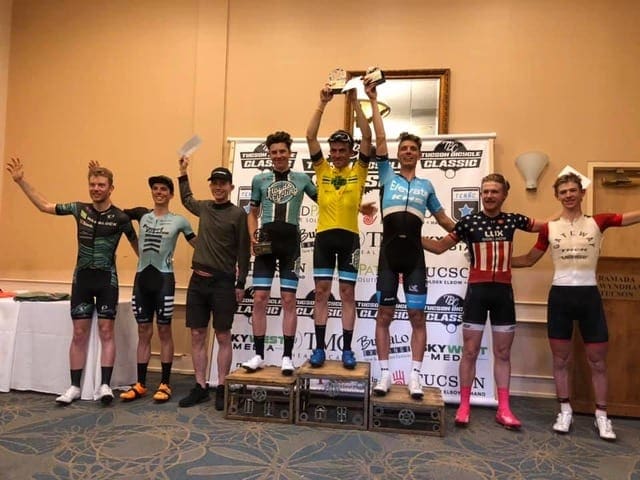 Allison Greening was the only 35+ master rider left in her field on the final day and requested the $500 purse from that field be donated to the local El Grupo Youth Cycling Team in lieu of her taking any $. Wish granted.
Tucson's 16 year old Matthew Riccitello, riding for the powerful Lux/Sideshow p/b Specialized junior squad, took 9th in the TT and managed 10 overall in GC amongst 5 powerful UCI squads. His dad, former world-renown triathlete Jimi Riccitello, missed his 2nd overall 55+ men's GC podium because he was on the feed hill working for Matthew during the Pro/1 race.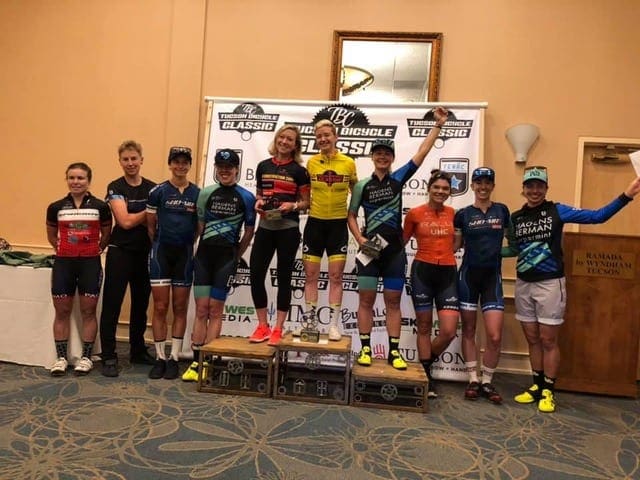 Local Cat 2 Ethan Overson won VOS 2 weeks earlier and dominated the TBC as well, winning the TT, road race and getting 2nd in the circuit race. However, a 30 second time penalty for not signing in before the start of the 3rd stage relegated him to 2nd place overall buy a mere 11 seconds. Showing good sportsmanship during the podiums and GC presentation, he represented his community and El Grupo Youth Cycling team well. Look for him tearing it up in the Pro/1 field soon….
This page contains affiliate links, where we get a commission if you decide to make a purchase through the links(at no cost to you) and helps support the site. As an Amazon Associate, we earn from qualifying purchases.