On Saturday I saw a post from a friend that a fellow cyclist had fatally been hit by a car on Mills Ave near Radcliffe Drive in Claremont around 11:30 am. I am a long time resident of Claremont that lives less than a mile from this location and ride up the wide bike friendly Mills Ave. several times a week on my road bike and mountain bike to ride in the Claremont Wilderness Park, so this news hit hard.
As I rode up Mills later that evening to do a quick one hour ride in North Claremont, Mills Ave. was closed off near Chaparral Elementary School. I used the side streets that I knew and as I came out on Mills at Scottsbluff, the Claremont PD were pulling down the yellow caution tape and could see where the car hit the mailboxes that were on the ground and felt an overwhelming sense of remorse and sadness.
As beautiful as the sun setting over North Claremont and Mt. Baldy was on my ride, I could not stop thinking about the victim and the fact that a fatal accident occurred in the bike lane that my boyfriend and I, along with hundreds of other cyclists, use on a daily basis and feel an overwhelming sense of loss for a cyclist that lost their life doing something that we love.
Upon returning home from my ride, the Claremont Courier website reported that the driver, Sandra Wicksted of Claremont, intentionally hit fellow cyclist Leslie Pray as she was riding northbound in the bike lane enjoying a nice weekend ride. Wicksted who was driving southbound drove across several lanes straight into the northbound bike lane.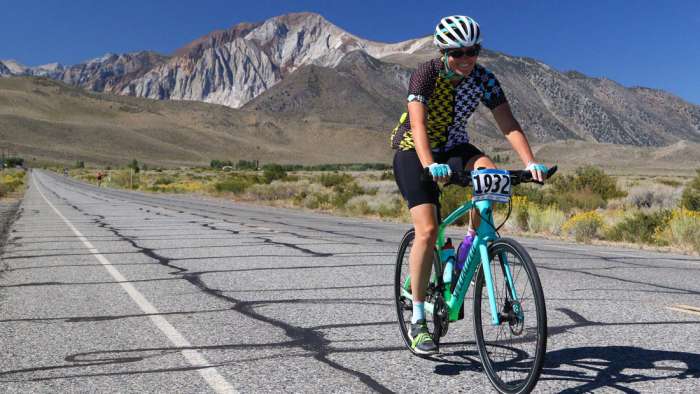 It is reported that Wicksted had numerous empty alcohol bottles in her car and that other cyclists reported her to Claremont PD for trying to run them over just minutes before plowing into Leslie.
I did not know Leslie, but I feel a connection to her as a fellow female cyclist, living in Claremont and someone that rides up Mills Ave. in the same bike lane.
Last night, a vigil was held in Claremont to celebrate Leslie Pray's life at the site where she lost her life. Approximately 200 fellow cyclists, friends and residents of the tight-knit community of Claremont attended to pay their respects and show support for Leslie's friends and loved ones including her long-time partner Betsy Hipple. Hipple heartbreakingly said, "She was a profoundly gentle soul. I think I'll probably carry a sadness and have a gaping hole in my heart for the rest of my life."
A ghost bike was installed and candles were lit in the shape of a heart to memorialize Leslie.
Sadly, this has been a horrific week where several cyclists in Southern California have died at the hand of drunk drivers including Costa Mesa fire captain Mike Kreza and a cyclist in Van Nuys.
My condolences go out to the families and loved ones of these fallen cyclists that have been tragically taken from us.
By Christy Nicholson, SoCalCycling.com
This page contains affiliate links, where we get a commission if you decide to make a purchase through the links(at no cost to you) and helps support the site. As an Amazon Associate, we earn from qualifying purchases.