When Brendan Rhim (Holowesko Citadel) attacked off the front on the last lap of the legendary Sunset Loop Road Race, doubts were in the air. Could he make it? Surely, he'd be caught right at the line.
All those questions were quashed when Rhim never eased up after his surprise attack toward the end of the 94-mile finale at Redlands Classic. When he hit the final downtown circuits, the young Holowesko rider maintained a 25 second advantage despite a charging chase group led by a dominating Axeon Hagens Berman team.
Australian Lionel Mawditt (Project Echelon) claimed the group sprint for second ahead of stage 4 criterium victor, Sam Bassetti (Elevate-KHS).
"I was suffering all day, I really didn't think I was going to make the lead group coming into the last lap," Rhim said. "Coming into the climb on the last lap, I attacked on the downhill coming into it and gained a little gap. I just rode steady because I knew Gavin (Mannion), Sean (Bannett), and whoever else was coming up behind me. I hit it on the downhill and it stuck."
Thomas Revard (Axeon Hagens Berman) sealed his overall victory by finishing in sixth place.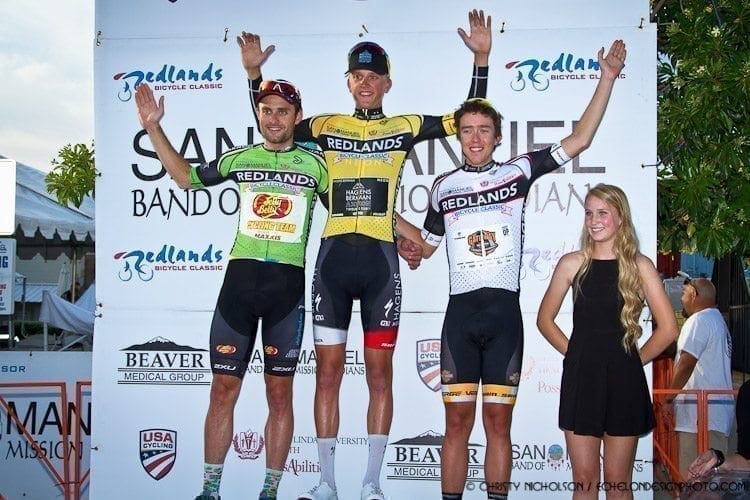 "The guys rode unbelievable," Revard said. "They really threw everything they had. It was really nice to have Sean (Bennett) and Will (Barta) be able to finish with me on the circuit because that meant that they kept their GC spots. This wins means a lot, it's the biggest win of my career. I'm so excited for what's to come."
The finale of the Redlands Classic is traditionally a frantic bid for king of the mountains points, and today was no exception. Fernando Islas (Aevolo Cycling) took over the standings with his consistent performance over the five opportunities for points and claimed the red jersey at the end of the stage.
"The team was working a lot for me and for Alex (Hoehn). I am happy to be able to continue helping the team, and to continue to learn and improve each day," Islas said. "It's a big victory for me because this is such a big event. We're all young, and it was up to me to fight for this classification. We have plenty of strong riders like Luis (Villalobos) and Alex who finished in the top ten on GC. After winning the stage last year and the KOM this year, it shows we did the job well, little by little."
Jelly Belly's Jacob Rathe wrapped up the victory in the sprint competition and Matt McLoone (CS Velo) took home the Amateur jersey.
Katie Hall Scores Hat Trick
UnitedHealthcare Pro Cycling Katie Hall scored a hat trick on the USA Cycling Pro Road Tour, winning her third stage race in as many races, for the 34th edition of the Redlands Bicycle Classic. Rally Cycling brought fireworks for the final day of racing on the Beaver Medical Group Sunset Road Race but could not dislodge UHC from defending GC, finishing second on GC with Sara Bergen and winning the overall team classification. Edwige Pitel (Jakroo Racing) held on for third to round out the podium.
"I'm surprised," Hall said. "I came off a really good off-season, I hit the gym really hard. I feel this win was just a product of my team. I'm really grateful. I was expecting a lot of attacks from Rally and that's what they brought. It was really good, fun, hard racing."
The day brought heat on the pavement as several battles ensued for the final day of racing in Redlands. Team TIBCO's Emma Grant escaped with Kirsti Lay (Rally) with 10km to go, before Grant's final attack off the decent down Sunset to triumph for the stage win. The British rider had made the decision to race only days before arriving in Southern California, after breaking her elbow overseas two weeks prior.
"It's still sinking in," Grant said in disbelief after her win. "I had my teammates there for the bulk of the race, keeping me protected to allow me to keep making the selection, and then I could play my cards when it suited me on the last lap up the climb. I decided the day before I came here to show up because I broke my elbow in Belgium. I made a silly personal decision myself to show up to see what I could do. I'm so happy I came. I've always wanted to win a stage at Redlands, and to pull it off, I really didn't expect it."
Hagens Berman Supermint will leave Redlands securing the top honors in both the QOM classification with Starla Teddergreen and the sprint points leader classification with Jessica Cerra after her win on Stage 4.  Maddy Ward of JLVelo Cycling Team was the top amateur on GC to win the Best Amateur Leaders jersey.
Pro Men's Stage 5 Results
Pro Men's Final GC Results after Stage 5
Pro Women's Stage 5 Results
Pro Women Final GC after Stage 5
Full results available on www.redlandsclassic.com
This page contains affiliate links, where we get a commission if you decide to make a purchase through the links(at no cost to you) and helps support the site. As an Amazon Associate, we earn from qualifying purchases.