Eenkhoorn Wins Stage 3; Mannion Holds GC
The Queen's Stage of the Colorado Classic proved to be a thriller in and around Denver
After more than three and a half hours of high-speed pedaling over 100 miles of urban and mountain roads, the winner of the Colorado Classic's Queen's Stage presented by UnitedHealthcare came down to a finish-line sprint and Pascal Eenkhoorn (Team Lotto NL-Jumbo) timed it perfectly for victory.
The 21-year-old Dutch cyclist was one of a handful of riders to fire out of the peloton within the last mile of the race and shot past fellow sprinters Edwin Avila (Israel Cycling Academy) and Gavin Mannion (UnitedHealthcare), who finished second and third, respectively.
"It was a really great race for me. I didn't expect to win," Eenkhoorn said. "I was dropped at the first climb. I came back and told my team I was feeling good. With the headwind the last 20K we were grouped together. With 1K to go, two guys screamed my name and I just followed them."
Stage 3 was the longest leg of the 2018 Colorado Classic race, taking place on a scenic but arduous 100-mile course that included 8,133 feet of climbing, three King of the Mountain and two Sprint segments. From the Velorama Festival in Denver's RiNO Arts District, the course shot west through Wheat Ridge (sprint No. 1) up and over Lookout Mountain (KOM No. 1), through Red Rocks, up through Evergreen (KOM No. 2) and Indian Hills (KOM No. 3), back through Red Rocks over Dinosaur Ridge to the sprint finish from Wheat Ridge back to Velorama.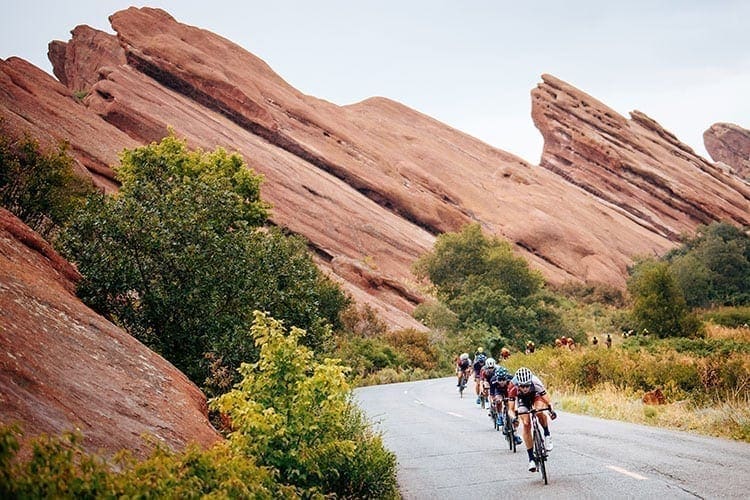 The excitement started early in Saturday's race, with numerous attacks during the first sprint before the grueling climbs began. A group of seven riders peeled ahead early on and rode together nearly the whole race, including Hugh Carthy (EF Education-Drapac p/b Cannondale), who went on to win the Colorado Tourism Office King of the Mountain jersey, Daniel Martinez Podeva (EFD), who earned the IKON Pass Best Young Rider jersey for the second day straight and FirstBank Most Aggressive Rider Joe Dombrowski (EFD). Also in the mix were Damien Howson (Mitchelton-Scott), Keegan Swirbul (Jelly Belly preseted by Maxxis), Toms Skujins (Trek-Segafredo) and Bryan Sanchez (Holowesko-Citadel p/b Arapahoe Resources). The breakaway separated itself from the peloton by as much as 1 minute, 20 seconds throughout the race as speeds maxed out close to 60 mph and racers contended with thunder, lightning and steady rainfall throughout the day. As bright sun emerged, a headwind prevailed and the peloton, led by UnitedHealthcare, closed the gap with the breakaway group. Following the final sprint, Joseph Lewis (Holowesko-Citadel p/b Arapahoe Resources) earned the Frontier Airlines Sprint jersey as Skujins, along with UHC's Mannion and Serghei Tvetcov, gave chase with the others in hot pursuit.
Mannion, who won the Stage 2 time trial in Vail, was not aiming for another podium finish on Saturday but held strong to the blue Gates General Classification leader's jersey and to UHC's dominance at the Classic.
"After the team rode the front for 100 miles I felt I had to do my best for the sprint," Mannion said. "We were nervous all day. It was the strongest guys in the race in the break. To have my teammates keep them within a minute and ride them back was amazing. We had to chip in a bit at the end."
Mannion leads the GC with a three-stage combined time of 6 hours, 41.33 minutes, follwed by Tvetcov, 15 seconds back and Carthy 22 seconds back.
Fifteen of the world's top men's teams are competing in this year's Colorado Classic, a field whittled from 90 down to 80 riders competing in Stage 3. Following the Queen's Stage Saturday, the race wraps up with Stage 4 presented by Gates Industrial Corporation on Sunday, a criterium race through downtown Denver.
The Colorado Classic men's race is sanctioned by Union Cycliste Internationale (UCI) and is designated as a 2.HC race, which is the highest category outside of World Tour races. Both the men's and women's races are part of USA Cycling's Pro Road Tour, which showcases the premier domestic road events in the United States.
Hall holds GC lead as Valente speeds to Stage 3 win
Wet pavement doesn't thwart women's field in Velorama criterium
Sixty-seven of the world's best female cyclists made lightning-fast laps on rain-soaked pavement around the Velorama Festival on Saturday and Jennifer Valente (Twenty20 p/b Sho-Air) proved fastest.
The 2016 Olympic Track silver medalist was one of a small contingent of riders to power out of the saddle to a sprint finish, a feat that earned her the win and also the Frontier Airlines Sprint jersey. Valente blazed past second-place Kendall Ryan (TIBCO-Silicon Valley Bank) and third-place Emma White (Rally Cycling) by less than half a bike's length for the win.
"It was pretty hectic, the last five laps. There were a couple attacks that went off with a couple laps to go. In the final, going through those intermediate sprints helped me a lot. A little bit of patience ended up paying off," said Valente, who lives in Colorado Springs.
The Stage 3 presented by UnitedHealthcare's women's criterium featured an hour of 1.1-mile loops around the Velorama Festival grounds in Denver's RiNo Art District.
The race became significantly more thrilling when rain began to fall, rendering the pavement wet and the tight corners especially dangerous, leading to one crash, but luckily no serious injuries.
Team Affinity's Leigh Ann Ganzar scrambled through the tricky conditions, winning the FirstBank Most Aggressive Rider Jersey as Gillian Ellsay (Rally) once again landed the IKON Pass Best Young Rider jersey after also earning it in Stage 1.
"I thought the rain might have scared people away, it almost scared me away," joked UnitedHealthcare's Katie Hall.
The big story going into Sunday's final stage of the race is that Hall, the Stage 2 Vail time trial winner, still wears the blue Gates General Classification leader's jersey. She holds a 24-second lead over UHC teammate and Colorado Tourism Office Queen of the Mountain leader Leah Thomas. Colorado native Abigail Mickey (Rally) sits in third place in the GC, 1 minute, 22 seconds back.
"We've got pretty big gaps in the women's race, so we feel good about our position. It should be a fun race on Sunday," Hall said.
Fifteen of the world's top women's teams are competing in this year's Colorado Classic, which wraps up Sunday with Stage 4 presented by Gates Industrial Corporation. There will be 64 women left to compete in Stage 4, an urban circuit race through downtown Denver from Velorama to City Park.
The 2018 Colorado Classic women's race is made possible by Antero Resources and is part of USA Cycling's Pro Road Tour, which showcases the premier domestic road events in the United States.
This page contains affiliate links, where we get a commission if you decide to make a purchase through the links(at no cost to you) and helps support the site. As an Amazon Associate, we earn from qualifying purchases.