Sean Quinn narrowly claimed the win today in a windy opening time trial at the Redlands Cycling Classic. The Axeon Hagens Berman rider charged to the finish with a time of 15:21, just one second faster than Jarret Oldham (First Internet Bank) on the windy 11-kilometer course.

"I had a time in mind, which was 16 minutes," Quinn said. "The guys based on who had gone already, I knew if I beat 16 minutes I would post a pretty good time. I was looking at my power, and I was going pretty fast and thought maybe it was ready wrong, but I was feeling good. I stayed with it, and when it started getting hard at the end, I just started ripping it. I wasn't exactly expecting this, but it didn't surprise me. Racing in Colombia made a huge difference. I was a little bit behind my teammates in training early in January. Then, we did team camp, and Colombia was a big block afterward."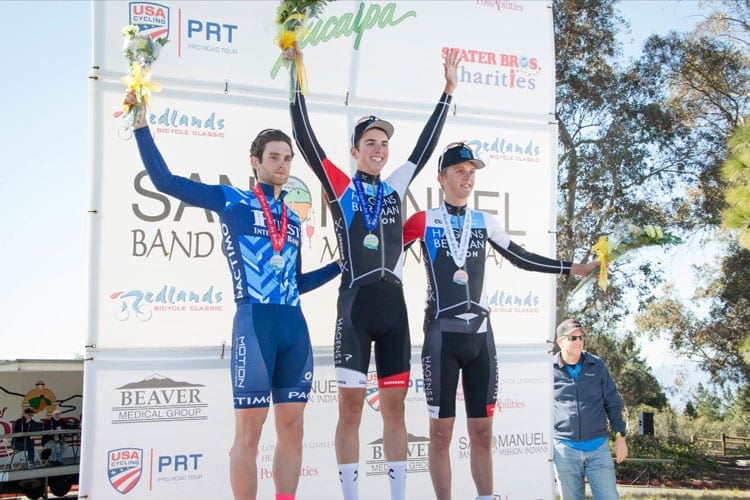 Defending champion Thomas Revard (Axeon Hagens Berman) came in a close third at three seconds.

"I just came out here expecting to do the best I could, only to hear that Sean won and I finished third. We're super happy," Revard said. "It's super, super windy. You had to put power down the entire way down the hill. Coming back was a little bit easier, but you're still going uphill, just full tail boogie all day every day."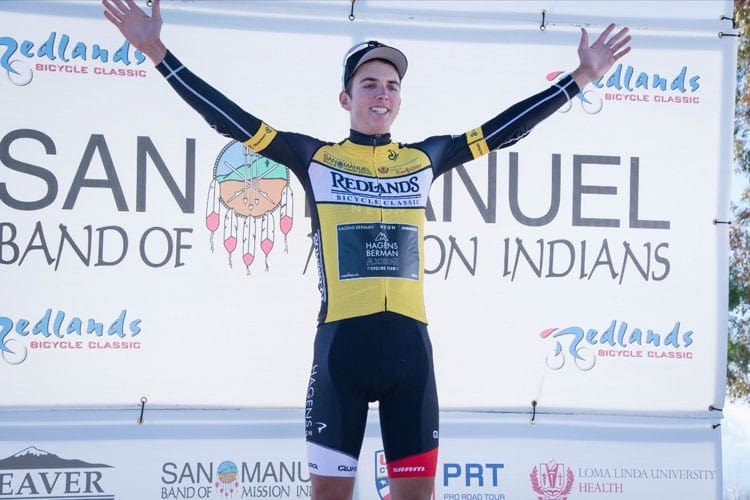 Cory Lockwood (Semper Porro) was the first rider to set a time that had some staying power with a 16:01, but as the day wore on, the speeds got faster, and 14 riders clocked sub-16 minute times.

Axeon Hagens Berman has three riders in the top five, all within 21 seconds of each other heading into stage 2.

Women's Team Trial
Current National TT Champion Amber Neben dominated the 35th edition of the Redlands Classic's opening time trial in Crafton Hills Wednesday, completing the 11 kilometer out and back course with a time of 17:28. Guesting for Trek Red Truck, the 44-year-old world TT champion bested Lauren Stephens (Tibco SVB) by 24 seconds. Emily Newsom, Stephens' teammate, finished third, 36 seconds behind.

"One thing about getting older is I have to manage when I'm coming on form a little bit better, which is hard for me because I'm so used to wanting to be good all year," Neben said. "I think I have good form and fitness generally, so today was a good indicator of where I am. The race intensity and training intensity is coming along, but I'm not where I will be in eight weeks, but I certainly love coming out here to Redlands regardless."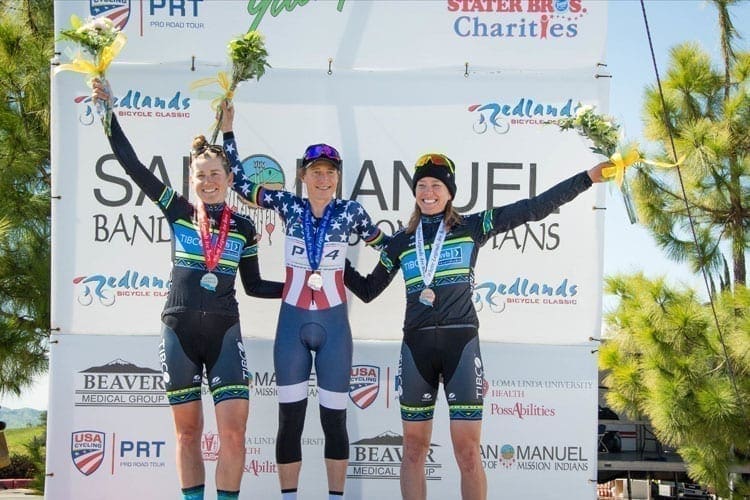 Neben is guest riding with the Trek Red Truck racing team at Redlands Classic. The Canadian outfit is primarily a U25 team, and at this race, there are a few junior and composite riders on their roster. Neben said she's excited to race alongside the younger talent.

"We'll probably be more focused on stage results, but at the same time, having the yellow jersey for a day at least, it will give them some things to think about and practice," Neben said. "We'll go at it one day at a time and enjoy it while we have it."

Runner up Lauren Stephens is more than pleased about her result, considering 2018 was a rough season for the Tibco rider after a nasty crash at the start of the year.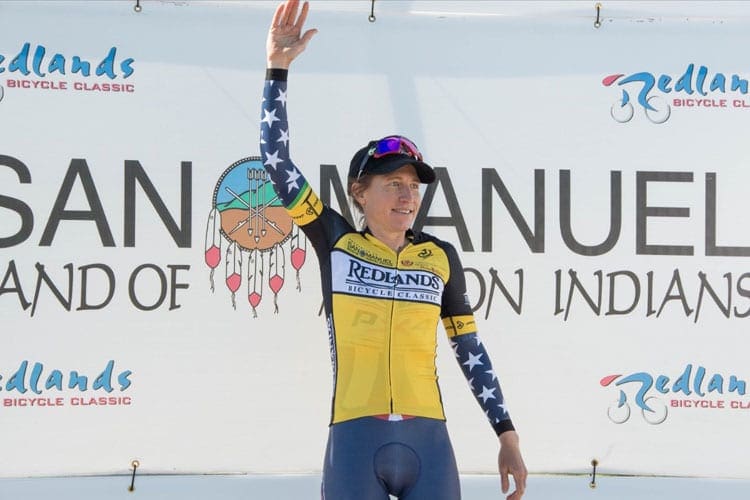 "I pulled the plug in July," Stephens said. "I raced the Tour Down Under in January and Redlands is my second race back after recovering from my injuries. Everything's coming together.

Tibco is sitting pretty after placing second and third behind Neben.

"We have two high up in GC, which allows us to try different things tactically and not have to rely on one rider as the GC hope," Stephens said.

Tomorrow's Highland Circuit Race begins at 8:45 a.m. PST with the pro women, who will tackle 14 laps to total 41 miles. The men will follow at 11 a.m. with 20 laps (58 miles).
Official Hashtag: #RedlandsClassic
Full results available on www.redlandsclassic.com
Photos by Rebecca Reza
This page contains affiliate links, where we get a commission if you decide to make a purchase through the links(at no cost to you) and helps support the site. As an Amazon Associate, we earn from qualifying purchases.