The Elevate-KHS Pro Cycling Team has achieved many incredible results in the past three years, learning valuable lessons while growing immensely as a team. With KHS Bicycles, the program has built a solid foundation and is now looking forward to continuing this incredible journey by strengthening our relationship with Webiplex, the provider of DocuPeak™, a premier cloud-based business process automation and document management platform.
"We are proud to have Webiplex as our new Co-Title Sponsor. They represent the discipline and drive towards efficiency our team embodies, with a solid focus on the team goals which are required within our competitive sport. Cycling is also a deep part of the Webiplex culture – their offices were specifically chosen to be right next to a bike path – as is the encouragement of fitness for the general health and well-being of their employees," said Paul Abrahams, Team General Manager.
"We were a proud sponsor of last year's team, as they displayed the dedication and drive it took to become the highest-ranked cycling team in America," said Webiplex CEO, Rob Rennie. "We're even more excited now as we increase our sponsorship as the team's Co-Title Sponsor for the 2020 season, and announce the new Elevate-Webiplex Pro Cycling Team name."
KHS Bicycles is stepping back as the primary partner and title sponsor, but continues to be the official bicycle supplier and valued technical partner, providing the program with the best equipment possible. KHS Bicycles has played an integral part in the creation and sustainability of the team, coming on board as a partner in the 2012 season.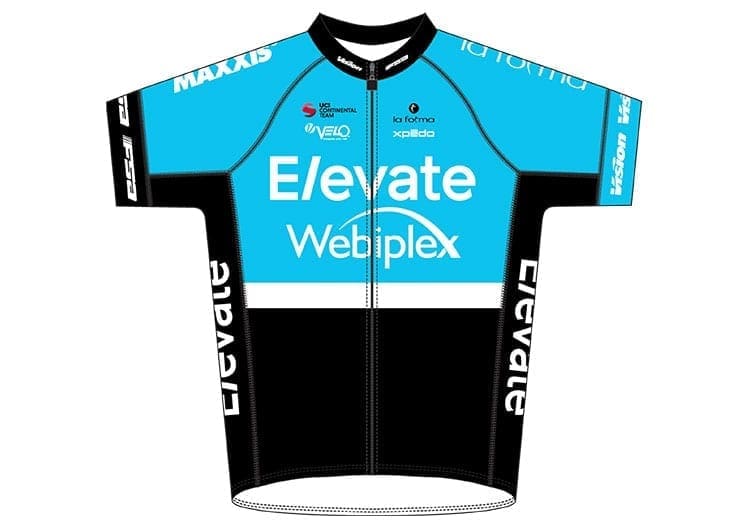 The 2020 race season is upon us, and both the athletes and staff of the Elevate-Webiplex Pro Cycling Team are completely focused on winning the USA Cycling Pro Road Tour (PRT) for the second year, UCI events in Taiwan, Japan, Malaysia, and having a team athlete compete in the Olympic Games in Tokyo.
"With the Elevate-Webiplex Pro Cycling Team there is so much to be excited about," says General Manager, Paul Abrahams. "Armed with our core values and excellent team partners, I expect this season to be exhilarating for our fans, sponsors, staff, and riders alike. The team will be looking to win races all season long!"
The team won 50 races in 2019 and earned the top spot in USA Cycling's season-long Pro Road Tour standings, winning both the team and individual competitions.
Leading the sprint-game for the team are US National Team Members Eric Young, Gavin Hoover, and Lucas Bourgoyne as well as Mexican sprint-ace Alfredo Rodriguez. Rodriguez' compatriot Ulises Castillo and Sam Bassetti will lead the charge in the tougher one-day races.
The team also boasts serious time-trial talent including Adam Roberge, Canada's current U23 National TT Champion, and George Simpson who earned the bronze medal at this year's USA Pro TT National Championships.
Completing the roster is the experienced duo of Team Co-Captains Brian McCulloch and Canadian Jordan Cheyne.
With a focus on teamwork, and a continuous drive toward excellence, everyone on the Elevate-Webiplex Pro Cycling Team is excited for the season to begin and once again earn their place as the best team in America!
Elevate-Webiplex Pro Cycling Roster:
Sam Bassetti (USA)
Lucas Bourgoyne (USA)
Ulises Castillo (MEX)
Jordan Cheyne (CAN)
Gavin Hoover (USA)
Brian McCulloch (USA)
Adam Roberge (CAN)
Alfredo Rodriguez (MEX)
George Simpson (USA)
Eric Young (USA)
Elevate-Webiplex Pro Cycling Calendar:
Team Training Camp (Feb 5-13)
Tour de Taiwan (March 1-5)
Tour of Malaysia (April 1-6)
Redlands Bicycle Classic (April 22-26)
Tour of the Gila (April 29-3)
Tour of Japan (May 17-24)
Winston-Salem Criterium and Road Race (May 23-25)
Armed Forces Classic (May 30-31)
Tulsa Tough (June 12-14)
US Pro Championships (June 18-21)
Canadian Pro Championships (June 18-21)
Mexican Pro Championships (June 18-21)
Boise Crono Time-Trial (July 10)
Boise Twilight Criterium (July 13)
Tour of Utah (August 3-9)
Maryland Cycling Classic (September 6)
Bucks County Classic (September 15)
Elevate-Webiplex Pro Cycling Team Partners:
Elevate Financial, Webiplex, KHS Bicycles, Maxxis Tires, La Forma Sports, Xpedo Pedal Precision, Velo Saddles, Monster Hydro, Kali Protectives, 4iiii Precision Power Meters, Rennie & Associates, FSA Components, BONT Cycling Shoes, Vision Wheels, Chamois Butt'r, Park Tool, AMP Human Performance, Air Relax, Bone Shaker, EVA AIR, Serfas and Q2 Components.
This page contains affiliate links, where we get a commission if you decide to make a purchase through the links(at no cost to you) and helps support the site. As an Amazon Associate, we earn from qualifying purchases.