By Richard Duquette, Esq, Law Firm of Richard Duquette
Listen to the Podcast
This is article is part one of a three part series. Read Part 2 and Part 3.
Introduction
:
Every week I receive calls from injured bicyclists looking for an experienced injury lawyer. My intention herein is to help bicyclists and their families select the best lawyer. Each client has specific goals based on their case. But just as every case is different, so is every client. People need to hire a lawyer because they have a legal case and need professional help. But clients choose to hire a specific lawyer because of their unique motivations, values, and concerns.
In the many years since I began practicing in 1983, I've identified several overarching concerns that clients bring to the decision to hire an attorney. I call these the "reasons to hire a lawyer" because anyone faced with a situation where they need a lawyer is likely feeling one or more of these feelings.
If you feel any of these reasons have relevance to you, please read this guide for truthful insight into protecting your interest.
I. Common Reasons to Hire a Lawyer
:
This is the

first time

I've had to hire a lawyer, guide me.

I just want to be

treated fairly

by the insurance company.

I don't

want to sue anyone

, I'm not that type of person.

I'm

angry

and I want the

maximum

recovery.

I

only

want my medical bills and lost wages paid.

I want my

bicycle repaired

or replaced.

I want to

preserve the memory

of my lost spouse.

I want to

prevent

this from happening to another person.

I'm thinking of trying to handle this case

on my own

.
There are many more reasons to hire an experienced bicycle injury lawyer, but the above are illustrative of the concerns weighing on many people's minds as they consider it. Now, let's review a few tips in making this important decision. Many of these tips follow the California Rules of Professional Ethics and Law ensuring attorney competency.
II. Tips and Pitfalls to Watch for When Hiring a Lawyer:
Experience is key

. Be wary of inexperienced "marketing" lawyers. You have heard it before, "you get what you pay for". This means to look

past

"marketing" campaigns. Ask the hard questions when shopping for a qualified injury lawyer.

Ask the right questions

. The following are a few questions to ask:

Have you ever tried a case before a

jury

and won? If the lawyer doesn't know how to "try" a case, it's unlikely he's

respected

by the insurance industry, because he's not a threat to securing a strong jury recovery. This means the insurance adjuster may offer a "low ball" settlement. Weaker bargaining positions lead to less favorable outcomes.




The inexperienced lawyers will make excuses why you don't need a "trial lawyer", to deflect their inferior experience.You'll hear excuses like, "most cases settle, so you don't need a trial lawyer."While it's true, most cases do settle out before trial, the question is

why

and for

how much

?

Will you be the attorney taking my case to trial? Some law firms "farm" out your case if it goes to trial. Meaning a new attorney will come in who knows nothing about your case and he will have to get up to speed quickly on your case. This may cause important details to be missed or overlooked. This process will also involve new retainer agreements or fee splitting agreements.




My Firm handles your case from start to finish. I try the cases.

Will you try the case to a jury if necessary

?




What motivates the

inexperienced lawyers settle out so cheap

?Here are a few questions to ask in order to

uncover

whether your lawyer has the "skill" to

demand the best settlement

. By "skill," I mean the resources, time, and experience to win, as required by the rules of professional ethics. (See CRPC 3-110)

Do you have the

financial resources

to withstand a jury trial?

Do you have the

money and time to investigate

, hire liability and medical experts, pay the experienced staff to withstand the blizzard of litigation paperwork?

Do you really

care about me

, my injury, my lifestyle changes, my future medical issues?

Will you spend the time necessary to learn

my story

?

Will you come

visit

me at home, or the in the hospital?

Will you

ride the crash scene on a bicycle

to deeply

learn my story

?




In other words, does the lawyer

truly care

about you, or just the money? Are they lazy or have a strong work ethic? Are they fit, so to withstand the rigors of litigation or the settlement process? Will the lawyer meet you on the weekends, when it's convenient for your schedule? The Jury knows if your lawyer cares. If he does, so will they.

Caring is contagious

.

Are you

afraid of going to a jury trial

?




Many marketing lawyers "

talk big,

" but will settle you out on the court house steps.Basically, they sell you out, for

fear of the courtroom

.They are

fearful

of financial risk or being embarrassed.This is because they lack the necessary trial lawyer training.Instead, they dump thousands of dollars into social media and web campaigns to "

sell

" the unsuspecting bicycle injury victim.Like an old western saying….they are "All hat, no cattle."

What cases have you tried against larger adversaries and won

?




Ask the lawyer for case names they

actually tried and won

.Can you produce jury verdicts that prove a victory?Many inexperienced marketing lawyers now use a suspicious substitute of "Client Reviews".Some reviews, or "stars" are good to see, but are they are

not

backed by the full faith and credit of

actual

jury trials.




Ask, have you gone to trial

against

big insurance companies, large corporations (like the phone or electric companies) or even unfair Federal and State government and

won

? (Ask for the name of the case and case number.There are public records.)




These questions are great

measuring sticks

when sifting through social media myths and claims.

Does your bicycle injury lawyer have specific

trial lawyer training

?




Ask the names of dedicated trial lawyer training colleges or programs have they attended to sharpen their presentation skills under fire in a courtroom.Then, have they put the skills

into action

in real jury trials, or just used the "credential" for marketing?




Law schools fail to fully train lawyers for the rigors of jury trial work.Instead, they focus on the core classes necessary to pass the state licensing exam.One or two law school "trial advocacy elective classes" don't cut it in the real word.
As a result, there are several respected trial lawyer colleges that deeply train a lawyer for war…a jury trial. But, this requires the lawyer to leave his practice and family for weeks, spend money, and expose his soft underbelly in front of his peers. It's not easy. Predictably, many lawyers are unwilling to complete these difficult training programs. Ask yourself if this is the type of lawyer you want…an advocate that will wilt under commitment and pressure?
For example, you should know that Gerry Spence's Trial Lawyers College (TLC) in Wyoming is several weeks long, taught by seasoned trial lawyers, and psychologists. TLC teaches lawyers how to honestly connect with juries in order to tell their client's stories and get justice. There are others, like the Western institute of Trial Advocacy, National Institute of Trial Advocacy or American Association of Justice. Many offer scholarships. Ask, if your lawyer has been certified by one of these programs that train "peoples" lawyers. I recommend the Gerry Spence Trial Lawyers College, as Mr. Spence is one of the greatest American lawyers since Clarence Darrow. (View him on YouTube)
Does your lawyer

financially invest

in promoting bicycling? Test genuine commitment to the sport. Have they invested, spent time,

published writings

about

bicyclist's

consumer rights, joys, safety, and rights in court, writing legal articles and broadcasting podcasts?




Does your lawyer

spend thousands of dollars

a year sponsoring bicycling and triathlon teams and 501(c)(3) non-profit clubs with a portion of

his

winnings?If so, does he advocate for bicycle access to open space and infrastructure?




Has your lawyer done this for over 30 years, or is he a "Johnny come lately" "marketing lawyer" trying to make money off bicyclists?

Test genuine commitment

.(Ask if he used to work for insurance or government, and now switched over to the consumer side, because it's more profitable?)




Does your lawyer

volunteer his time

helping bicyclist with "small cases" fairly recover from insurance companies?Does he go to court to insure injured

bicyclists

victimized by criminal activity obtain fair criminal sentences and restitution?Ask your lawyer if he has even

set foot in a criminal courtroom advocating for victims' rights

.Does he understand how to obtain victim restitution in a criminal case?

Has your lawyer recently and (continuously over several years) attended continuing education seminars

beyond

the state minimum requirements, especially in the areas of

lien and subrogation law

?




In order to

maximize the net recovery

, you lawyer must know how to ethically and legally

reduce

or have waived creditor claims by medical collection companies trying to "claw back" money paid out under Corporate health care plans, or hospitals trying to "balance bill" the difference between what group insurance contractually paid and the gross bill.




Knowing this area of law ensures a stronger net recovery, using the law as a sword.

Ask your lawyer when it makes sense to "do it yourself" and when not to.




Some cases are

not

economically worth it to be handled by a lawyer because plaintiff's lawyers work on a contingency fee, which means no recovery, no fee.However, a caring lawyer should spend the time helping these "small case" victims recover against the insurance giants.To avoid these small cases in effect "throws the small case victims under the bus."




In contrast, when there are serious injuries or large medical bills, there will be creditors trying to impose a lien on your settlement funds.It's unwise to try to "do it yourself" thinking you know the laws.An attorney that does know the law and pitfalls will help you maximize recovery.




The same is true with uninsured and under insurance cases.Knowing how to avoid the several pitfalls involved with liens and subrogation claims will help you maximize your recovery and avoid insurance defenses set out to defeat you.
Ride safe! Ride strong!
This is article is part one of a three part series. Read Part 2 and Part 3.
Image copyright: Iculia
About the Law Firm of Richard L. Duquette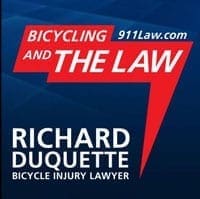 The Law Firm of Richard Duquette has recovered millions in damages for injured bicyclists since 1983. Attorney Duquette is an experienced bicyclist himself and has dedicated his practice to helping this community. He is experienced in all types of cases involving bicycle crashes, injuries, and other legal troubles.
Mr. Duquette serves a wide variety of bicyclists. Whether you prefer road cycling, mountain biking, track riding, Randonneuring, E-Bicycles, Handcycles, Century Rides, Triathlons, Duathlons, or Criterium, Mr. Duquette knows how to best serve your legal needs regardless of the type of bicyclist you are.
Mr. Duquette is an expert at maximizing, proving, and recovering damages.
For more information please visit the Law Firm of Richard Duquette.
The information in this article is for general information purposes only. The focus of this article is on California Law. You should contact an attorney in your state for case-specific advice, as details of the law and procedural requirements vary from state to state. Nothing in this article should be taken as legal advice for any individual case or situation. This information is not intended to create an attorney-client relationship; and the receipt, reading, listening, or viewing of this content shall not constitute an attorney-client relationship. Nothing in this article shall be construed as a warrant, promise, or guarantee about the outcome of your case or any other matter. This information may contain personal impressions or statements of opinion on a subject that do not apply in your case. Further, statements of law reflect the current state of the law at the time of writing and/or recording, and may not reflect subsequent changes in the law.
This page contains affiliate links, where we get a commission if you decide to make a purchase through the links(at no cost to you) and helps support the site. As an Amazon Associate, we earn from qualifying purchases.