After using Abbey Bike Tools Dual Sided Crombie Tool frequently, I can say that this is the one tool that you must have in your tool box. If you are a bike racer, pro bicycle mechanic or just an avid cyclist who likes to work on your bicycle, then Abbey Bike Tools Dual Sided Crombie Tool and Whip-It chain whip are great tools to have in your arsenal.
Video Demo – Abbey Bike Tools Dual Sided Crombie Tool
SoCalCycling.com has created a video showing a demo on just how easy the Dual Sided Crombie Tool and Whip-It are to use and how convenient it is as the two tools compliment each other in one simple package.
The tools are not very bulky and the round handles make it very comfortable and allow for more leverage when the cogs might be stubborn to take off. If I'm at a race and the course calls for a gear change, its nice to know that I can pull this tool out and switch cogs and save time without having to take off the skewer and then have to put the skewer back on when done. It is just easy to use and a time saver! What more could you ask for in a tool? Well, I guess if you want your logo or team name on the tools they can do that too by etching it on.
The Dual Sided Crombie Tool is the staple offering of the Crombie tool range. This dual sided tool has a Shimano/SRAM remover on one side with a Campagnolo on the other. It comes with a solid handle and is also customizable with your name or logo.
Abbey Tools Whip-It Chain Whip
The Whip-It Chain Whip is the second tool developed by Abbey Bike Tools. A chain whip is a pretty simple tool, but the Whip-It maximizes function and simplicity. The Whip-it has a single length of chain, eliminating two attachment points where chain whips seem to break. The Whip-It is made from a 12″ length of stainless steel to give you enough leverage to loosen even the most stubborn cassettes. The Whip-it's round handle provides comfort surpassing other flat bar style chain whips on the market. The icing on the cake is that Abbey's signature tool, the Crombie, stores inside the handle of the Whip-It! This means the two tools you use together, get stored together, and travel together, giving you less clutter in your tool box.
The Whip-It comes in two versions, one for single sided tools that use a 3/8″ handle and one for the 1/2″ handle of the dual sided tools.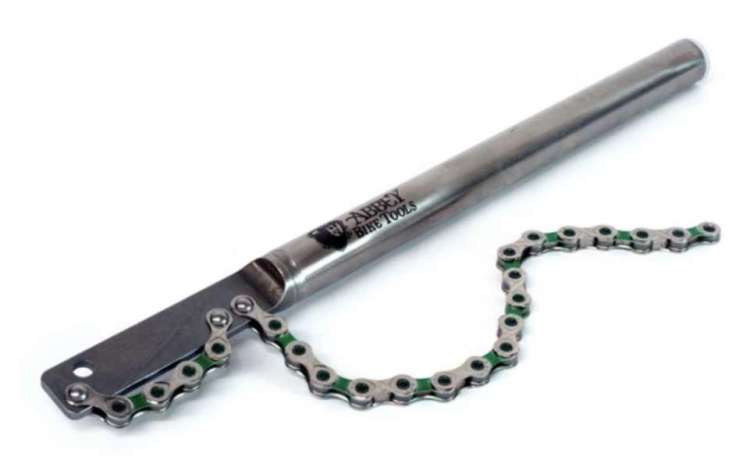 For more info please visit abbeybiketools.com.
Review by Frank Sarate, SoCalCycling.com
This page contains affiliate links, where we get a commission if you decide to make a purchase through the links(at no cost to you) and helps support the site. As an Amazon Associate, we earn from qualifying purchases.