By Richard Duquette, Esq, Law Firm of Richard Duquette
Listen to Podcast
When a cyclist goes down, at the hands of a careless motorist, precise evidence collection will often win the case. It goes without saying, that the health of the injured cyclist is a priority. Documenting the case is a close second. This will make it easier to settle for a fair value. Insurance companies respond to reliable evidence that prove fault.
Here are a few suggestions:
Witnesses:
Locate all witnesses and get duplicate contact information for them, i.e. cell, e-mail, address. Take their Drivers License and auto license plate numbers. Riding partners and bystanders can document speed, distance, attentiveness, and location of impact. Don't rely solely on the police to collect and report every thing. They are often very busy at the crash site. "Lifestyle change" witnesses prove your "pain and suffering" damages. They will document the "before and after" effects of the crash.
Target Defendant:
Obtain driver admissions of fault, like "I didn't see you", "I was in a rush to get to work", "I was running an errand for XYZ company". These will help counter insurance company arguments of contributory fault by the cyclist. Get the careless driver to take responsibility, and also provide you will their current insurance company policy number and limits of coverage.
Injured Cyclist:
Save your damaged helmet, computer, bicycle, and brightly colored clothes and blinking light. I want to know you were visible and riding a safe speed – so photograph the gears you were in, close up photos of the speedometer, and RPM displays on your bike computer. This will help calculate your speed. Also, take photos of the conditions of your tires, brake pads, handlebars and cracks/scuffs to your bike.
Importantly, take photos of your scrapes, bruises, and hospital bed scenes to convey the trauma you have needlessly suffered.
The Road:
Bring in photos and car/bike measurements of skid marks; walk them off at the crash site, to help me prove the point of impact. Take photos of bike lane, speed and stop signs, distances from the curb or parallel parked cars. I want to know you were riding close to the curb and in the bike lane at the time of the crash. Also, photograph the road surface to help rule out the road surface or debris as contributing to the crash.
If you can get photos of the location of the defendant's car damage to show the point of impact, do so.
Medical Care:
Seek out immediate medical care, and consistently follow you doctor's directions. Missed visits give the insurance companies room to argue against your credibility.
Ideally, obtaining a CD of your diagnostic studies (MRI, Cat Scan, x-rays) will help me prove your injuries, as would your old and new medical records, bills and list of health care providers. This medical evidence will insure you get fairly compensated.
Loss of Earnings:
This evidence of lost earnings and business opportunities takes the shape of 1099's, tax records, contracts, records of sales, past sales track records, pay stubs or checks, and proof of lost benefits. Modernly, clients are bringing this information in the form of computerized graphs, charts and the like to prove their losses.
This evidence shows your losses where reasonably certain, and not speculative.
Insurance:
Your auto, health, and work insurance policy limits and books will dictate how we can recover in the event the defendant is un or under insured. Often your auto and health care policies will come into play – although there may be reimbursement rights attached to using your policy should the careless defendant's be insufficient.
Conclusion:
The above is a thumbnail sketch of what and experienced bicycle trial attorney looks for in the form of evidence to prove your case – either for settlement of trial purposes. Insurance companies respond in kind to valid evidence and proof. So do Juries. Go on the offensive in your case, collect the evidence and win!
Ride Safe – Ride Strong!
Read Part 2 – Reconstructing a Bicycle Crash©
Enjoy More Articles and Podcasts By Richard Duquette, Esq, Law Firm of Richard Duquette
About the Law Firm of Richard L. Duquette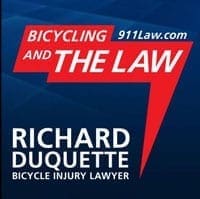 The Law Firm of Richard Duquette has recovered millions in damages for injured bicyclists since 1983. Attorney Duquette is an experienced bicyclist himself and has dedicated his practice to helping this community. He is experienced in all types of cases involving bicycle crashes, injuries, and other legal troubles.
Mr. Duquette serves a wide variety of bicyclists. Whether you prefer road cycling, mountain biking, track riding, Randonneuring, E-Bicycles, Handcycles, Century Rides, Triathlons, Duathlons, or Criterium, Mr. Duquette knows how to best serve your legal needs regardless of the type of bicyclist you are.
Mr. Duquette is an expert at maximizing, proving, and recovering damages.
For more information please visit the Law Firm of Richard Duquette.
The information in this article is for general information purposes only. The focus of this article is on California Law. You should contact an attorney in your state for case-specific advice, as details of the law and procedural requirements vary from state to state. Nothing in this article should be taken as legal advice for any individual case or situation. This information is not intended to create an attorney-client relationship; and the receipt, reading, listening, or viewing of this content shall not constitute an attorney-client relationship. Nothing in this article shall be construed as a warrant, promise, or guarantee about the outcome of your case or any other matter. This information may contain personal impressions or statements of opinion on a subject that do not apply in your case. Further, statements of law reflect the current state of the law at the time of writing and/or recording, and may not reflect subsequent changes in the law.
This page contains affiliate links, where we get a commission if you decide to make a purchase through the links(at no cost to you) and helps support the site. As an Amazon Associate, we earn from qualifying purchases.