The ocean, mountains, and sunny weather are just a few things that come to mind when we think of Southern California. It Never Rains In Southern California by Albert Hammond and California Sun by the Ramones are just a couple of the songs inspired by the region's temperate climate. The state's beautiful weather doesn't just inspire music. It also inspires residents and visitors to go out into the great outdoors. And why wouldn't you? With breathtaking landscapes and moderate terrain, it seems Southern California was designed to be explored.
If you're a cycling enthusiast, Southern California won't disappoint. In addition to your cycling pursuits, you probably watch a lot of races on TV. You may even bet on a race from time to time. Many websites offer risk-free bets that will allow you to bet on big races without risking your own money. When the race is over, don't forget to hop on your bike to explore the beautiful Southern California scenery.
To inspire you, we've compiled this list of the best cycling trails in the area.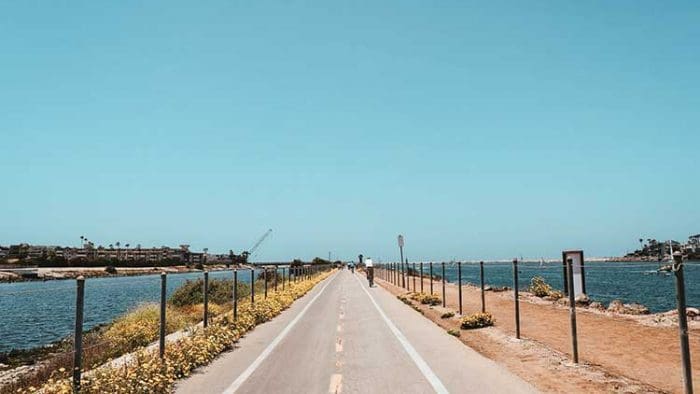 Photo by Viviana Rishe on Unsplash
Swami's Loop—San Diego
Whether you're a beginner, novice, or veteran cyclist, this 38-mile bike trail deserves a place on your list. Named for the world-famous Swami's Ride in Encinitas on Saturdays, and passing by the equally famous Swamis surf spot, this cycling route is popular among locals and tourists alike. Some join the Saturday cycling group, while others opt for a leisurely bike ride with friends.
Along the way, the route goes east through LaCosta before turning south into Elfin Forest and east to Escondito. Many riders stop at the "Church" spigot in Escondito to refill their water bottles before heading along Del Dios and taking Ranch Santa Fe to the coast. The course's varying terrain makes it an enjoyable ride, no matter what your cycling goals are.
Sycamore Canyon Park—Diamond Bar
This small city in eastern Los Angeles County is home to some of the best biking paths in Southern California. The trails are best suited to beginners and are dog friendly. You'll get to ride your bike through scenic terrain that is often full of enthusiastic cyclists, especially on weekends. There's a stream not far from the trail where bike riders often stop for lunch or a quick break. It's a perfect outing for friends and expert riders looking for an easy ride.
The Donut Loop—Los Angeles
This 28-mile long route traverses the Palos Verdes Peninsula from east to west. It's one of the oldest cycling trails in Southern California and got its start in front of a donut shop, which explains why it's called the Donut Loop. Whether you're training for a triathlon, a weekend warrior, or a casual cyclist, there's something for you to enjoy along the route. The trail can be challenging in some parts, but you'll get to enjoy awe-inspiring views of Fort MacArthur, Point Vicente Lighthouse, and Catalina along the way.
Rincon Bike Trail—Ventura County
You'll want to carry food and drink with you when you embark on this 3.6-mile protected bike path that runs along the coastline connecting the towns of Carpinteria and Ventura. The trail begins at a parking lot in Rincon State Park. If you prefer, you can start in the city of Carpinteria, which isn't far from the park. As you bike, you'll enjoy views of dolphins playing in the water and a world-class surf break. When the trail connects with old Highway 1, you'll enjoy a wide bike lane and about 10-miles of flat riding all the way to downtown Ventura.
Tuna Canyon—Santa Monica Mountains
Most people think of the coast when they think of biking along Southern California's many cycling trails. However, the region boasts beautiful mountains with winding climbs and descents. The 27-mile loop through Tuna Canyon is stunning, and you'll be rewarded at the end with panoramic views of the Southern California Shoreline. The desolate route has few cars but is full of nature, including many wildflowers in the spring.
Head east on Piuma Canyon Road to reach Tuna Canyon. Next, you'll bike up to Saddle Peak Road. It's easy-going from there with a descent the rest of the way. You'll end your ride on the Coast Highway, a leisurely bike ride to Malibu Farms, where you can stop for a meal or continue exploring other canyons leading into the mountains.
Top Photo by Mike Perrotta on Unsplash
This page contains affiliate links, where we get a commission if you decide to make a purchase through the links(at no cost to you) and helps support the site. As an Amazon Associate, we earn from qualifying purchases.