Chargel – A New Unexpected Source of Instant Energy Delivers Refreshment of a Beverage
and Satisfaction of a Snack in One Convenient, On-the-Go Pouch
Designed to meet the unique needs of runners, cyclists, weekend warriors and everyone in between, Morinaga America, Inc. recently announced the debut of Chargel, a new line of one-of-a-kind, delicious athletic Gel Drinks that help deliver immediate pre-workout energy anywhere and anytime. Chargel Gel Drinks feature an exclusive blend of carbohydrates, fruit juice, and five essential B vitamins without any caffeine, artificial sweeteners, or high fructose corn syrup. Available in three great-tasting, crushable flavors – including White Grape, Green Apple, and Strawberry – Chargel is available now at www.chargel.com.
A First-of-its-Kind Athletic Gel Drink in America
A first in the U.S. market, Chargel is in a league of its own. Half snack and half beverage, each pouch offers the satiety of a snack and refreshment of a drink, all in one. Chargel comes in pocket-sized pouches that feature a built-in spout for quick delivery. In addition, Chargel has thoughtfully developed the pouches to take on the go for fast intake before any workout. The unique gel texture helps provide an instant source of energy, without the caffeine crash.
Unlike many energy products that rely on high levels of caffeine for energy, Chargel is 100% caffeine-free and offers instant energy in the form of carbohydrates and 20% daily value of five essential vitamins, including niacin, thiamin, riboflavin, B12 and B6. These B vitamins may help support the conversion of carbohydrates into the fuel you need.
"All athletes want to perform at their best, but not all energy is created equal," said Teruhiro Kawabe, President of Morinaga America, Inc. "Gel Drinks have exploded in popularity among active individuals in Japan, and we saw a huge opportunity in the United States to introduce this fresh take on energy. We're thrilled to launch Chargel as the first-of-its-kind Gel Drink in America. While it may be unexpected, we know that once people try it they'll LOVE it, and make Chargel part of their pre-workout routine!"
Chargel energy gel is an unexpected way to energize before any activity. In addition, Chargel has the added benefits of speed and portability because of its unique pouch format. All Chargel gel drinks are plant-based, gluten-free, non-GMO and are free of nine major allergens. With three tasty flavors to choose from, there is a perfect Chargel option for everyone!
Chargel Flavors Include:
White Grape – Juicy and sweet, just like the fruit but like you've never experienced before!
Green Apple – Tangy and tart, it's everything you love about apples, no chewing required!
Strawberry – Bursting with ripe berry flavor, it's like summer in a squeezable form!
Buy Chargel Now
Chargel is available for purchase online at Chargel.com, and sold in packs of 6 pouches, retailing for $20.94. Individual packs retail for $3.49 per pouch. For more information, please visit www.chargel.com.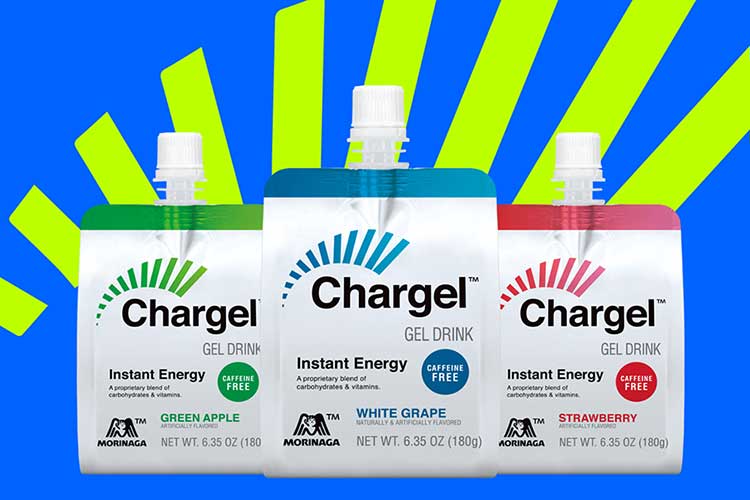 This page contains affiliate links, where we get a commission if you decide to make a purchase through the links(at no cost to you) and helps support the site. As an Amazon Associate, we earn from qualifying purchases.