Race & Develop Athletes to Focus on Gravel, Cyclocross and Mountain
Bianchi, the iconic Italian brand, recently introduced a new collection of racers and mentors called the Bianchi R & D Collective. The R & D Collective, which stands for Race and Develop, is a collection of elite-level athletes representing multiple cycling disciplines, all brought together by Bianchi to share their passions for racing and growing the sport of cycling. The ensemble cast of six privateers spans the full spectrum of ages, geographies, and racing experience, with the primary focus of the program being on gravel racing. From an 18-year-old Texas high school student to a 51-year-old New England cyclocross legend, they all share a passion to compete at the highest level, but also have a common bond and desire to inspire and develop other athletes in all things cycling.
"Bianchi is deeply invested in the future of our sport, its athletes, and the greater cycling community," said Pat Hus, CEO of Bianchi USA. "We selected athletes to join our mission based on their accomplishments on the bike, but more importantly based on their story and what they are doing to make a difference in cycling."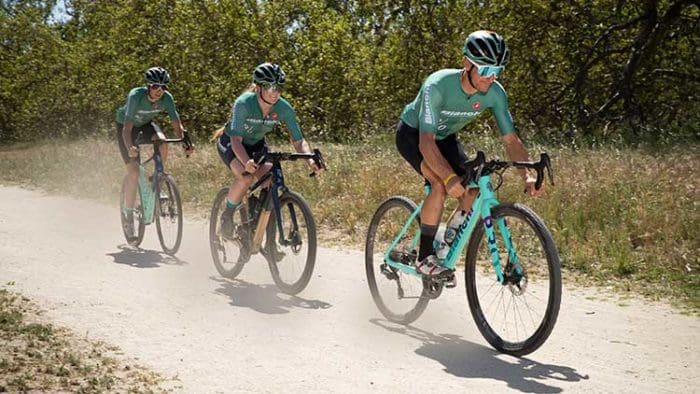 The team lineup includes three world-class coaches that are currently mentoring and training over two hundred athletes across the country in all areas of cycling. Another athlete manages the largest Bianchi dealership in Colorado and is working every day to develop and grow the sport. Yet another is using her influence and various platforms to recruit and inspire other women to share in her passion for racing. Lastly, the youngest rider on the team is an aspiring athlete who is in development and is becoming a serious influencer in his own right with his peers in high school and throughout his home state of Texas.
Joining Bianchi in support of the Collective are other Italian-based brands – Castelli Cycling, Kask Helmets, Koo Eyewear, fi'zi:k Saddles and Shoes, and Crank Brothers. The entire Collective will be racing throughout the weekend at the Sea Otter Classic at Laguna Seca Raceway in Monterey, CA. The race schedules for each athlete vary and are specifically targeted at key regional races as well as other major national events such as the Belgian Waffle Rides, Unbound Gravel, Steamboat Gravel and Big Sugar.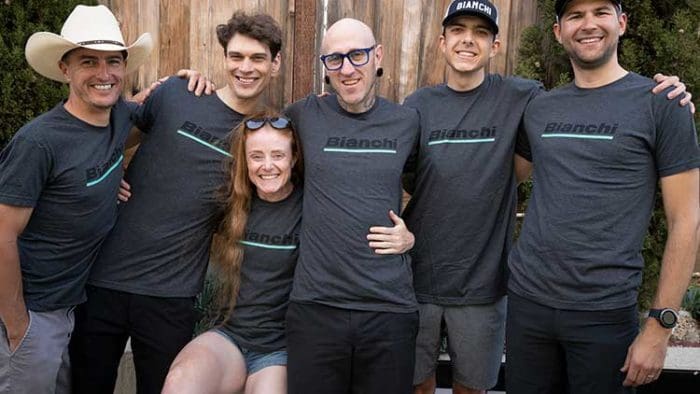 These athletes comprise the Bianchi R & D Collective:
Adam Myerson – A New England cyclocross legend, Adam is one of our "developers". In addition to numerous road, crit and cyclocross National Championships and Pan Am Championships, Adam has years of coaching and event management experience with his Cycle-Smart program.
Brian McCulloch – Another "developer", Brian brings a long and successful road racing career with him to teach and motivate his athletes at Big Wheel Coaching. Brian is a past winner of the Belgian Waffle Ride and his racing knowledge is only matched by his desire to get the best out of others.
Bjørn Selander – Yet another coach, Bjørn is a former World Tour racer with loads of road and cross experience to pass on to the next generation. Bjørn coaches members of Minnesota Junior Cycling and will focus on gravel and cyclocross.
Jake Peterson – While he's 27 years old, Jake can be considered one of our "developing" racers who will be leaning on the experience of his elder teammates. Jake manages the C3 Bike Shop, on of Bianchi's strong retailers on Colorado's front range. Look for Jake to use this opportunity to jump into more prestigious races and longer distances.
Whitney Post – The winner of last year's Sea Otter Gravel Race and overall BWR Triple Crown of Gravel, Whitney juggles her professional career with her passion for racing. While a somewhat recent convert to cycling, Whitney brings an enthusiasm and energy level that is hard to surpass.
Wesley Haase – Our youngest member, Wesley represents the next generation of cycling hopefuls. He may still be in high school, but Wesley is already thinking of passing his cycling passion to those younger and less fortunate. Wesley has added gravel racing to his NICA and TMBRA xc racing.
The R & D Collective was introduced at the 2022 Sea Otter Classic where the entire team raced together for the first time in several disciplines. Whitney Post rode to a hard-fought 2nd place finish in the Open Pro Gravel race.
Bianchi is one of the most historic and prestigious brands of bicycles in the world. Over 135 years strong, the company started in Milan in 1885 with Edoardo Bianchi, and today embodies the best of what Italy can offer to the world – distinguishing design, innovation, and technology. Bianchi USA is part of the Grimaldi Industri Group and F.I.V.E Bianchi and has distribution and sales in more than 50 countries around the world. Grimaldi Industri is headquartered in Stockholm, Sweden, and is the parent company of the Grimaldi Industri AB Group with over 1100 employees across the globe.
This page contains affiliate links, where we get a commission if you decide to make a purchase through the links(at no cost to you) and helps support the site. As an Amazon Associate, we earn from qualifying purchases.