CicLAvia – Heart of LA
Join us in the Heart of LA
CicLAvia Sunday is an opportunity to make unforgettable memories on the car-free streets of LA. Whether it's your first event or you are a seasoned CicLAvia enthusiast, we are excited to see you!
You can enter and exit the route at any point along the way to walk, jog, bike, skate, skateboard, hula hoop, or dance. Keep an eye out for all the Local Gems along the route.
Looking for a way to show off your CicLAvia spirit? You're just in time to sign up to volunteer for part of the day. Come on your own or invite some friends, either way, it's a fun way to experience a CicLAvia Sunday, meet new people and support an organization you love. Volunteer sign-ups close Thursday night!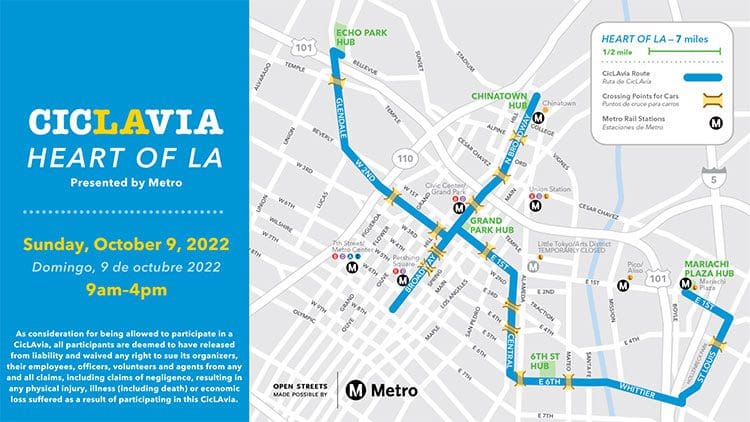 An Abundance of Activities!
All 5 Hubs have free water stations and restrooms, a First Aid booth, bike parking, free bike repair, and free AARP sponsored pedicab rides to other Hubs. The pedicabs stop at each Info Booth. Just look for the sign and enjoy the ride!
Here's a glimpse at what your Hub hopping could look like:
Fuel your ride at the food trucks at the Grand Park, Echo Park, and 6th Street Hubs. And of course, all the neighborhood eateries along the way!

Snap a deep space selfie with stunning imagery from the James Webb Space Telescope courtesy of NASA's Jet Propulsion Laboratory at the Grand Park Hub.

Does your child need a helmet? Stop by the California Highway Patrol booth and get fitted for a free kids helmet (while supplies last) at the Echo Park Hub.

Celebrate Grand Park's 10th Anniversary! They are hosting a family festival during CicLAvia featuring wellness activities, music, dance, food and event happenings.

Sit down and relax at a seating area and listen to tunes from the Solar DJs, brought to you by LA3C at the Chinatown Hub.

Visit the LACBC booth at the Chinatown Hub to learn how to make LA a more livable community through biking and spin their prize wheel for a chance to win a biking-related prize.

Grab lunch, snacks, fresh produce, and more at the Boyle Heights Community Farmers Market at Mariachi Plaza! You'll have a chance to collect a free limited edition CicLAvia button with your purchase.

Visit the newly built 6th Street Bridge, and stop by the Los Angeles Clean Cities Coalition booth to learn more about clean transportation.
Participants assume all known and unknown risks of participation in CicLAvia. More information regarding participants' rights can be found here: https://www.ciclavia.org/heart_of_la22
The final 2022 CicLAvia event will take place on December 4 with a different CicLAvia-South LA route.
Free for all, CicLAvia is a nonprofit organization working to connect neighborhoods to each other across a sprawling city, creating a safe place to walk, skate, roll, bike, play and dance through Los Angeles County. CicLAvia engages with people to transform our relationship with our communities and with each other. Participants of all ages and abilities will enjoy a day to sightsee, play and explore local gems while experiencing the joy of safe, people-powered transportation on car-free open streets.
Details:
CicLAvia – Heart of LA; Sunday, October 9, 2022; 9:00 a.m.- 4:00 p.m. – 7 miles of open streets for all to explore the streets of Downtown LA, Echo Park, Chinatown, the new 6th Street Bridge, and Boyle Heights – completely car-free. The public is invited to enjoy this temporary park space – free of charge. CicLAvia-Heart of LA route includes activity Hubs in Echo Park, Grand Park, Chinatown, 6th Street, and Mariachi Plaza. Show up anywhere along the route at any time and have fun!
More Information:
Visit https://www.ciclavia.org/heart_of_la22 for more detailed information
This page contains affiliate links, where we get a commission if you decide to make a purchase through the links(at no cost to you) and helps support the site. As an Amazon Associate, we earn from qualifying purchases.