CicLAvia Presents
CicLAmini – North Hollywood
Transforming the Streets of North Hollywood into a public park for the day
with a more pedestrian-oriented experience
Sunday, September 17, 2023; 9 a.m. – 3 p.m.
On Sunday, September 17; 9 a.m. – 3 p.m., Ciclavia will hold its second CicLAmini, transforming the streets of North Hollywood into a public park for the day with a more pedestrian, neighborhood-oriented experience from the more traditional open streets event. CicLAmini—North Hollywood will turn a one-mile stretch of Lankershim Blvd, between Chandler Blvd to the north and Camarillo St/Vineland Ave to the south into a public park for the day. The CicLAmini—North Hollywood is a slower-paced, more casual experience that encourages participants to enjoy this more pedestrian-oriented route, welcoming all ages and abilities whether one chooses to walk, jog, skate, run, skateboard, spectate, bike, play, or hop on a pedicab. CicLAmini—North Hollywood will feature activities sprinkled along the entire open streets route, including multiple stages, pet-friendly activities, interactive art workshops, street games, local business engagements, as well as art and cultural activities for all ages. Bike racks and a bike valet are provided for those who want to take advantage of the walkability of the new CicLAminis.
With two Hubs filled with plenty of activities and programs along the route, CicLAmini—North Hollywood will be both fun and engaging for all to enjoy. Hubs are official walking zones (bike dismounts) and meeting points with the Chandler Hub located on Chandler Blvd west off Lankershim Blvd, and the Lankershim Hub located on the south end of Lankershim Blvd. Hubs offer family-friendly activities, restrooms, free water refilling stations, free basic bike repair, bike parking, and first aid. Free pedicab rides, sponsored by AARP, are available at each CicLAvia information booth.
North Hollywood, in the San Fernando Valley, is an eclectic neighborhood with modest residential blocks and the humming NoHo Arts District. The historic El Portal Theatre and many up-and-coming playhouses share the scene with art galleries, sound studios and the Academy of TV Arts and Sciences. The public transportation-accessible area also features retro-inspired cocktail lounges, craft beer bars, vintage shops and casual cafes.
Activities along the route can be found here: https://www.ciclavia.org/mini_north_hollywood23_local_gems. Use the CicLAvia Interactive Digital Map to plan which businesses, local gems, activities along the route, and Hubs to check out during the event.
"The CicLAmini in North Hollywood offers an experience that celebrates our communities," exclaims Romel Pascual, CicLAvia Executive Director. "We are extremely grateful to LADOT and the leadership and support that Interim GM Connie Llanos and her team has brought to bring the transformative impact of CicLAvia to more communities in Los Angeles. We're excited to be in Council District 2, and partner with Council President Krekorian on this dynamic route in North Hollywood."
"I'm thrilled to see CicLAmini coming to the NoHo Arts District," said Council President Paul Krekorian, who represents North Hollywood and surrounding areas on the Council. "This is a great opportunity for people from all over L.A. to enjoy a day outdoors with friends and family and get to know all that our NoHo Arts District has to offer, including all the little treasures you miss when you only see the neighborhood from your car."
With more than 284 miles of open streets, since the beloved CicLAvia began in 2010,
CicLAmini—North Hollywood
is CicLAvia's 47th event. Free to attend, CicLAvia is always a celebration of our diverse and vibrant communities, and CicLAvia car-free streets connect all of us to the neighborhoods where we live, work, shop, learn, and play. As active participants at CicLAvia, we use people-powered mobility to navigate our public streets in a safe and joyful way. Along the way, we shop at our local businesses, we are introduced to cultural and architectural gems, we use our streets as spaces to connect with each other, and we do our individual part to make a positive impact on our environment by creating a more sustainable and climate-resilient city and region.
Inspired by Bogotá's weekly ciclovía, CicLAvia has been temporarily closing streets to car traffic and opening them as public parks in Los Angeles since 2010. Active participants at CicLAvia use people-powered mobility to navigate public streets in a safe and joyful way. Over the past 13 years, CicLAvia has helped communities re-imagine a greener and cleaner Los Angeles, while also promoting equitable transportation options, healthier lifestyles, and closer connections to the community.
Only people-powered vehicles are allowed. No electric scooters, electric skateboards, hoverboards, electric unicycles, motorcycles and other non-people-powered vehicles are allowed at CicLAvia. Class 1 e-bike pedal assist allowed. Class 2 e-bikes are allowed when the throttle is powered off. Class 3 e-bikes are allowed when pedal-assist is powered off. Motorized wheelchairs are allowed. Learn more here.
Participants assume all known and unknown risks of participation in CicLAvia. More information regarding participants rights can be found here: https://www.ciclavia.org/ciclavia-safety
Upcoming 2023 CicLAvia events include October 15: CicLAvia—Heart of LA; and December 3: CicLAvia—South LA: Leimert Park meets Historic South Central.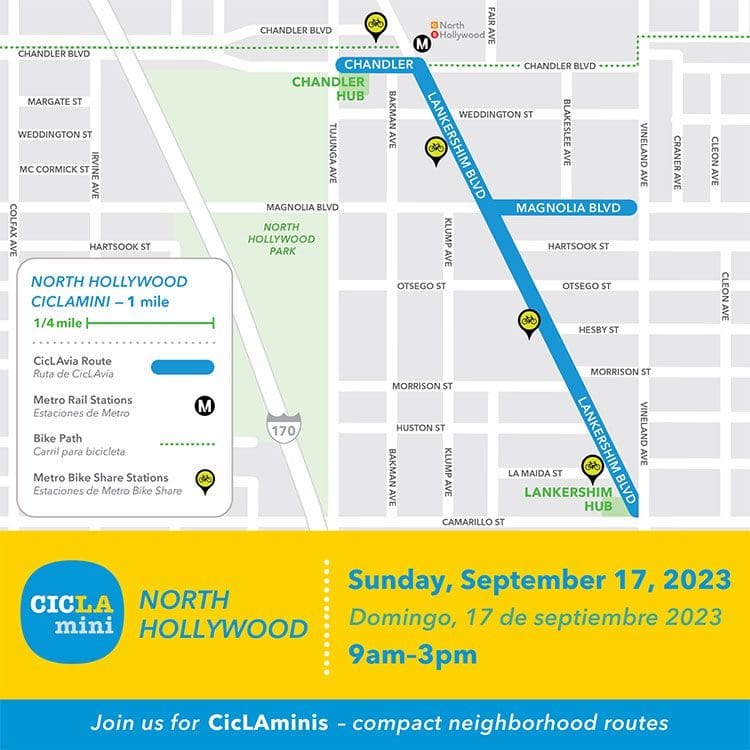 Free for all, CicLAvia is a nonprofit organization committed to introducing Angelenos to the vibrant civic and cultural treasures throughout Los Angeles. CicLAvia highlights important issues to all Angelenos – from environmental health and air quality improvement to access to safe and open parks, physical and mental well-being. CicLAvia has captured the imagination of more than 1.8 million people who have traveled together along more than 284 miles of streets. CicLAvia builds a unifying social fabric, joyously connecting culturally diverse neighborhoods and neighbors to each other through open streets. CicLAvia is not just about cycling, it's also about multiple modes of people-powered transportation. Whether one walks, strolls, skates, jogs, scooters, or bikes, CicLAvia creates so many incredible moments and experiences enjoying our city streets together.
WHERE & WHEN:
CicLAmini—North Hollywood; Sunday, September 17, 2023; 9:00 a.m.- 3:00 p.m. – One-mile of open, car-free streets, transforming them into public parks for the day. Jog, ride, bike, skate, run, walk, skateboard, spectate, and enjoy the route for all to enjoy – free of charge. Show up anywhere along the route, at any time and have fun
More Information
Visit https://www.ciclavia.org/mini_north_hollywood23 for more detailed information
Photo credit – Courtesy of CicLAvia
This page contains affiliate links, where we get a commission if you decide to make a purchase through the links(at no cost to you) and helps support the site. As an Amazon Associate, we earn from qualifying purchases.