26feb12:00 am11:59 pmCicLAvia - The ValleyFree Event
Event Details

CicLAvia – The Valley – Ride, bike, skate, run, walk, skateboard, spectate, and enjoy the route however you want. People of all ages and abilities are welcome to attend CicLAvia – The Valley!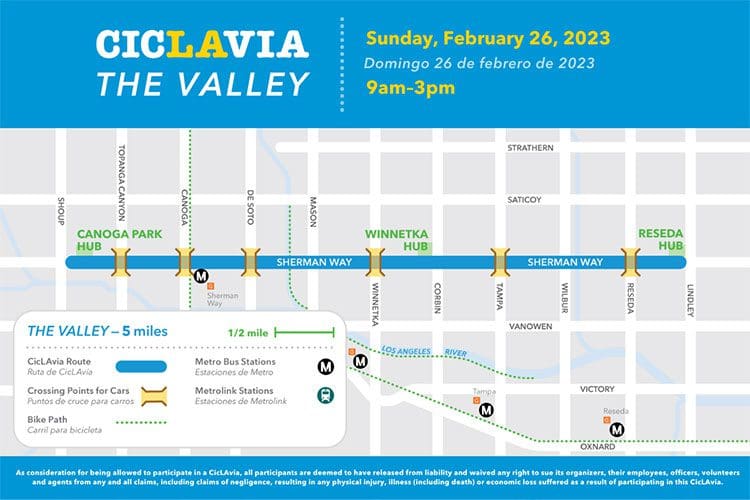 CicLAvia is a nonprofit that catalyzes vibrant public spaces, active transportation, and good health through car-free streets. It has never been more important to improve people's lives and strengthen communities, breaking free from isolation, exploring the connection between our health and our planet's health and to support sustainable systems and materials that sync with nature. Instead of building permanent infrastructure, CicLAvia builds unifying social fabric, joyously connecting culturally diverse neighborhoods and neighbors to each other through open streets. CicLAvia is not just about cycling, it's also about multiple modes of people-powered transportation. Whether one walks, strolls, skate, jogs, scooter, or bikes, CicLAvia creates so many incredible moments and experiences enjoying our city streets together.
More than just an open streets movement, CicLAvia helps communities re-imagine a greener and cleaner Los Angeles, while also promoting equitable transportation options, healthier lifestyles, and closer connections to community. Inspired by Bogotá's weekly ciclovía, CicLAvia has been temporarily closing streets to car traffic and opening them as public parks in Los Angeles since 2010. With more than 259 miles of open streets, South LA is CicLAvia's 42nd event.
Free for all, CicLAvia is a nonprofit organization working to connect neighborhoods to each other across a sprawling city, creating a safe place to walk, skate, roll, bike, play and dance through Los Angeles County. CicLAvia engages with people to transform our relationship with our communities and with each other. Participants of all ages and abilities will enjoy a day to sightsee, play and explore local gems, while experiencing the joy of safe, people-powered transportation on car-free open streets.
more
Time

(Sunday) 12:00 am - 11:59 pm