Health Net Presented by Maxxis Returns Strong Core for 2008
11/30/07 - Every professional cyclist knows that to achieve success, you need to develop a strong core. The same goes for a successful professional cycling team. For 2008, the Health Net Pro Cycling Team Presented by Maxxis, winner of four consecutive NRC team titles, returns one of the strongest cores in North America. Returning Riders: Matt Crane, Kyle Gritters, Tim Johnson, Roman Kilun, Karl Menzies, TAS, John Murphy, Frank Pipp, Rory Sutherland, AUS. New Riders: Corey Collier, Matt Cooke, Phil Zajicek More >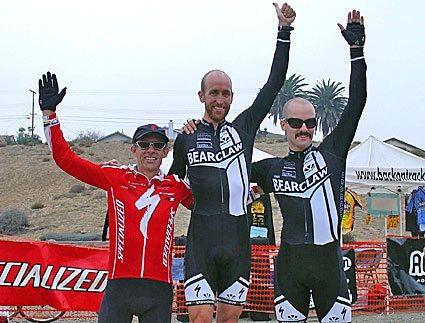 Team Bearclaw's Fritz Bottger took 1st, Jason Lowetz 2nd
and Ned Overend (Specialized) was 3rd at the recent Turkey 'Cross.
Photo © Lisa Hackenberg
The Glinn and Giordano Rio Bravo Rumble Biathlon is on January 19th
11/28/07 - The Glinn and Giordano Rio Bravo Rumble is coming up on January 19th, 2008 and starts at 9:30 AM. This 10K run and 16 mile mountain/cyclocross bike ride will challenge all levels of ability. You can enter as an individual or team. Teams will designate one runner and one biker and are categorized as all male, all female, or mixed. Last year there were several husband-wife teams that had a blast. There is also a free kids race (ages 4-11). The venue takes place on the Rio Bravo ranches near the mouth of the Kern River Canyon (east of Bakersfield). This is on private ranch land, inaccessible the rest of the year. It is a true privilege to run/bike on this gorgeous course. More info >
What's Happening in SoCal for Teams and Riders for '08?
11/27/07 - The season is almost here. How are things shaping us for teams and riders for next year? Any new teams or exciting changes happening for our local men's, women's, junior's and master's teams? I have heard of a few new team formations and transfers that sound exciting and will be good for the sport. Please feel free to send us your team press release once things are finalized. Best of luck in '08!
T-Mobile Ends Sponsorship; Teams to Continue with New Name
11/27/07 - The T-Mobile cycling program has lost its title sponsor, but the American director of the men's and women's teams said Tuesday that both will continue to operate with private support. Deutsche Telekom AG announced on Tuesday that it "has elected to end sponsorship of professional cycling with immediate effect." The decision affects both men's and women's teams. More at VeloNews >
District Cross Championships and Hart Park Cross Sure to Please
11/23/07 - Racers, fans and supporters of the So Cal Cross Prestige Series will be treated to two great courses Saturday and Sunday December 1st and 2nd in Bakersfield, CA. The Championship round of the Prestige Series of So Cal Cross is ready to roll!. Race Director and racer Sam Ames promises new courses at the already popular Hart Park venue. New features include a grassy run up and more technical aspects close to start finish line. Racers will be duking it out on Saturday for the district championships and Sunday promises a tough course for round 8 of the Prestige Series. Saturday night, Action Sports will be hosting the official award ceremony and dinner for all the racers and fans (please RSVP to sam@teamactionsports.com). On sale in the venue and sponsor area will be sandwiches and refreshments from Sequoia Sandwich and the Big Ring Cafe of Action Sports will be serving Big Ring Coffee. Don't forget the 2nd annual Hill Climb Challenge! At the conclusion of the last race each day, a large bell will be positioned on the hillside high above the venue. Racers, fans and anyone with their bike can take to the toughest run-up ever and race to the top for $100 cash! This is a crowd favorite, don't miss it! If the weather gods smile, a little wetness may come our way to soften the dirt and add to the drama of So Cal's premier cross series. District Cross Champs category corrections---Racers, due to a printing error, it was not specific that this weekends District Cross Championships in Bakersfield WILL have the category 3 men starting together but scored seperately from the 1,2's. Race info >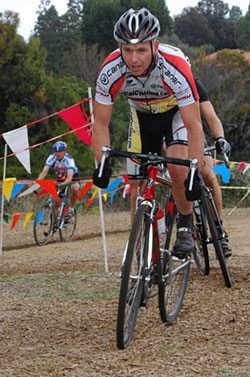 Bart Hitt (SoCalCycling.com) snakes through the Urban Cyclocross course in PV.
photo © Mitch Clinton
Urban Cyclocross SeriesTM Turkey 'Cross Report
11/21/07 - "Another first rate event" was the word from the riders at the Urban Cyclocross SeriesTM , Turkey 'Cross at Entradero Park , Torrance Ca hosted by Liquid Fitness Cycling. Besides the excitement of flying bean bag turkeys being tossed for extra series points there was an early buzz when the crowd learned legendary Ned Overend, the godfather of cross country mountain biking, was on the start sheet for the Elite Men 1,2,3 race. The question of the day was how would "Deadly Nedly", best known his UCI World Mountain Biking Championship Gold in 1990 and Bronze in 1991 and six NORBA National Mountain Biking Championship titles 1986, '87, '89, '90, '91, '92, handle the infamous Entradero Park hill and the new turn with three log barriers. Ned, racing for Specialized, put the hurt on the younger riders for most of the race but in the end it was Team Bearclaw's Fritz Bottger taking 1st, Jason Lowetz in 2nd and Ned Overend in 3rd. Another surprise took place in the Masters 45+ race. The addition of the 'cross friendly triple logs enabled the cross riders to edge out the top mountain biker Eddie Arnet. Masters 45+ series leader Eddie fell behind Jim Pappe and Michael Longmire (who came all the way from Montana) to end up in 3rd. But Eddie still holds on to his series lead over Dave Hnatiuk. A huge turnout of Shimano Youth racers 12 & under topped the day's attendance at over 150 riders and Back On Track's Random Cash handed out by junior Duncan Reid to the Elite Men category once again entertained the crown particularly when Lyle Warner edged out Brandon Gritters for one of the cash grabs! Urban Cyclocross SeriesTM Event #4 continues at Camp James in Irvine December 16th hosted by Encore Cycling. For more information visit backontrackproductions.com or www.encorecycling.com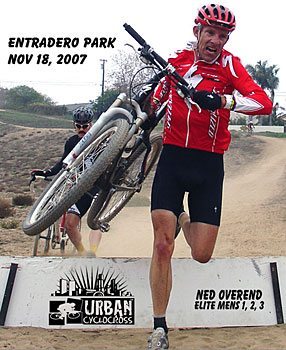 Ned Overend (Specialized) looks smooth through the barriers at the Turkey 'Cross.
Photo © Lisa Hackenberg
Turkey Day Rides
11/20/07 - Do you have a fun Turkey Day Ride going on in your area? We have lots of cycling friends coming to SoCal over the holidays that are looking for fun rides to do and the opportunity to burn some extra calories to earn an extra slice of pie. Tell us about your favorite Turkey Day Rides in our forum and what you'll be doing for riding.
2008 SoCal Road Schedule is Now Posted
11/19/07 - The 2008 road schedule has been posted. It looks like it will be another great season with a few new additions. For more great events please check out our Fun Ride and Mountain Bike and Cross Schedules. If you are an event promoter that would like your event listed on our event schedules please contact us.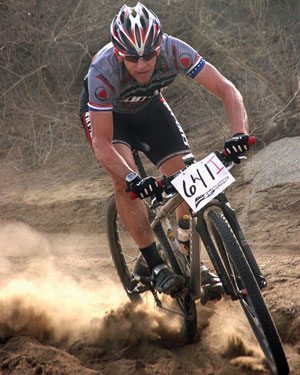 Johnny O'Mara (O'Show) on his way to winning the fastest overall time.
USA Cycling Now Accepting 2007 Centers of Excellence Applications
11/17/07 - USA Cycling is now accepting proposals for its 2007 Center of Excellence awards. USA Cycling's Center of Excellence program is aimed at identifying and rewarding athlete development programs and clubs in the United States that adhere to an effective and consistent model which focuses on the development of athletic talent in cycling. USA Cycling expects programs recognized as Centers of Excellence to set the standard for the development of cyclists in the U.S. USA Cycling will recognize the top USA Cycling clubs and teams with cash grants to further support growth and development. USA Cycling awards grants directly to organizations which have demonstrated successful and sustainable not-for-profit business models in developing junior and U23 cycling athletes. For 2007, a minimum of six awards ranging from $ 500-$ 5,000 will be awarded by December 15th. more >
Major Motion Development Team Receives Grant from Slipstream
11/16/07 - Slipstream sports announced today the recipients of their youth grant awards for "Causing the Slipstream". The Fulton Flyers Cycling Club of Atlanta, Georgia and the Major Motion Development team from Los Angeles, California were named as 'Yellow Jersey' recipients of financial support to support their outstanding youth cycling programs. Each organization will receive a $5,000 development fund, a spot at a team training camp for the top rated rider, Felt bikes for the most outstanding junior, discounts from industry sponsors including Felt, Giro and Pearl Izumi, access to private online coaching from renowned sports physiologist, Allen Lim, PhD, and access to a private online forum with select Team Slipstream/Chipotle riders. The winners were chosen based on their past history of athlete development, need for financial support, and proposed implementation of sponsorship funds.
USA Cycling 2008 National Championship Calendar Shaping Up
11/15/07 - USA Cycling's 60,000 licensed racers will have a lot to gear up for in 2008 as USA Cycling announced this week the dates and locations of the majority of its 15 national championship events. The USA Cycling National Championship Calendar offers an opportunity for competitive cyclists of all ages, abilities and disciplines to compete for a coveted stars-and-stripes jersey that signifies a national champion. With the sites for five national championship events still to be announced, dates and venues for USA Cycling's 10 additional national championship races are set. In 2008, USA Cycling will feature national championship events in the five recognized disciplines of competitive cycling – road, mountain, track, BMX and cyclo-cross. Eight of the 10 finalized events will be returning to their 2007 host, while two of the announced venues are new for 2008. more >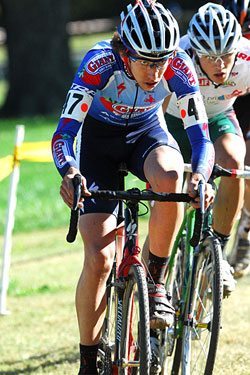 Chance Nobel (Cal Giant) and Danny Summerhill (Clif Bar) at the USGP in Louisville.
photo © Mitch Clinton
Wildfires Affect Local Parks in Many Ways
11/14/07 - As a result of the recent Southern California wildfires, many parks popular to mountain bikers suffered extensive damage like Orange County's Whiting Ranch. Whiting Ranch hasn't reopened yet. IMBA's California state rep for the southern region Daniel Greenstadt said two main issues arise when you consider letting people back into these scorched parks. One being that the burned area now becomes one huge trail, where bikers and hikers can go off in any direction they choose. Might sound like a mountain biker's dream, but it can be a land manager's nightmare. more >
Amgen Tour of California Route Released
11/13/07 - Specific route details for the 2008 Amgen Tour of California professional cycling race were revealed today by AEG, presenter of the third-annual event. A Tour de France-style cycling road race, the 2008 Amgen Tour of California will challenge the world's top professional cycling teams to compete along a demanding 650-mile course from Palo Alto-Stanford University to Pasadena. Scheduled over eight consecutive days from February 17-24, 2008, the race will visit 12 host cities for official stage starts and finishes, with communities along the route getting the chance to see, firsthand, a lineup of some of the best and most recognizable teams and cyclists in the world. Host cities for the Prologue and seven stages include: Palo Alto-Stanford University (new in 2008), Sausalito, Santa Rosa, Sacramento, Modesto (new in 2008), San Jose, Seaside, San Luis Obispo, Solvang, Santa Barbara, Santa Clarita and Pasadena (new in 2008). more >
2008 American Mountain Bike Challenge Calendar Announced
11/12/07 - USA Cycling announced today the 2008 American Mountain Bike Challenge (AMBC) calendar. The 26-race calendar features several new events and again provides off-road cyclists with the opportunity to qualify for the 2008 USA Cycling Mountain Bike National Championships at Mount Snow Resort in Vermont. With events in 17 states, the AMBC also provides entry level racing opportunities for competitors interested in participating in the sport of competitive mountain biking in a local or regional setting. Beginning March 8 with the Spa City Extreme Six-Hour Mountain Bike Race, a marathon event in Hot Springs, Ark., the 2008 AMBC stretches seven months before concluding with the Piney Hills Classic in Ruston, La. for the third consecutive year, on October 25-26. The first cross country event on the AMBC Calendar will again be the Southeastern Regional Championship Series opener in Gainesville, Fla. on March 16, and the initial gravity contest will be the 20th Annual Keyesville Classic in Lake Isabella, Calif. on March 15 – 16. Eleven of the 26 races on the AMBC will double as a part of the 2008 USA Cycling Mountain Bike National Cross Country Calendar.
Off Season - What R U Doing 4 Fun and Training?
11/10/07 - Alright, the off season has been going on for a little while now ... (some riders even started their off season in July!) So, what have you been doing for a little fun and doing for workouts? Tell us in our forum >
Toyota-United Signs Dominique Rollin
11/9/07 - The Toyota-United Pro Cycling Team has signed Dominique Rollin for the 2008 season. The 6-foot-2, 185-pounder is the first Canadian on the Toyota-United roster in the team's two-year history. Rollin, 25, was the 2006 Canadian national road champion. He won nine races as a first-year professional in 2007 and finished third overall at the inaugural Tour of Missouri."Dominique represents one of the best of a new batch of very eager, young and talented riders from Canada," said Toyota-United Assistant Team Director Scott Moninger. "I think he possesses extremely mature racing habits for someone of his age and the fact that he's such an all-around rider makes him ideally suited to the U.S. circuit." Rollin's addition to an already talent-laden lineup presents Toyota-United with multiple options for the competitive National Race Calendar and US ProTour circuits. He joins three other newcomers already announced to the team's 2008 roster: Ben Day and brothers Hilton and Jonny Clarke. All three are Australians, bringing to six the number of riders from Down Under now on the Toyota-United roster.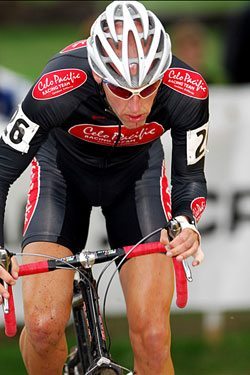 John Behrens (Celo Pacific) pushes on at the USGP in Louisville, despite
the broken finger he recieved the week before at the Dam Cross.
photo © Mitch Clinton
USA Cycling Announces 2008 National Racing Calendar
11/8/07 - More than $1.2 million is again up for grabs to elite-level cyclists as USA Cycling announced its 2008 National Racing Calendar (NRC) on Wednesday. Entering its 12th season, next year's NRC features 35 events across 23 states and will again crown the nation's top domestic individuals and teams. Of those 35 races, 31 of them will feature women's events while 28 will include men's racing. Beginning February 19 with the Santa Rosa Women's Grand Prix in California, the 2008 NRC lasts seven months before concluding with the Priority Health Grand Cycling Classic in Grand Rapids, Mich., Sept. 6-7. The season-long calendar will once again feature the top Pro-Am races in the nation as both professional and club-level teams will compete in all disciplines of road racing including criteriums, multi-day stage races, circuit races, road races, time trials and omniums. more >
Volunteer Opportunities Available for Amgen Tour of California
11/6/07 - Organizers for the 2008 Amgen Tour of California today announced that volunteer opportunities for the professional cycling road race are now posted online at the official tour web site. Volunteers looking for an opportunity to participate in the third-annual, high-profile race can apply online for positions including, course marshal, security, media relations and medical control. The 2008 Amgen Tour of California is scheduled for February 17-24, 2008. International cycling teams will race through 750 miles of scenic landscape from northern to southern California in an eight-day road race modeled after the Tour de France.
Velosport Elite Team Needs Two More Racers
11/5/07 - After a very successful opening season (2007) the Velosport Elite Team is looking to expand for the 2008 season. Currently we are looking for 2 racers of category 1 or 2 status. We have a lot to offer potential racers, and we have a great program and support structure in place to make our 2008 campaign just as successful as we were in 2007. If you are interested in racing with the Velosport Elite Team in 2008 please contact Travis Wilkerson at ( TravisRWilkerson@sbcglobal.net ). Please include your race resume, as well as your personal contact information, and what some of your goals are for the upcoming season.

Monday's Rumour Mill

Amber Neben Recovers from Recent Melanoma
11/4/07 - After competing in a successful European campaign for Team Flexpoint, Amber Neben returned home to Irvine, CA after the World Championships for some much deserved rest during the off season. Earlier in the year, Amber noticed a mole on her back that looked like it had some of the danger signs of skin cancer including an irregular border, asymmetry and an inconsistent border and decided to go to a dermatologist to get it checked out. Luckily for Amber she caught this in the early stages before the cancer could spread to her lymph nodes. Amber told SoCalCycling.com, "I am a new advocate for the dangers of the sun! It is super important to pay attention to your skin...getting skin checks and using UV protection. Seriously, because I got that checked out, the treatment and the prognosis was easy. Relatively speaking of course. Melanomas can be very, very serious, but if you get them before they start to spread then things are simple for cancer. I actually just got good news again yesterday. The tissue they cut out last week was clear". We are happy that Amber's recovery and prognosis is excellent and urge all of our cycling friends to wear sunscreen with UVA and B protection at all times when enjoying the outdoors and to visit your dermatologist if you suspect anything suspicious. Read more about Amber's enlightening experience and her post surgery update.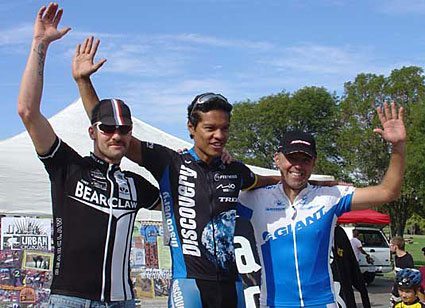 Urban CyclocrossTM Black Cat Cross Oct. 28, Elite Men 1,2,3
1st Tony Cruz (Discovery Channel Team), 2nd Jason Lowetz (Team Bearclaw),
3rd Gary Hanson (Giant) Photo © Lisa Hackenberg
Tara Llanes Blog Update / "Race For Tara" Fundraiser on Nov. 17th
11/2/07 - Hey everyone...I have some announcments. hehe..that sounded funny. maybe it's my meds. Okay, no really here we go. The guys (and girls?) of Sandhill Ranch in Northern Cali are putting together a race for me and I am stoked. Here is the link to check it out... racefortara.com. I hope some of you can make it. I wish I could. I had heard of Sandhill Ranch before I got hurt and had always wanted to race their slalom course. It looks sweet! The race is going to be held of NOVEMBER 17 th so mark it on your calendars. They will not only put on a fun race, but they also have a ton of product from my sponsors Fox Shox, Michelin, and Smith to give away. More at Tara's Blog >