Cycling News

SoCalCycling.com Announces Elite Men's Team and Launches Team Web Site
1/31/11 - SoCalCycling.com is proud to announce our continued support and sponsorship of the SoCalCycling.com Elite Team for the eighth year. We are excited to continue our partnership with our co-sponsors Bull BBQ and Echelon Design in 2011.
Team Director, Frank Sarate, has structured the Elite Team to include nine Category 1/2 riders. The team is comprised of a balance of seasoned riders and up and coming riders including Frank Sarate, Raul Frias-Estrada, Michael Smith Larsen (Denmark), Ruben Meza, Waylon Smith, Taylor Vaccari, Cory Bruno, David Robertson and Shawn Daurelio.

Team Director Frank Sarate said, "I am very excited about the composition of the team. We have a mix of seasoned riders and young, up and coming riders. I hope that our collective years of racing experience will help the younger riders with their development and achieve their cycling goals at a more accelerated pace." The SoCalCycling.com Elite Team will compete in races located in Southern California.
Team Web Site Launched
For 2011, we are excited to launch a new Team web site that is dedicated to the SoCalCycling.com Elite Team and Club. The web site will feature the latest Team news, race updates, sponsor product reviews, as well as an online store where Team clothing can be purchased. press release >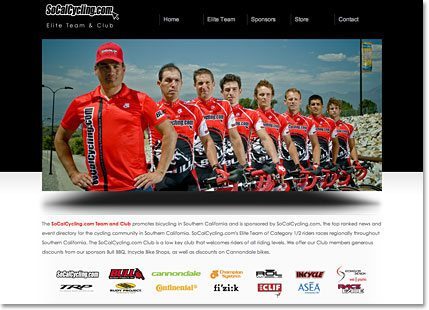 SoCalCycling.com announces the team roster and sponsors for the
2011 SoCalCycling.com Elite Team and launches a new Team web site.
Video: UCI CycloCross World Championships
Action packed footage of the final two laps of the Elite Men's Race in St. Wendel, Germany.
Katie Compton Earns Silver Medal at CycloCross Worlds
1/30/11 – American Katie Compton (Planet Bike-Stevens Bikes) rode to the silver medal in the elite women's competition at the UCI CycloCross World Championships on Sunday, closing out a season that also saw her win five World Cups and a seventh straight national title. In the elite men's contest, Jonathan Page (Northfield, NH) was the top American rider in 12th place. "Conditions were nearly identical to yesterday with bright sunshine. It was very cold though, so the track was frozen solid early, but it thawed out to a track that was still fast but quite muddy and slippery," said USA Cycling CycloCross and Mountain Bike Development Director, Marc Gullickson. More, Results & Photos >
SoCalCycling.com Team Clothing for Sale Through January 31st
We are taking pre orders for anyone that would like to order a SoCalCycling.com jersey and bib shorts. These are high quality, custom jerseys and bib shorts by Champion System that look and feel great. If you are interested in other clothing items, our club members have access to more clothing options, including vests, long sleeve jerseys, thermal jackets etc. The deadline to order is January 31st and the clothing should be available in early April. The SoCalCycling.com Club is a low key club that welcomes all riding levels. Club members will receive substantial discounts on products by Bull BBQ and at Incycle Bike Shops, where they can also receive discounts on Cannondale bikes. Members must fill out and return the 2011 Member Application and order clothing by January 28th to qualify for discounts. Order Clothing >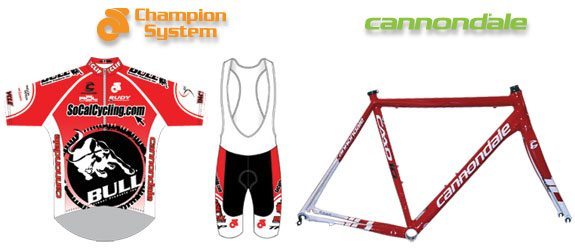 Advanced Sports Launches GEOX-TMC Team Blog
1/28/11 - Advanced Sports International (ASI), the parent company of Fuji Bicycles, has launched a new team blog for their sponsored pro team, GEOX-TMC, who is fresh off their second training camp of the season. "For 2011, Fuji has a strong sponsorship package of some of the top cycling teams in the world, so we've launched a pro team blog that brings fans behind-the-scenes photos, insider info, and race updates all in one place," said ASI VP of Marketing Karen Bliss. Bliss explained how, over the upcoming months, the blog will feature rider interviews and bios, tips from the team's professional staff, tech information from the team's co-sponsors, and of course, updates on the team's 2011 successes. Visitors will be able to follow their favorite riders, such as 2008 Tour de France Champion Carlos Sastre and 2009 Giro d'Italia Champion Dennis Menchov, every step of the way as they compete with GEOX-TMC in some of this season's most-anticipated races across the globe. more >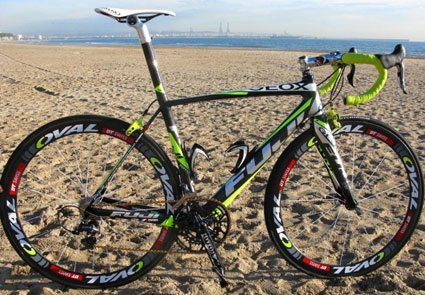 Geox-TMC's 2011 Fuji Altamira LTD Team Bike is unveiled on the new pro team blog.
The Bahati Foundation Endorses "TRU Cycling" Development Team
1/27/11 - The Bahati Foundation and Rahsaan Bahati, the namesake of the foundation has committed to mentor and endorse "TRU Cycling Team" starting with a weekend skills clinic and group ride. The Bahati Foundation supports youth in inner-city and underserved communities. Through grants, scholarships and cycling outreach programs, speaking engagements, the Foundation empowers youth and provides funding to cycling development teams such as Major Motion cycling whom Rahsaan credits his career to.

TRU Cycling is a new local cycling club based out of Orange County California, formed in late 2010. It's built on the foundation of Trust, Respect and Unity. Besides of promoting friendship, healthy living, family value, TRU Cycling also focuses on introducing cycling to the Vietnamese American community to develop more cyclist and help grow the sport. TRU Cycling has a diverse group of cyclists including master, senior, junior racers and recreational riders. more >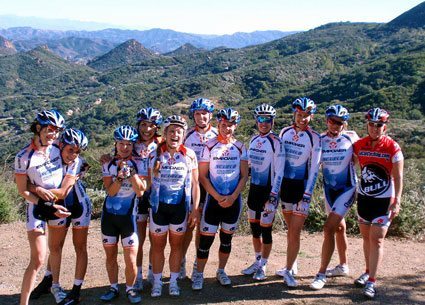 Riding with the SC Velo / Empower Coaching Systems Women's Team
up the Rock Store Climb during their Training Camp.
6th Annual Imperial Valley Classic Crit Adds Second Race Day in Brawley
1/26/11 - The 6th Annual Imperial Valley Classic, which is held in the sunny desert, has added a second day for 2011. The Imperial Valley Classic is a community-supported, friendly race that includes a criterium on Saturday, February 19th, in Imperial followed by a criterium 10 miles north in Brawley on Sunday. Ralph Elliot calls the Imperial race a "hidden jewel." Fresh cut winter produce will be featured at both races. Riders can take home a bag of broccoli, asparagus, cabbage, and romaine after racing. Both races will give the riders a chance to podium, earn SoCal Cup points and vye for a $ 3,750 purse. For more information on the event and hotel discounts please visit the event web site.
Poor College Kids Road Race Brings Racing to Santa Ynez Valley
1/25/11 - Come start the season right and race the Poor College Kids Road Race on January 29th. In its third consecutive year and organized by the UCSB Cycling Team, the course challenges racers as it rolls through beautiful Santa Ynez Valley wine country roads. The Poor College Kids Road Race starts on Zaca Station Road near Los Olivos and heads onto Foxen Canyon climbing slowly before descending steeply to the meandering flat roads of the Santa Ynez Valley. Seventeen miles after the start, the race turns around right in front of the Rancho Sisquoc Winery coming back up and climbing rather steeply again before descending to the finish. The Poor College Kids Road Race offers opportunities for all riders to get some early season results. The Poor College Kids Road Race is in the heart of wine country so merchandise for the winners includes local wines and tastings. More info >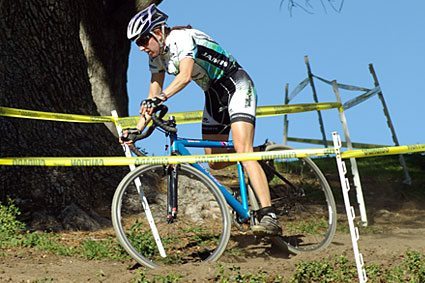 An off-camber section at Dam Cross makes things tricky.
Photo © Kenneth Hill / Light & Shadows Photography
Join Phil Keoghan for the World Premiere of "The Ride"
1/24/11 - In March of 2009, Phil Keoghan, the host of "The Amazing Race" and one of the most committed MS Ambassadors, left Los Angeles on his bike for a 40-day ride across America that covered over 3,500 miles. Joining Phil for this grueling journey were his cycling wingman, best friend, a former California Highway Patrol Officer and his father. Together they faced everything from sand storms and freezing temperatures to illness and injury. In just 40 days he raised $500,000 and unprecedented exposure for the National MS Society. Come meet Phil and see "The Ride." The Ride World Premiere is Thursday, February 3, 2011 at 8:00 pm at the Regal Cinemas LA Live Stadium 14. The doors will open at 7:00 pm and Phil will introduce the film at 7:45 pm. Thanks to Regal Cinemas' generous support; all proceeds from ticket sales will benefit the National MS Society. Buy Tickets >

USA Cycling Creates New Category for Domestic Elite Teams
1/24/11 - In an effort to better organize the top level of road cycling in the United States, USA Cycling is creating a new category of road team that is above a club but not yet a UCI registered team. These Domestic Elite Teams will create a stepping stone to the professional level and will better solidify the position of teams competing at the National Racing Calendar level. Both men's and women's teams wishing to accrue NRC Team points must either list at this level or as a UCI registered team. "Following discussion at the NRC event organizers summit in November, the need to organize the top tier of domestic road teams more effectively was clear and the incorporation of these Domestic Elite Teams is one way to help us get there," explained Micah Rice, USA Cycling's managing director of national events. "We also needed a way to raise the degree of consistency and fairness in the NRC Team points calculation and this will allow us to do that while bringing more value to these top tier teams and events around the U.S." more >
NOW-MS Society Training Camp
By Julia Lafranchise, Elite Women's Team
1/21/11 - Long weekend to rest and celebrate? Think again. The NOW-MS Society Development Team took advantage of MLK day traveling to Borrego Springs, CA (next door to Hellhole Palms) for training. Great weather hit Southern California just in time too. The team spent four days under blue skies training, eating, sleeping and breathing cycling. Rides spanned eastern San Diego County, including a nearly one hundred mile trek over Montezuma highway out of Borrego Springs and up Palomar Mountain. Sharing secret training grounds with rival team SDBC, both men's and women's NOW-MS Society teams are looking strong for 2011. Be sure to keep an eye out for the youngsters.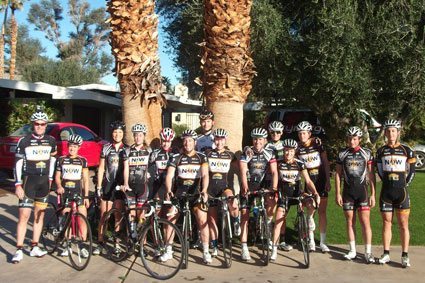 The 2011 NOW-MS Society Development Team.
Tour de Cure Ride Aims to Stop Diabetes
1/20/11 - The American Diabetes Association is holding its third annual Tour de Cure Ship to Shore bike ride. This unique cycling event provides the opportunity to ride the great port bridges from Long Beach to Los Angeles and raise funds to help Stop Diabetes. It's a ride for beginner's and experienced riders alike with routes ranging from 8 miles to 100 miles through Southern California's most dynamic scenery. The event is fully supported with rest stops, complimentary lunch and live music. Each rider is required to raise $150 to participate, with helpful guides on fundraising being provided. To learn more please visit diabetes.org/tour-shiptoshore. Jump in by meeting other Tour de Cure participants at the kick off Happy Hour in Long Beach on January 24th. For details please email jdillon@diabetes.org.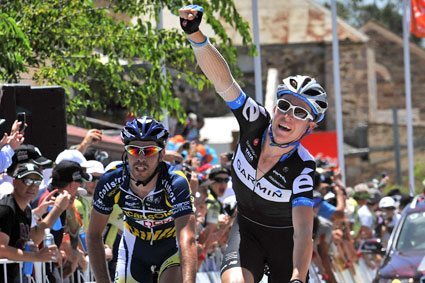 Cam Meyer (Garmin-Cervelo) wins Stage 4 of the Tour Down Under.
Photo © Slipstream Sports
Santos Tour Down Under: Stage 3 Recap
1/20/11 - HTC-Highroad's Matthew Goss managed to win back the Ochre Jersey on day three of the Santos Tour Down Under, when he took third place in the tough uphill sprint stage to Stirling. Goss now leads by two seconds from former race winner and stage winner Andre Greipel. "It was a pretty tough day," said Goss after the stage. "It was 36 degrees and that takes its toll on everyone. ThenI had a puncture with about 12km to go and had to chase back on. I was nearly gone when we got back on and I could barely hold on but I give the credit to my teammates. "Bernie and Mark waited when I punctured," he added. "Mark wanted to give me his wheel but we had trouble getting the wheel in the bike and so I ended up on my spare bike. By that stage the ambulances had gone past so we had a long chase ahead. Bernie chased me all the way back on. Just as we made it back to the peloton we were at the bottom of the climb with about 5km to go. There's no respite on that hill. It's pretty nasty. Hayden brought me up through the bunch so I could contest the sprint. It just shows how strong the guys are so I think we have good chances to try to defend the jersey for the rest of the week."
SoCal Claims Championship Trophy, NorCal Steals Elite Titles in Bakersfield
Reported by CXMagazine, by Alia Salim and Lee Slone
1/19/11 – Strong local turnout led Southern California to convincing victory this past Sunday at the NorCal vs. SoCal Cyclocross Championships while Northern California riders claimed wins in the Elite Men's and Women's races. With $5,000 on the line, easily one of the season's largest cash payouts for a non-UCI race, top talent from both regions made the trip to the centrally-located Bakersfield. But local and southern racers easily outnumbered their northern counterparts, with the final point tally at the inaugural regional showdown – brainchild of Action Sports manager and Master Men's 35+ winner Sam Ames – 520 to 1061 for SoCal. The course had a balance of twisty turns, quick sharp ramps, a flyover, two tough run-ups, fast downhills and a bit of singletrack with a long pavement start/finish, and it drew rave reviews from newbie and seasoned racers alike, with early categories wearing in the course for the faster, later groups. more >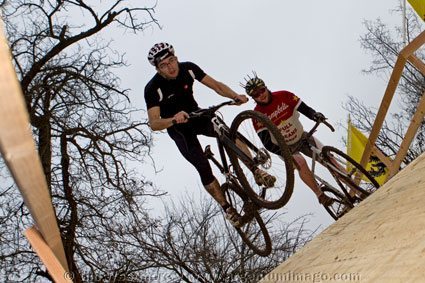 Riders fly over the flyover at the NorCal vs. SoCal Cyclocross Championships.
Photo © Tim Westmore Photography • Argentum Imago
Santos Tour Down Under: Stage 2 Recap
1/19/11 - Team RadioShack's Robbie McEwen will start in the ochre leader's jersey in Stage 3 of the Santos Tour Down Under. After two 3rd place finishes in the open days, Robbie McEwen claimed second place on Wednesday's Stage 2 behind stage winner Ben Swift of Team Sky. Consistency paid off as bonus seconds and points placed him squarely in the race leader's jersey on his third day of racing in the Team RadioShack jersey. "It's nice to be in the lead," said McEwen after the stage. "I was gunning to win the stage and I went from quite a way out to try to spring the element of surprise through the inside at about 250m to go. Swifty came up with a really good lead out and won the stage so good on him. I managed to hold on for second and with the bonus seconds it's a nice surprise to be leading." Several crashes created plenty of confusion and havoc in the closing kilometers, but McEwen found his way to the line. " I just hope everyone from the crash is alright. There was gravel everywhere on the sides of the road as well as a line of gravel in the middle of the road," explained McEwen. "We came out of a left-hand corner and someone hit that strip of gravel piled up in the middle and went down with others going over the top. I saw HTC guys fall and one guy ran right into the back of another guy's neck. It was so gravely; guys were slipping out all over the place. The finish wasn't overly technical but it was purely the gravel that made it dangerous," McEwen concluded.
Results >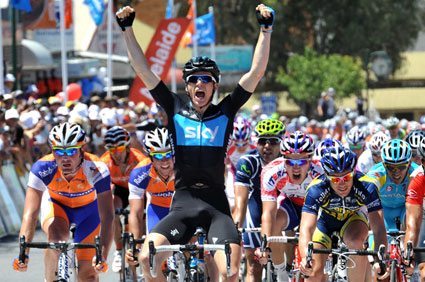 Ben Swift gives Team Sky their first victory of the 2011 season by winning
the second stage of the Tour Down Under in Mannum.
Photo courtesy TeamSky.com
Champion System Forms New Pro Cycling Team
1/18/11 - Champion System, a leader in custom technical apparel, is proud to announce the debut of a new professional cycling team. The team is registered as a UCI Continental Team in Hong Kong. The 16 member team consists of riders from six different nations (Hong Kong, Estonia, Germany, Austria, Australia and Switzerland). The captain of the team is cycling veteran Jaan Kirsipuu, a former stage winner in the Tour de France as well as a former wearer of both the overall yellow leader jersey as well as the green sprint leader jersey. In 1998 and 1999 he was the number one ranked professional cyclist based on his total UCI victories. With a lightning fast sprint, even at the age 41, this seasoned pro will not only be counted on to win races but also as a mentor to the younger riders. In 2010 the Estonian sprinter was 3rd at the National Road Championships. In addition, Jaan appeared on the podium in prestigious stage races such as the Tour of China and the Tour of Thailand. more >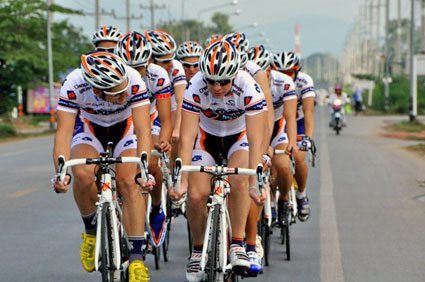 Team Champion System preps for the race season. The Team will use
Champion System clothing and Champion System frames.
Goss Wins Stage One of Santos Tour Down Under
1/18/11 - HTC-Highroad started the Santos Tour Down Under with a win on Stage One from Mason Lakes to Angaston on Tuesday. Matthew Goss came off his lead out train and the wheel of final lead out man Mark Renshaw with 250m to go and held off his competitors in the uphill sprint to the line taking his second win this week. "Mark gave me the perfect lead out once again and dropped me off at 250m to go," said Goss. "It was a long sprint up hill and I could see Andre on my wheel so I was a little worried for a moment there. But I managed to hold them off so I'm happy about that." Now holding the ochre leaders jersey after stage one, Goss hopes to keep it on his back or within the team until next Sunday. "It's a great start for us and I'd love to be able to hold this lead for the whole week but there's a long way to go and we'll just have to see how it goes. We also have a very strong team and we have other riders who can also win here so we'll take it each day at a time and hopefully we can have the jersey at the end of the week.
Versus to Air Daily Coverage of Tour Down Under
1/17/11 = VERSUS will kick off the cycling season with the 2011 Tour Down Under, the first race of the year on the UCI ProTour calendar. In the 2011 competition, 19 teams will cover more than 470 miles during the six-stage race through Southern Australia. This year's event will be the final cycling race outside the U.S. for seven-time Tour de France winner Lance Armstrong. Armstrong will once again lead the U.S.-based Team RadioShack®, which just added Australian native Robbie McEwen to the roster, to compete against the world's best cyclists. Additionally, two superstar sprinters, rivals Mark Cavendish with team HTC-Highroad and Tyler Farrar with the newly created Team Garmin-Cervelo, will race through the streets of Adelaide as they battle each other to the finish line. VERSUS will air daily 30-minute stage re-caps of the race from Jan. 18-22 at 6 p.m. ET, as well as a special one-hour show at 5 p.m. ET on Jan. 23 highlighting the final stage of the race. More & Schedule >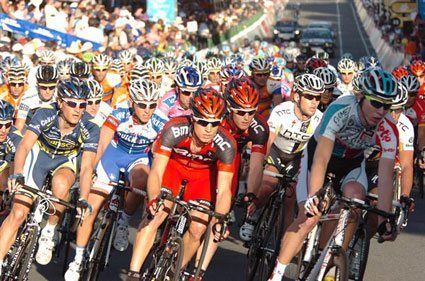 BMC Racing Team's John Murphy rode at the front of the peloton at the Cancer Counci Classic.
Photo © Foto Sirotti
Cycles Veloce Announces Junior Squad, Positions Available
1/16/2011 - The Cycles Veloce Team is now supporting a Junior Squad and is looking to fill 5 team positions. Applications are currently being accepted to round out the squad which offers clothing and race reimbursement support, travel cost and significant discounts on products required to ride. Preference is given to Orange County, Riverside and North San Diego juniors from 12-16 years old. Younger Riders will have access to mentoring, coaching, skills and exposure to a great wealth of knowledge from Cycles Veloce's experience riders including riders with Olympic, World Championship and National Championship experience. In the last two years Cycles Veloce has racked up more than 12 National Championships, 4 World Championship titles and a World Record in the 1-hour track event. The Team's men and women will be a great resource and can guide younger riders that desire to pursue the highest level of the sport. This coaching can be found in a formal or informal manner. Annual dues are free to all 17 and under junior cyclist. Visit Cyclesveloce.com or contact CyclesVeloce@gmail.com for more info.
HTC-Highroad's Goss and Renshaw Take Top Two at Cancer Council Classic
1/16/2011 - Sprinters Matt Goss and Mark Renshaw got HTC-Highroad's 2011 season off to a great start when they scooped the top two places in the Cancer Council Classic on Sunday. After winning two stages and the overall of the Jayco Bay Classic series earlier this year, Goss started the 51 kilometre city centre event in Adelaide, Australia as top favourite, and he duly blasted to a convincing sprint victory with team-mate and lead-out man Mark Renshaw in second place. "It's a great way to start the season with a win for the team," Goss said afterwards, "January has been really good to me. With the guys that we have here, we have so much strength, all I really had to do was sprint. "Grabshi and Danny did a great job bringing back the break and Renshaw did the perfect job getting me and Cav into the right position." HTC-Highroad had co-led the chase of four breakaways during the entire race, with Renshaw and Goss avoiding a big crash close to the finish. "The plan was for Cav to sprint off Renshaw's wheel and for me to be on Cav's wheel to give us a couple of options. But on the last lap there was a crash and Cav had to brake a little, so I got onto Renshaw's wheel and he took me all the way to the line. "Cav didn't go down and probably could have got back on the wheels, but he saw that a gap had opened so he left it open." Looking ahead to the Tour Down Under stage race, which starts Tuesday, Goss added, "this win is a great start for us, but we've not begun the actual Tour yet. So we'll take it one day at a time and hopefully we can continue the way we have started." On a great day's racing in Australia for HTC-Highroad, Goss's team-mate Chloe Hosking also clinched a victory, winning the Rendition Homes Santos Cup in a bunch sprint.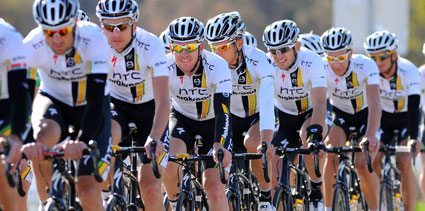 The HTC-Highroad Team logs in some nice base mile during their California training camp.
Photo © TDWSport.com
Nor Cal vs. So Cal Cross Showdown is Ready to Roll
1/14/11 - Sunday, Sunday, Sunday! Hart Park in Bakersfield will be the site for the anticipated throwdown showdown between Nor Cal vs. So Cal in a region take all State Cyclocross Championships. The flags are waving, the beer tent is ready and the racers are coming this Sunday, January 16th. Race Director Sam Ames indicates that the venue is on par with a UCI Belgian race. The green grass is cut and ready. Will the North bring the heat and the depth they have in cross or will So Cal answer the call and show some numbers and strength? Black Market Racing, Rock Lobster, Sheila Moon, Buy Cell/Ibis, the Murphy Mack crew…..San Francisco, East Bay, Fresno, Reno, Santa Cruz and more from the North have leaked info and they are amassing a squad of elites and others, many racing more than one race to gain points! Team Velocity, Helens, Celo Pacific, Platinum Performance, Team So Cal Cross and more from LA, OC, the Valley, B-town and beyond….champions of the great state will battle, don't miss it! One thing is for sure, come sunrise on Sunday, let the games begin! $5000 in cash and prizes are on the line….the giant 6 foot trophy is ready and awaits its winner…the flyover ramp is getting its last screws and the Belgian Frites are cut and ready to be fried….race or simply attend and cheer on So Cal, So Cal!
Junior Development Camp a Big Success
1/12/11 - This past weekend marked the 5th annual Southern California Nevada Cycling Association Junior Camp. The SCNCA Junior program is managed by Dominic Galenti, owner of INCYCLE Bicycles. The camp, directed by Dominic, was held at the Keck Graduate Institute in Claremont. Claremont will be hosting Stage 7 of the Tour of California this year. The camp is usually held at the San Dimas Hospital but due to the overwhelming attendance and logistical challenges, a change in venue was required. The Keck Graduate Institute graciously offered to donate space in their largest lecture hall. "The location was perfect with ample parking, low traffic and professional meeting room accommodations," commented one of the volunteers. The camp, which is free of charge to kids from ages 10-18 and all cycling abilities, hosted 90 riders this year. More & Photos >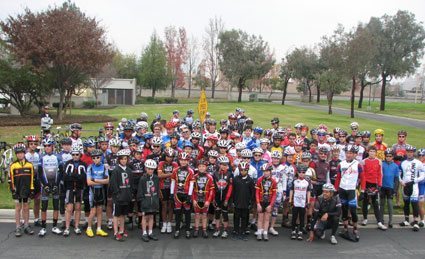 90 Juniors attended the Junior Development Camp.
Cyclist Kevin Unck Passes Away Due Fatal Crash on GMR
By Christy Nicholson, SoCalCycling.com
1/10/11 - On Sunday morning, our Cycling Community sadly lost our friend Kevin Unck due to a fatal crash that occurred while riding down GMR (Glendora Mountain Road). Kevin was riding with a group of friends that meets at the local Claremont Coffee Bean every Sunday morning and does the Azusa Canyon loop. A fun ride with friends turned tragic while descending GMR, when Kevin slid out in some dirt from the recent storms in a blind corner and into the path of an oncoming car.

This especially hits close to home, as we have known Kevin since the early 90's. I had just ridden and chatted with him on Saturday on the way back from the Montrose Ride and when a small group of us added the Azusa Canyon Loop on to our ride. Ironically, Kevin flatted half way up the Canyon cutting his tire and opted to turn around instead of coming down the Mountain with us.

Kevin ran the Back Abbey/Coates Masters Team and was passionate about time trialing, riding his tandem with his wife Liesel and racing the tandem where he got a Silver at the National Championships in the 70 +.

Our thoughts and prayers go out to Kevin's wife Liesel, family, teammates and friends. Messages can be left on Coates Cyclery's Facebook page.
NorCal vs. SoCal California State Cyclocross Championships Set for January 16th
1/9/11 - The NorCal vs. SoCal California State Cyclocross Championships is set to take place on January 16th at Hart Park Memorial Park in Bakersfield. There will be a 100 rider field limit for each category, with 50 riders from each region. Riders will be vying for a $5000 prize list with deep places and points for each rider. The region with the most points at the end of the day gets the prize, which is a giant trophy plus bragging rights. The event will have a marching band, bagpipes, beer garden, a fly over ramp and is billed as the hardest cross course in the State. The course is a Classic European style with a long pavement start, two road sections, and dirt and grass sections and will also include two run ups and a fly over ramp, with plenty of room for passing. The course will be open for pre-riding by 2 PM on January 15th. More info >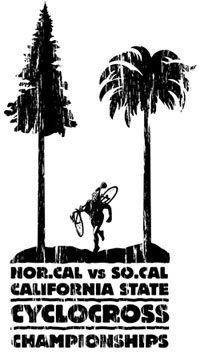 Cycling Photographer Kenny Brant's Memorial to be Held Sunday, January 9th
1/8/11 – The memorial service for cycling photographer Ken Brant (Kenny B) will be held at Brown Colonial Mortuary, 204 W. 17th St. Santa Ana 92706 on January 9th at 2 PM - (Phone # 714 542-3949). Kenny was tragically killed on November 28th on Ortega Highway in a head on collision while riding his motorcycle. Ken took photos at many of the local races, cycling events and at the weekly Eldorado Park Criterium Series that were available on KennyBZ.com. More information can be found at the Orange County Wheelmen's web site.
2011 Rio Bravo Rumble Brings Running and Mountain Biking to Bakersfield
1/8/11 – Glinn & Giordano Physical Therapy, Inc has announced that the 2011 Rio Bravo Rumble will be held on January 15th, 2011 at Rio Bravo Ranch. The Rio Bravo Rumble is held on a private ranch land near the mouth of the Kern River Canyon and has grown into the premier running and cycling event in Bakersfield. Boasting over 300 registered participants from all over the United States in 2010, the challenging course is designed to test the skills of both beginners and experts alike. All proceeds of the 2011 Rio Bravo Rumble benefit Bike Bakersfield whose goals are to create Safe Routes for kids to bike to school, increase awareness of cycling as a form of transportation/commuting, and unite the biking community.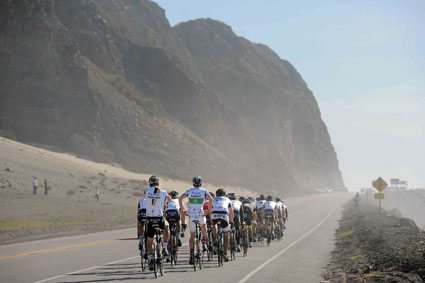 The HTC-Highroad Team trains along the California coast during their training camp.
Photo © TDWSport.com
Riders Selected for CycloCross World Championships
1/7/11 - USA Cycling has announced the first round of nominations to the United States National Team for the 2011 UCI CycloCross World Championships, slated for January 29-30 in St. Wendel, Germany. Thirteen athletes have been named to the elite women's, U23 men's, and junior men's squads based on their performances over the last cyclocross season. Leading the elite women's squad will be seven-time national champion Katie Compton (Colorado Springs, Colo./Planet Bike-Stevens Bikes). A serious contender for the world title, Compton earned an automatic nomination to the team after taking four of the five World Cup wins this season. more >
Junior Development Camp Location Has Been Moved
1/7/11 - Just received the following update ... Due to the overwhelming response to the Junior Development Camp scheduled for this weekend, it needed to be relocated to a bigger facility. The camp will be held in Claremont at 517 Wharton Dr in Claremont, CA 91711 instead of San Dimas.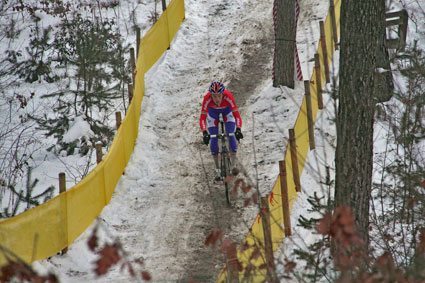 Lars Boom (Rabobank) rides the snowy downhill on his way to winning the Zolder World Cup.
Photo © Sjar Adona
Wonderful® Pistachios Unveils Jersey Design
1/6/11 - The Wonderful® Pistachios Pro Cycling Team has unveiled its new jersey design and announced it will donate a percentage of the profits from the sale of all team clothing to charity. The U.S.-based, UCI Continental team headquartered in Los Angeles will sport the distinctive green, black and white colors of its title sponsor, Wonderful Pistachios. "Wonderful Pistachios has set the bar pretty high in terms of cool, edgy advertising and the jersey design they came up with for us reflects their style," Wonderful Pistachios Team Owner and Director Josh Horowitz said. A full range of clothing (jersey, shorts, vests, jackets, etc.) made by Biemme is available for purchase on the team's new website. more >
Download and Print the 2011 SoCalCycling.com Calendar
1/5/11 - SoCalCycling.com would like to share the 2011 SoCalCycling.com Calendar, that was designed by SoCalCycling.com Elite Team sponsor Echelon Design, with our readers. Download the 5.6" x 10.5" calendar and print it directly from your printer for a handy date reference throughout the year. Enjoy! Download Calendar >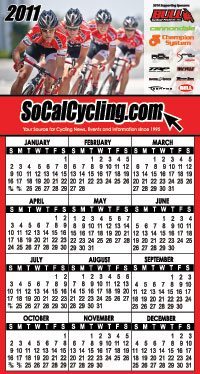 Cyclist Kit Karzen Announces the Kit Karzen Foundation to Help Kids with ADHD
1/4/11 - Cyclist Kit Karzen has just announced the launch of the Kit Karzen Foundation. The Kit Karzen Foundation seeks to enrich the lives of kids and teens with ADHD by promoting and providing the inherent benefits of cycling. The foundation assists municipalities, organizations, and non-profits in the promotion, development, and sustainability of their individual cycling-associated programs. The foundation's mission stems from Kit being diagnosed with ADHD at eight years old. Karzen states, "I went through years of all-time lows during my time in medication programs as we were trying to contain my energy to help me focus." At age eleven, Kit opted out of the medication programs and chose to just be himself. Years of poor grades and rocky relationships left Kit ground to his core, but that all changed when Kit's father introduced him to the sport of track cycling. "When I was thirteen, my dad who used to race said we were going to the Encino Velodrome Youth Cycling Program. He didn't care if I liked it, I just needed to try it." More >
Team Garmin-Cervélo Announces Men's and Women's Team Rosters
1/3/11 – Slipstream Sports, LLC, is poised for what could be its biggest year yet and today unveiled its roster for 2011 Team Garmin-Cervélo, comprised of 39 of the world's best men and women hailing from 16 countries. The team – a powerhouse in the men's and women's pelotons - is highlighted by world champions Thor Hushovd and Emma Pooley, sprint sensation Tyler Farrar, Ryder Hesjedal, 7th overall in the 2010 Tour de France, rising star Lizzie Armitstead and men's team leader, Christian Vande Velde. The team also boasts several current and former national champions including Murilo Fischer, Cameron Meyer, Travis Meyer and Emma Pooley. The men's team, comprised of 29 riders, will be headed up on the road by Director of Competition, Matt White. The women's team, comprised of 10 riders, will be headed up by director Klas Johansson. More and Roster >
Team Garmin-Cervélo Unveils 2011 Kit with a Touch of Argyle
1/2/11 - Slipstream Sports has unveiled their 2011 Team Garmin-Cervélo team kit, created by Italian apparel manufacturer, Castelli. The new design includes the signature Slipstream Sports argyle on the left sleeve of the jersey, left cuff of the short and the neck. The kits will be debuted by riders competing in Australia's Jayco Bay Cycling Classic, where they will be supplied with a full range of Garmin-Cervélo apparel including Castelli's nearly seamless Body Paint Speedsuit. Tell us how you like the new design with a comment on our Facebook Page!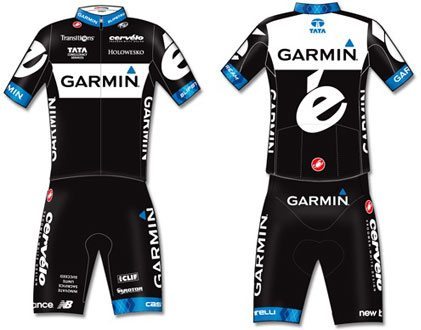 Cyclists Helping One of Their Own, the Survival Story of Damian Lopez Alphonso
1/1/11 - At age 13, while trying to retrieve a kite caught on an electrical wire in his native Cuba, Damian Lopez Alphonso was electrocuted with 13,000 volts of electricity - the voltage equivalence of what it takes to move a New York City subway car. When Damian reached up to the wire with a metal pole, an electrical current quickly traveled down the rod, severely scorching Damian's hands, forearms, chest, and neck. The pole then repeatedly struck him in the head, disfiguring his face. He spent 52 days on life support following the accident and has had dozens of surgeries - some life-saving - since his teens. Doctors are still baffled by the fact that he's alive. Damian, now 34, hasn't allowed these seeming setbacks to slow him down - literally. Although he lost both of his hands and uses no adaptive devices, Damian is an accomplished cyclist, who finished first at the Coppa 8 de Marzo Time Trial, second at the Tour of Havana de Este, and third at the Criterium de Havana against some of the best athletes in his region. more >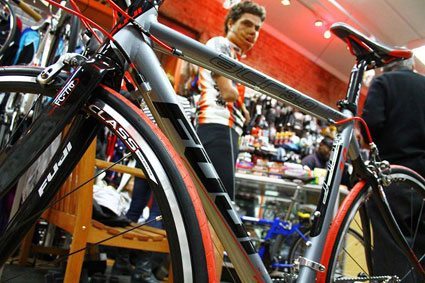 At 13, Damian Lopez Alphonso was electrocuted with 13,000 volts of electricity,
which resulted in the loss of both hands. Today at 34, is an accomplished cyclist.
Photo courtesy of Marco Quezada / Fuji