SoCalCycling.com caught up with Mark Bierotte, the owner of Velofix Mobile Bike Shop in the San Gabriel Valley and Pasadena area. Mobile bike shops have become more popular in recent years and provide a flexible bike repair solution for busy clients.  Mark gives us some insight into Velofix Pasadena and the emerging segment of mobile bike repair services in the bike industry.
SoCalCycling.com: It seems like there are some other mobile bike repair services out there. How did you decide to go with Velofix? 
Mark Bierotte: I was one of the first few Velofix franchises in the US. Since that time, Velofix has grown to be the largest bike shop in the country. One of the reasons I chose Velofix is the outstanding "behind the scenes" resources provided by the corporate team. This includes outstanding inventory systems and scheduling software plus exceptional support for franchise owners. The owners of the company love cycling and create connections with the best distributors and manufacturers. Clients can see this in the quality of the products we offer.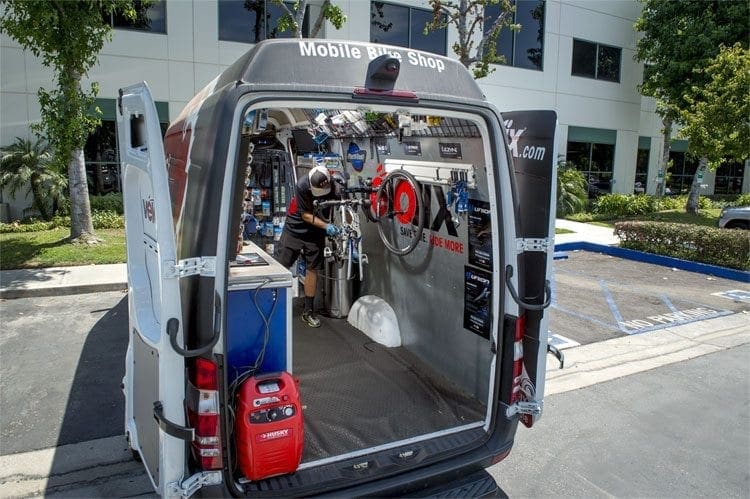 SoCalCycling.com: How does Velofix fit into all this competitive movement in the Industry? 
Mark Bierotte: Velofix fills a void in the cycling industry that has emerged as the cycling industry and the internet have evolved. All types of businesses and their respective industries are adjusting, improving, and becoming more efficient as consumers turn to online purchasing. Velofix's main goal – and the key to our success – is providing Value to our clients. I use the term client as opposed to the customer, Velofix looks to create a "concierge" relationship with our customers. This relationship creates a repeat customer which now becomes a client. Our value comes in many ways, including competitive pricing on products and services, and bringing an entire bike shop to you.
SoCalCycling.com: What is the business model for Velofix as a franchise? 
Mark Bierotte: Velofix Pasadena's main business model is to provide a consistent high-level service to its clients. By coming to the client's home or work and having the same expert mechanic work on the bikes, we are able to make bicycle maintenance and repair a convenient and easy process for the rider. This is where Velofix Pasadena can provide a great value and concierge service. We take detailed notes on the bikes we work on to routinely follow up on wear parts that don't need to be replaced at the current time of service but could need replacing in the next 2-3 months. Clients are extremely satisfied because we help keep their bikes operating as efficiently as possible and we make changing wear parts more efficient by replacing them exactly when needed. We don't like to function as a roadside service provider, but will always stop for a broken down cyclist when we are on the road.
SoCalCycling.com: How many Velofix franchises are in California currently and are all of the territories taken? 
Mark Bierotte: Velofix is growing fast and expanding in California. There are 6 franchise vans servicing Southern California and at least 3 in Northern California. Current franchises are focused in areas where cycling communities are strong. Velofix Pasadena will be making a concerted effort in 2018 to expand its services into the Inland Empire.
SoCalCycling.com: What are pros and cons of being a mobile bike repair service and store? 
Mark Bierotte: The pros of being mobile, are obvious – Velofix can come to the client's home or work. We generally can be scheduled 1-2 days out and can sometimes be available the same day. Because we operate out of the van, we carry a good assortment of parts and accessories to complete each job on the spot, thus eliminating the no bike syndrome. We are finding the workplace visits to be very popular, especially when the days get longer and riders tend to ride directly after the work day and already have their bike with them while at work. Another pro is we are perfectly suited to providing mechanical support at events and group rides. We can fix just about any type of breakdown or issue that prevents a rider from continuing their ride, other than bonking. The cons have been on listing our shop on Google and Yelp as these sites in the past required an address, which for practical purposes, we do not have.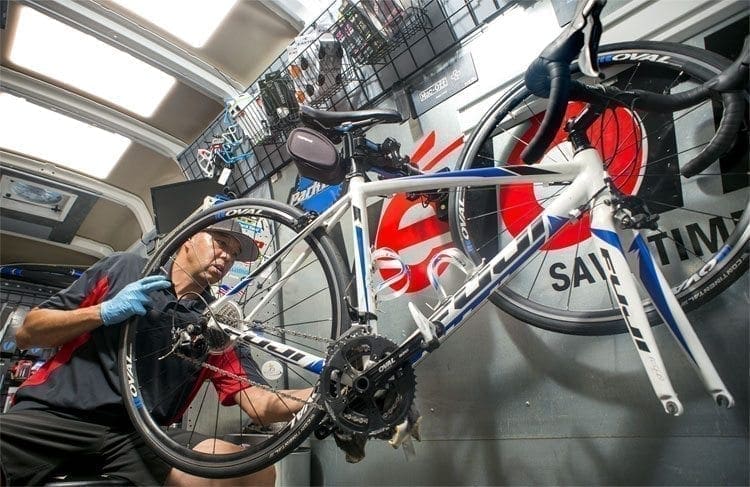 SoCalCycling.com: What type of bikes or clients do you work with most? 
Mark Bierotte: We work with all types of clients and bikes. Velofix's expert mechanic, Ben Bertiger, is known and respected throughout the local cycling and racing community. Riders with high-end road and mountain bikes are very comfortable with his expertise and thoroughness when working on their bikes. Contrary to what people may think, we also service just as many hybrid, commuter, kids, beach cruisers, and even electric bikes. Families now have an easy option to get their bikes serviced at their homes. It is difficult to load a family's heavy, awkward bikes onto a car to get them to a bike shop. Just to make a point, anyone who feels their bike was not expensive enough to justify a tune up on their bike should take into account the basic safety issue of making sure their bike is operating properly. We had a recent client who called us to check out her daughter's bike. The brakes did not work and she did not realize until going downhill and approaching a major cross street with fast heavy traffic. She ended up using her feet to stop the bike and injured her ankle and destroyed her shoes in the process. The issue turned out to be a slipped brake cable, something a basic tune-up covers. We want to reinforce the idea that a "tune-up" is not just for performance, but also for safety and to extend the life of a bicycle. Riding a bicycle is a great form of exercise for kids and adults. Making sure the bicycle is functioning properly makes it safer and more enjoyable to ride.
SoCalCycling.com: If I was new client how would I go about receiving service from Velofix? 
Mark Bierotte: The easiest and fastest way to book your service appointment is to call, text, or email us: (626) 482-0772 or [email protected] We do our best to respond immediately and can typically get to you within 1-2 days. Sometimes we can even get to you the day you call us. Our rates are basically the same as a local bike shop. Our minimum service call is $69, which can be for servicing more than one bicycle. Recently one of our existing clients suffered a broken shifter cable in the middle of his long ride. He cut his ride short and rode home. But gave us a call on his way. We met him at his home and immediately went to work on his bike. By the time he finished showering and getting ready to work, his bike was fixed and tuned and ready for his ride the following day!
SoCalCycling.com: I understand aside from fixing bikes you are also a dealer for certain brands of bikes. How does that work?
Mark Bierotte: Velofix is both a dealer and delivery service for a number bike brands. As your bike concierge, we can work with you to help select a great bike that best fits your needs and budget. One of our clients purchased a great Pure Cycle bike for her 12-year-old son. Another purchased a Rad Power electric bicycle to use for commuting to work. Another purchased a high-end gravel bike will all the bells and whistles a cyclist would ever want. We also sell high-end mountain bikes, road bikes. When you purchase a bike directly through Velofix, we assemble the bike and schedule a convenient delivery time according to your schedule. There is also a 30 day follow up to make sure all the shifting and brakes are properly adjusted once the cables and housing have settled. Velofix can also perform a bike fit at the time of delivery if requested.
SoCalCycling.com: How many Vans do you have for your territory and do you plan on expanding your franchise? 
Mark Bierott: Velofix Pasadena has 1 van servicing the greater San Gabriel Valley and the Inland Empire. Velofix franchises typically have one van per territory, but as business grows, many of us will be adding additional vans to support our client's needs.
SoCalCycling.com: Do you see this as the future of bike shops and repair service for the bike industry? 
Mark Bierotte: I see Mobile Bicycle Service as a big part of the bicycling industry in the future. I believe this business model is not a trend, but here to stay. Bike manufacturers will expand their online sales to suit the consumers' demand and Velofix Pasadena is the perfect business to become the liaison or Bicycle Concierge to the consumer. There will always be a need for brick and mortar bike shops and retailers. Velofix Pasadena will evolve and work together with local shops. We all share a passion for cycling and a desire to serve our clients.
SoCalCycling.com:  Thanks for your time Mark!  Check out Velofix Pasadena's Mobile Bike Shop in the San Gabriel Valley and Pasadena area for your bike repair and service needs at velofix.com.
This page contains affiliate links, where we get a commission if you decide to make a purchase through the links(at no cost to you) and helps support the site. As an Amazon Associate, we earn from qualifying purchases.