SoCalCycling.com caught up with Mark Ceccarelli, the owner of  The Competitive Edge Cyclery  which has two bike stores located in Upland and Rancho Cucamonga, CA.  Mark shares his experience of being a bike shop owner for the past 30 years, where he has seen many new trends and innovations in bike industry over the years. If you are in the Upland or Rancho Cucamonga area be sure to stop in to The Competitive Edge Cyclery for a great local bike shop experience. The Upland shop is located right next to an In-N-Out Burger for a nice bonus!
SoCalCycling.com: What sparked your interest in opening a bike shop and what is the history behind The Competitive Edge Cyclery?
Mark Ceccarelli: While attending Cal Poly Pomona, I became interested in riding bicycles. During those days we actually had a cycling class that we could take. While at school I had to develop a business plan for a class and I so happened to do it on the bicycle business. After doing the class project, I along with two others felt we could do a better job and take a hobby and make it into a business.  The Competitive Edge Cyclery was opened in 1987 and founded by Mark Ceccarelli, Arnold Furr, and Calvin Cox. The 3 of us actually rode and worked together at a restaurant in Upland called El Gato Gordo. Over the years, both Calvin and Arnold went on to pursue other careers.
SoCalCycling.com: How have you seen the industry change over the years both from the shop experience and the industry itself?
Mark Ceccarelli: The bike industry has changed a ton from when we first started. In 1987, the majority of riders rode either a road bike or maybe a bmx bike. However, mountain bikes came on the scene and we saw explosive growth during the 90's. Tons of brands, new technology, and every shop seemed to make money. Bike brands were just happy to be a part of the store. Today, we are seeing the next big bike craze – going electric. Lets face it, electric bikes are just FUN.
SoCalCycling.com: With some of the shops closing in the local area, do see yourself picking up those existing clients?
Mark Ceccarelli: The Competitive Edge Cyclery is now celebrating our 30th year in business. All of the bike shops in our local area have been sold and most have gone out of business. With shops closing we have seen new customers.
SoCalCycling.com: How many employees do you have working for you currently with both locations?
Mark Ceccarelli: Depending on the time of season, we generally have 9-10 employees between the 2 stores. We are always looking for super nice people to work with us part / full time.
SoCalCycling.com: What brands do you carry in both stores?
Mark Ceccarelli: Giant, Cannondale, Felt, Scott, Marin, Seven and of course any of your custom / niche brands.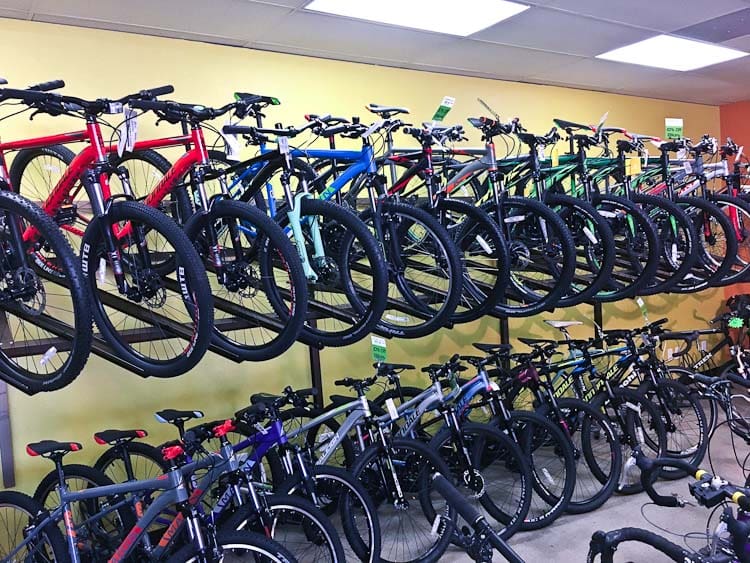 SoCalCycling.com: What type of clientele do you deal with the most – Road, MTB, Recreational Riders, or just a large variety of riders?
Mark Ceccarelli: We cater to anyone who rides a bike or wants to ride a bike. We have a long history of building super cool custom bikes that customers from 30 years ago still come in and have us build up new exciting bikes for them…We call them family.
SoCalCycling.com: It looks like the new Upland location is catching on very well. Do you see yourself expanding the shop in the near future?
Mark Ceccarelli: We have no current plans to expand our Upland store. With the retail ice age going on we are watching every expense. I would rather be smaller than bigger. I want to have The Competitive Edge to be in business for another 30 years.
SoCalCycling.com: What do you see as the new trends in cycling that could make the next impact in cycling?
Mark Ceccarelli: I see the new trends being electric bikes. They flat out work. The electric bike is getting new riders (generally over 50 years old) into a sport that they never would have explored in the past.
SoCalCycling.com: Where do you see the trends heading (electric, gravel)?
Mark Ceccarelli: Gravel, mountain, road, electric. Too much overlap in the bicycle market. Too many choices, just confuses everyone….My feeling is just ride.
SoCalCycling.com: Do you have any rides that leave from the Competitive Edge Rancho or Upland locations and if so what type of rides?
Mark Ceccarelli: Currently there are no weekly rides out of the shop, but I would love to have someone start one…. We do however have 4-6 ride events every year that do start and finish at the stores.
SoCalCycling.com: What are your favorite rides you like to do in the local area?
Mark Ceccarelli: Favorite rides in the local area are Bonelli Park, GMR and Marshall Canyon.
SoCalCycling.com: Do you like to ride your road or mountain bike more and what do enjoy about both?
Mark Ceccarelli: I road bike the most because I like riding in a group and I like the speed and distance. However, when I mountain bike I feel like a kid again, because it is so much FUN!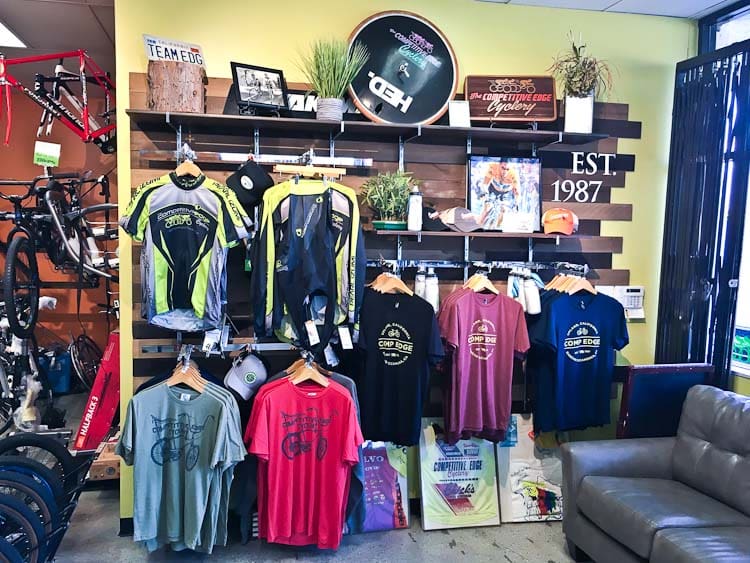 SoCalCycling.com: Being that your so close to In-N-Out Burger. How hard is it not eat at In-N-Out for lunch everyday?
Mark Ceccarelli: I Try to limit eating at In-N-Out to 2 times a week. Having them only a few yards away is HARD!!! I had to switch from a #1 meal to just a burger….So GOOOD…Sometimes I cheat and just get a shake 🙂
SoCalCycling.com: What goals do you have for the Competitive Edge Cyclery heading into the next 30 years?
Mark Ceccarelli: My goal for The Competitive Edge Cyclery is to continue to provide a fun, exciting, honest, exceptional experience…never wanting to be the biggest, just the best because we are not just a bicycle shop but a lifestyle. Our shops are where customers become friends, but more importantly they become FAMILY. So in 30 years, someone in the family will be running the show just not me. I have an idea who it might be.
SoCalCycling.com: Thanks for the interview Mark! Here's to  30 more successful years at The Competitive Edge Cyclery!
This page contains affiliate links, where we get a commission if you decide to make a purchase through the links(at no cost to you) and helps support the site. As an Amazon Associate, we earn from qualifying purchases.