SoCalCross invites you to celebrate the Cyclocross World Championships tomorrow on Sunday, January 30 at Around the Cycle in Pasadena.
Details:
9 AM Gravel Ride, Worlds Watch Party at 12 Noon in the parking lot starts LIVE!
Around the Cycle Bike Shop is located at 1270 Lincoln Ave. Suite 1500, Pasadena CA 91103
Check-in begins at 8 AM Sunday. The Gravel Ride has two options in distance. Rides roll out together at 9 AM. The CX Worlds Watch Party starts at 11:30 AM – Watch Men's Elite Race LIVE at 12:30 PM.
The Short Gravel Route is 12.4 miles and goes to the top of Cherry Canyon, the longer option adding up to 17 miles brings you an additional climb up to Gould Mesa fire road above JPL then drops you into the Arroyo Seco Gabrielino Trail
RIDE OPTIONS:
Shorter Route 1: Cherry Canyon Loop
Longer Route 2: Arroyo Seco – Gould Mesa – Cherry Canyon
RSVP HERE to help with our planning efforts, plus be entered into the benefit drawing!
The event is free or by donation. All proceeds will support trail builder/advocacy organizations in the region. Benefit drawing at Viewing Party with prizes from SoCalCross's sponsors including Around the Cycle, Pocrass & De Los Reyes, Voler Apparel, Road Runner Bags, Calio Coffee, Pedal or Die for making this event possible!
Watch Party
Come for the ride and/or the live viewing of the CX Worlds Elite Men's and Women's races from the parking lot party 12 noon-3 PM.
Save the Dates: February 5-6th weekend for CACX-SCPS SoCalCross Series Finale.
Stay up to Date on Social: Latest event news via Facebook or Instagram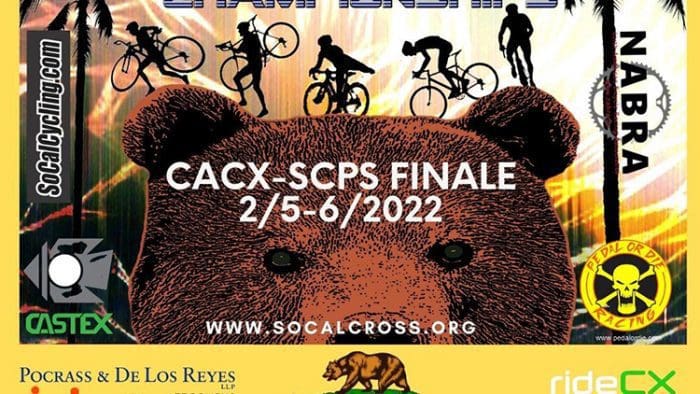 This page contains affiliate links, where we get a commission if you decide to make a purchase through the links(at no cost to you) and helps support the site. As an Amazon Associate, we earn from qualifying purchases.