On August 6, 2019, 15-year-old Roberto Diaz was struck by a driver, who ran a stop sign, while riding his bike at the corner of Maple Avenue and 37th Street in Los Angeles, CA. Roberto was then dragged 1,500 feet while pinned underneath the car by a hit and run driver. The driver of the car has not been found.
The vehicle was a 2007 or 2008 dark-Blue Honda Accord or Civic with tinted windows and extensive front end damage. Any information about the driver or the car can be anonymously reported by calling 800-822-8477.
Streets Are For Everyone – SAFE is working with the Los Angeles Department of Transportation (LADOT) to put together a March for Roberto and to raise awareness of street safety.
Streets Are For Everyone has also been working to help Roberto and his family through the recovery and trauma in connection with their SAFE Support program.
March for Safety and Healing – In Honor of Roberto Diaz Details:
What: March for Safety and Healing in Honor of Roberto Diaz
When: Sunday, August 25th at 4:30 pm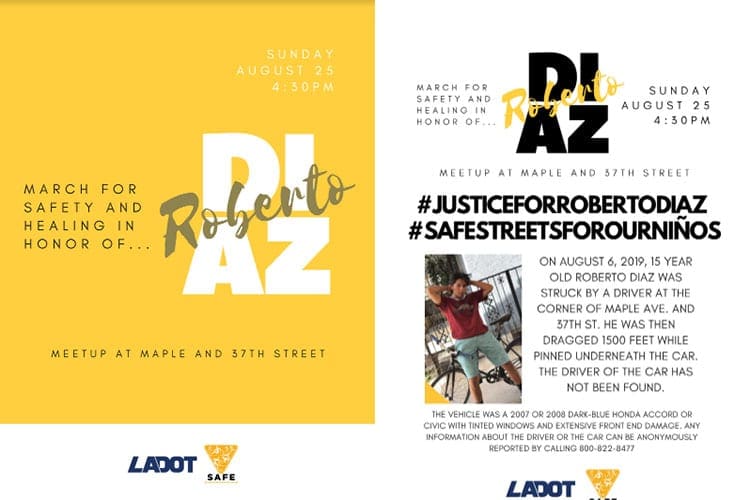 The March for Safety and Healing – In Honor of Roberto Diaz will travel the 1,500 feet to where Roberto was found at the corner of MLK and Woodlawn.
Please share and spread the word as much as possible. Let's get 1,000 people all marching together for safer streets and supporting Roberto and his family!
Fundraiser for Roberto
In addition, a GoFundMe fundraiser has been set up to assist Robert with his medical bills.
This page contains affiliate links, where we get a commission if you decide to make a purchase through the links(at no cost to you) and helps support the site. As an Amazon Associate, we earn from qualifying purchases.