Visit MInt Socks to Save 20 % Off – Use Code "MINTME"
By Tim VanGilder, Cassette Creative
Virtual Haute Route Stage 1
The Haute Route. One of the most challenging events in cycling, set in a backdrop of epic of locations that invites cyclists to ride like a pro and push their limits has gone digital. And since many of us have spent Spring building fitness and a competitive itch that needs to be scratched, this couldn't come at a better time. Enter Zwift and their Haute Route three-day virtual stage race.
THREE SISTERS ROUTE
30 miles, 2,963 ft of climbing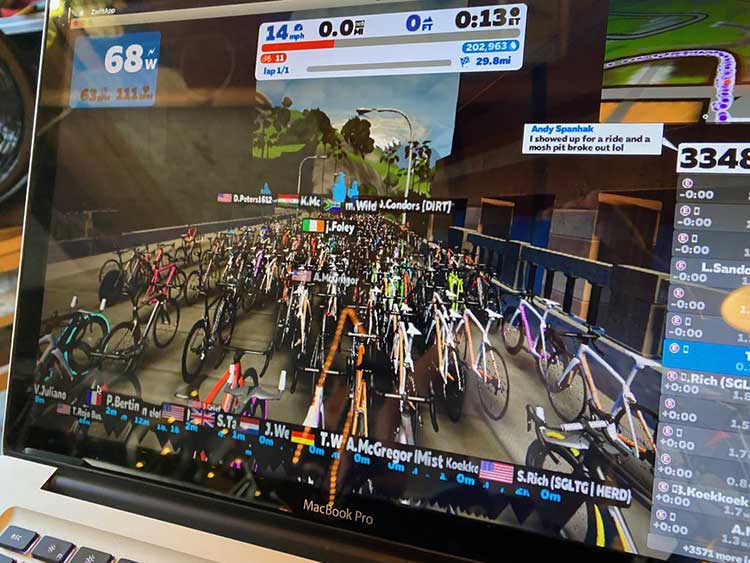 The first stage got off to a rocky start with the Zwift servers overloaded with nearly 4,000 cyclists at the start for the 11 am ride. Our iPads having crashed, emergency MacBooks were deployed, and we were on course. As rider traffic stretched out, the data load problems sorted themselves out and we set to tackle the day's first climb, the Hilly KOM.
The pace was pleasant as we rolled through the German Village and onward to Col du Zwift. It seemed to be nightfall with a full moon in Watopia, which made the climb up above the snow line extra brisk. Race Radio (i.e. the Zwift companion app) lit up with news that a friend was further back in the field of riders and trying to reel us in, and the chase began.
Up we climbed. This KOM put a bit of sting in the legs with a steady 7% grade, and our minds drifted to hot air balloons rising in the distance. Were they suffering likes us? Were they cold? No matter. We pressed on, mindful to note: push too hard; blow up.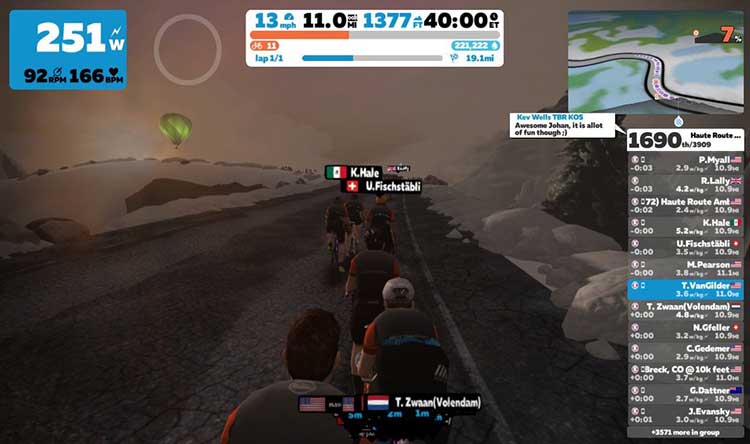 The Tower Climb and its 16% grade tried in vain to break us, but we knew that we'd have a chance to shake out the legs on the way down. As we crested, we grabbed an email to stuff in our jerseys to keep the chill off, and super-tucked down the road – hitting speeds of over 50 mph. Our chaser was never seen.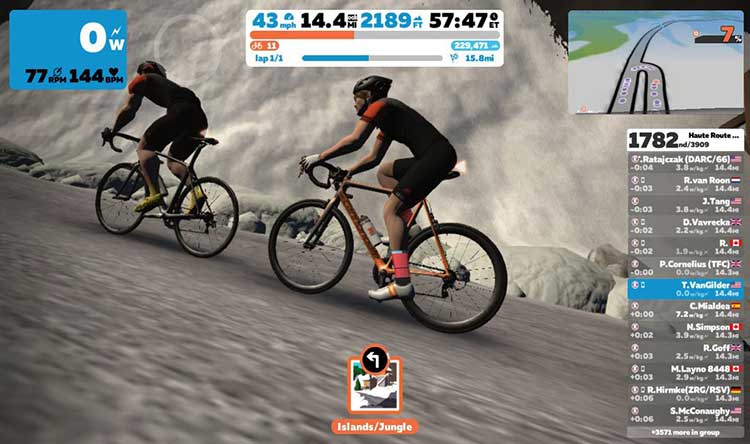 Toes and fingers thawed as we made our way through the Italian Villa and onto the final ascent, the Volcano Climb. It's a climb that always teases the rider. Just when you think it's over, it's not, and we're out of the saddle again, pushing up the 7% grade that never seems to relent. Attacks came left and right as riders burned their last matches for this final monumental climb. We made it through and pressed on to the finish.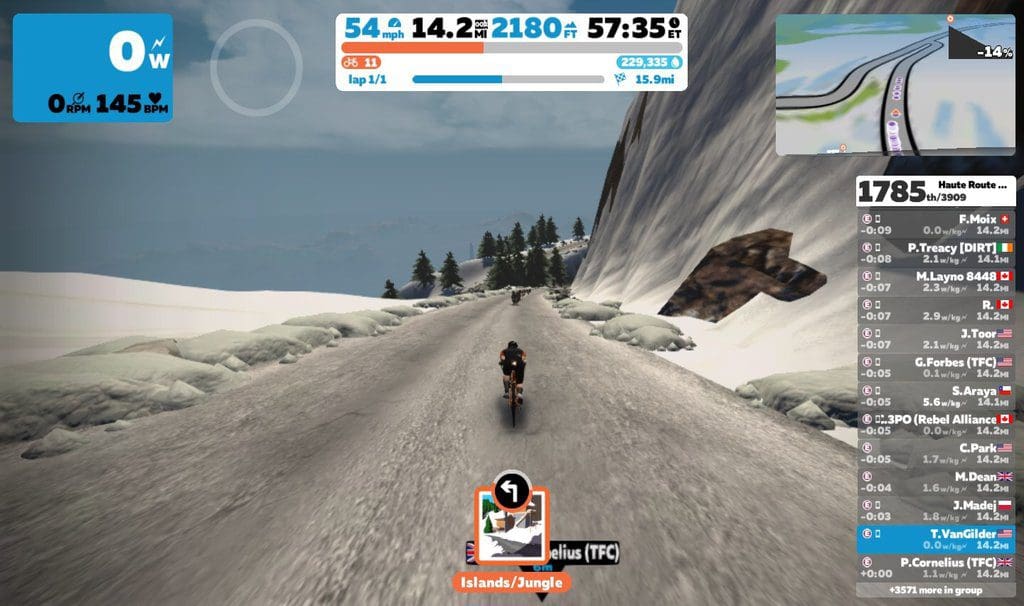 Back at the team bus, we refueled. Team Chef prepared cauliflower nachos (think regular nachos, minus chips and add thin slices of roasted cauliflower) and recovery margaritas to honor the saying, "Tequila first, for tomorrow we ride."
Virtual Haute Route Stage 2
TOUR OF FIRE AND ICE
15.8 miles, 3,835 ft of climbing
Morning arrived too soon for stage two. It was still dark at staging on the docks of Watopia and tensions were high. We all knew that today's mountain top finish would be a battle royalé. The course: Alpe du Zwift – a virtual simulation of Alpe du Huez complete with 22 switchbacks. We knew we'd all be digging deep, fighting our own demons and pushing through the pain.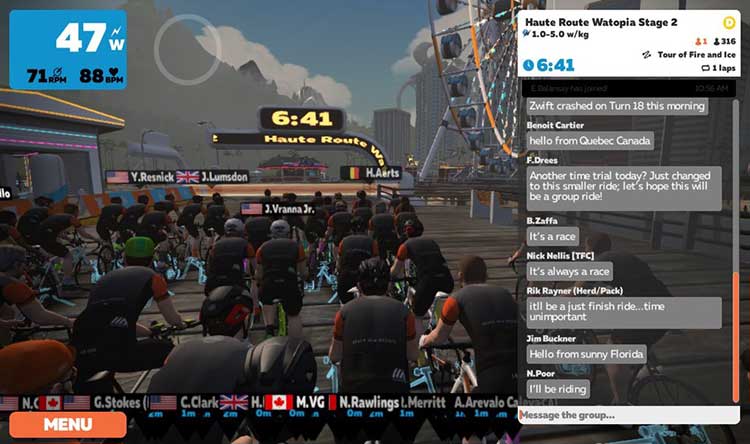 The first few miles allowed us to shake out the legs from yesterday's effort but a rapidly rising sun quickly put a spotlight on Watopia's monument sculptures and the pain that was sure to unfold in the distant but oh so near future.
BAM! Just like that, the gloves came off and attacks flew as the flat roads morphed into 11% grades before our very eyes. Our power output readings skyrocketed as we pushed well over our target numbers.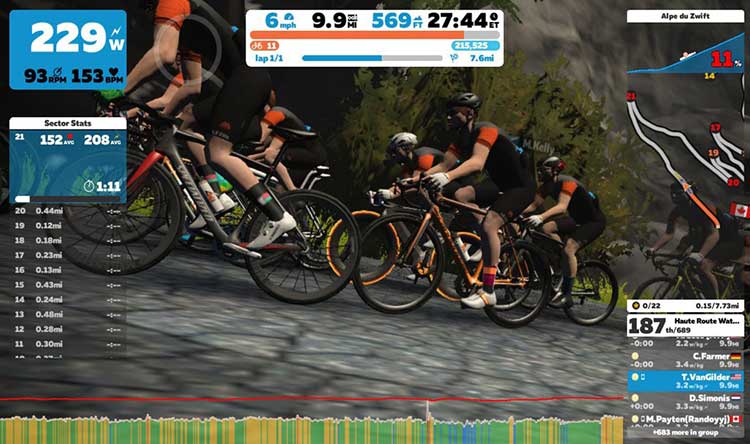 Short pulls at the front were traded for what seemed like hours. Each switchback served as a reminder to stand up and stretch our backs, take a drink, have a gel, and keep pushing forward.
And then it happened. A rider at the front of our small group began to dance on the pedals putting out over 6 watts/kilo and pulled away. A few of us gave chase and reeled him in, only to see another rider go, and another attack launched. With eight more switchbacks still to come, we exchanged knowing glances, backed off, and set our own tempo.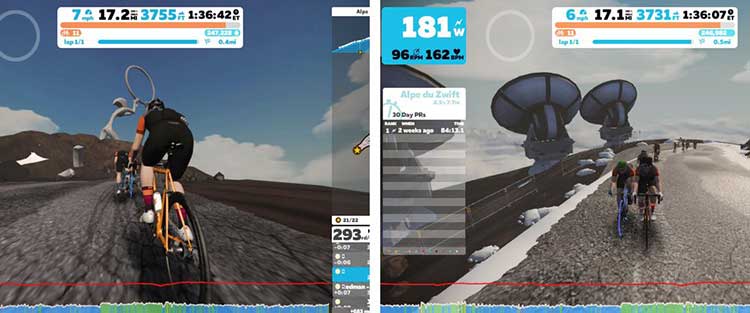 The radar towers finally appeared, a signal that the finish was less than a mile away. Heads down, we turned the pedals in anger, ignoring the searing back pain.
Across the line at the top we changed into a dry jersey, grabbed a full bottle, and began the descent back down. The chance to flush the legs and enjoy one of the finest open road descents known to cyclists made today's battle worth every ounce of effort.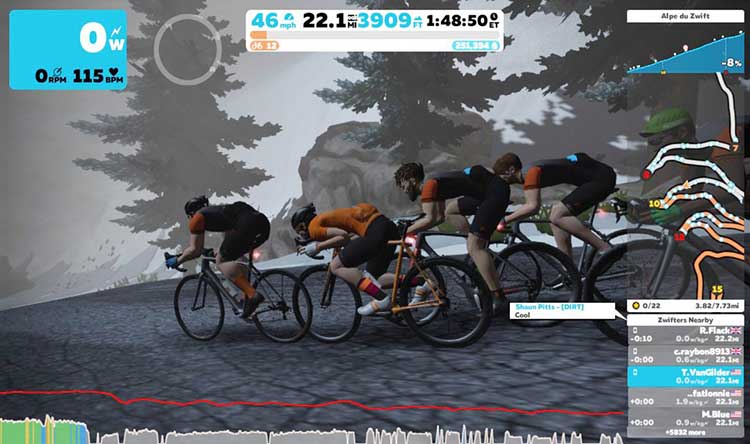 Virtual Haute Route Stage 3
THE PRETZEL ROUTE
44.9 miles, 4,375 ft of climbing
The start of stage three had a certain celebratory vibe. We'd made it this far, and there was just one stage to go. But it was the longest and most difficult with 45 miles of rolling terrain and two massive climbs tossed in for good measure. It was unlikely to be a champagne ride.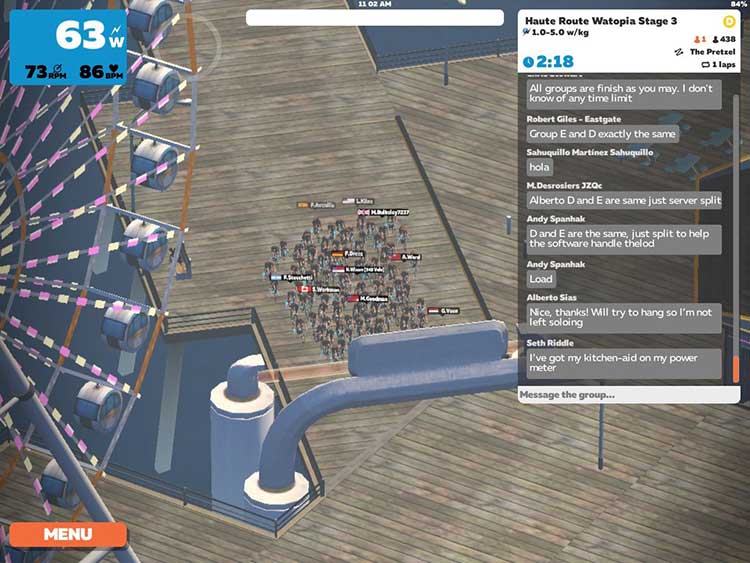 Shortly after rolling out, small groups began to form with riders offering a truce for the early miles and the familiar faces of Dan and Nate from the local Descent Race Team joined us. But as quickly as they joined, one fell off when Nate called out 'flat' and waved us off. The team car wasn't far behind; he knew he'd catch back on given with the friendly pace. The flat tire turned out to be a disconnected power meter / cadence sensor signal. Though he quickly reconnected, he now was minutes back and our group was now riding a friendly tempo.
We rolled through the German village decorated with flags to see the riders off. Due, however, to Watopia's social distancing measures, there was no one out to spectate.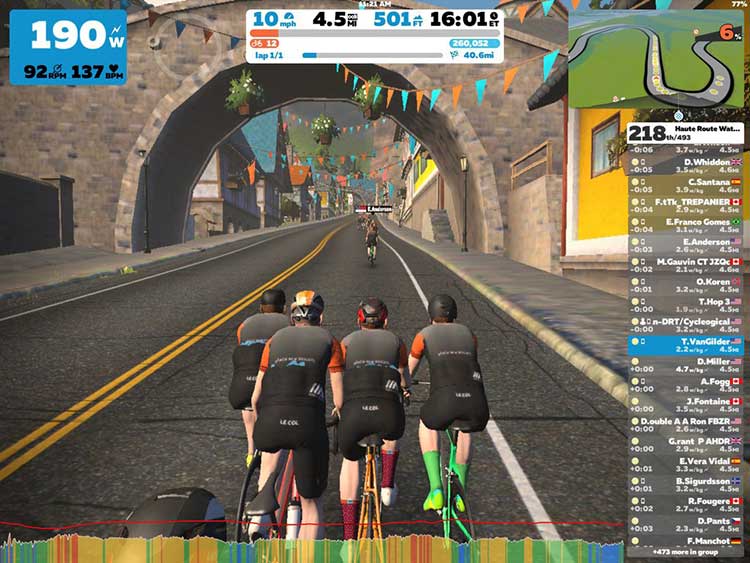 And then we climbed. Green grass turned to white snow, the sun began to push through the clouds, and our legs began to fall into a familiar rhythm.
We all pushed limits on the descent but never forgot one vital piece: in about 20 minutes, we'd be climbing back up what we were coming down. We used this time to try to relax, take some calories on board, and prepare for another attack.
Clouds blew in and fog formed on the ski lift road. Our group came together just in time for the final, anticipated attacks. Though the hard climbing was over, and it was all down hill and flat from here, the pace was fierce, and riders were launching off the front every mile.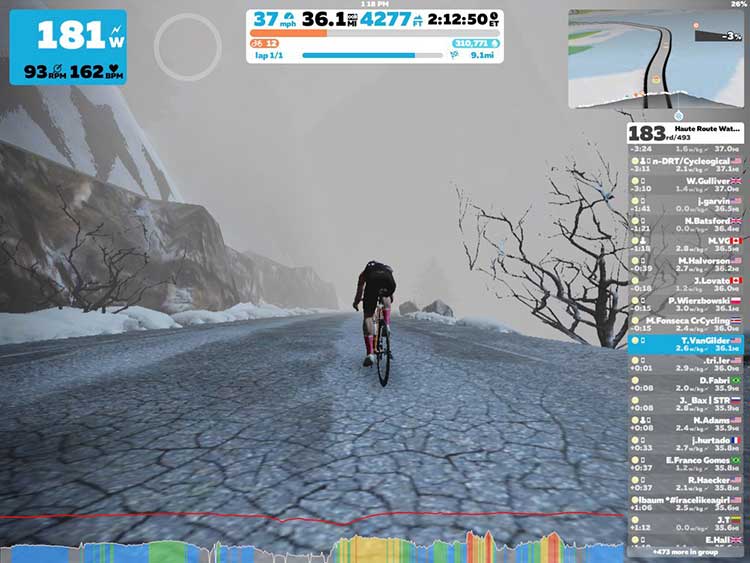 With 2.5 miles to go, our group strung out and we rolled through the finishing arch with 15-20 seconds separating all.
Legs throbbed, but we'd done it. We'd finished Haute Route – and yes, lived to tell our story.
Visit MInt Socks to Save 20 % Off – Use Code "MINTME"
This page contains affiliate links, where we get a commission if you decide to make a purchase through the links(at no cost to you) and helps support the site. As an Amazon Associate, we earn from qualifying purchases.