The wet weather couldn't dampen the spirits on the third day of the 2019 UCI Road World Championships which saw Mikkel Bjerg and Chloé Dygert Owen emerge triumphant in the Under-23 Men's and Elite Women's Individual Time Trials.
The rain lashed down in the morning as the men took on the 30.3km route from Ripon to Harrogate, and the damp conditions caused a number of thrills and spills before Bjerg began his ultimately triumphant ride. The Dane was the final rider down the start ramp and produced a time-trialling masterclass as he navigated his way successfully through the tricky parcours.
The 20 year old was fastest at the 14.2km split and consolidated his advantage to claim victory by a 26.45sec cushion over USA's Ian Garrison. It was Bjerg's third successive triumph in the Men's Under-23 Individual Time Trial event and he seemingly has the world at his feet as he prepares to turn professional in 2020.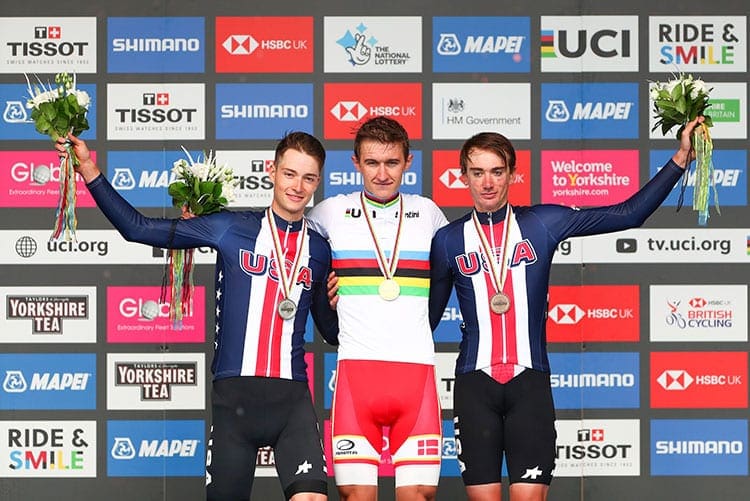 In the gap between the men's and women's races, the organisational partners worked tirelessly to remove as much water from the course as possible, and as they did so the decision was taken by the UCI to delay the afternoon's action by 40 minutes, and also see the riders setting off at 60-second intervals instead of the original 90.
Legendary Dutch duo Anna van der Breggen and Annemiek van Vleuten had gone into the Elite Women's race as pre-race favourites, but it was USA's Chloé Dygert Owen who pushed them into second and third places respectively.
Dygert Owen blazed an amazing trail in her first-ever appearance on European soil, and the 22 year old's time of 42min 11.57sec proved a whole 1min 32.35sec faster than van der Breggen's, and a further 20.31sec ahead of van Vleuten.
Like Bjerg, that success yielded Dygert Owen her third rainbow jersey on the road, having done the Junior Individual Time Trial and Road Race double at her home Championships in Richmond back in 2015.
Denmark rider Mikkel Bjerg said: "Today was really, really crazy and they were very difficult conditions out there today. I was told to hold my handlebars tight, keep looking ahead of me, and go full gas through the water. I didn't have any slips or slides so I am over the moon to have pulled off this third victory."
USA rider Chloé Dygert Owen said: "It's always special to wear the rainbow stripes and I worked really hard for this. I had a concussion which forced me to miss last year's Championships so I prepared specifically for this one and to win is really special.
"Being here in Yorkshire is really cool and it's a really neat place to be. I'll enjoy this moment tonight but I'll be competing in the road race on Saturday so it'll be back to work tomorrow."
Yorkshire 2019 CEO Andy Hindley said: "It's been an epic day today. The weather was miserable but the organisational team pulled together really well to sort the course out and they've all been brilliant. We obviously didn't want to delay the women's race but safety is our paramount concern during these Championships and we didn't want to send riders out on an unsafe course. We were treated to some fantastic sport across both races and we've seen some amazing results.
"I have to mention the crowds as well. Despite the conditions there were lots of people out banging the boards, making lots of noise and giving the riders a really warm welcome."
Welcome to Yorkshire Commercial Director Peter Dodd said: "I can't thank the crowds and communities enough for still coming out in their droves to support the riders on the roadside. Today's been a real challenge because of the weather but everyone pulled together including the emergency services, the councils, highways agencies, and of course, our Yorkshire Team volunteers who've all worked their socks off to keep the racing going.
"Ripon looked fantastic today, as did all the communities along the route. A huge thank you once again to everyone and hopefully we'll have drier weather to come!"
Photos by SWPix.com
This page contains affiliate links, where we get a commission if you decide to make a purchase through the links(at no cost to you) and helps support the site. As an Amazon Associate, we earn from qualifying purchases.