Pedersen Seals Surprise Win to Round Off a UCI Road World Championships to Remember
The 2019 UCI Road World Championships reached a gripping conclusion on Sunday with Mads Pedersen earning a surprise yet exceptionally hard-fought victory in the Elite Men's Road Race to round off an unforgettable nine days of action.
The Danish rider worked his way into an elite group in the last 50km and was one of only three riders still in contention on the very last drag up Parliament Street. It was his rival Matteo Trentin who kicked off the sprint for victory but Pederesen proved the fastest finisher and passed the Italian before throwing his arms aloft in triumph. Tenacious Trentin meanwhile, had to settle for second place on the podium with Switzerland's Stefan Kung crossing the line two seconds back in third.
The result brought an end to an incredible 92nd edition of the Championships which has truly cemented Yorkshire's place on the world cycling map. Not even the weather couldn't dampen the county's spirits on Sunday, with heavy overnight rains causing the race to be re-routed and take on two extra laps of the Harrogate circuit.
And even though the downpours continued as the riders wound their way from Leeds, into the Dales, and onto the Harrogate circuit, bumper crowds braved the conditions to cheer them on in truly remarkable fashion.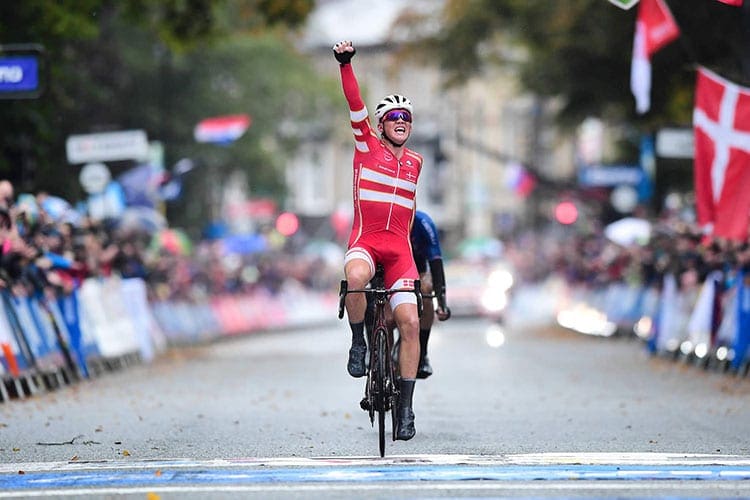 Many of the pre-race favourites eventually floundered in the tricky conditions, and Yorkshireman Ben Swift was among the big names who were distanced as the pace began to really ramp up in the closing stages. Pedersen stayed strong however and it is he who now has the honour of wearing the iconic rainbow jersey for the next 12 months of competition.
Yorkshire was also the winner, with its stunning scenery and passionate supporters once again proving the county was more than up to the task of hosting a truly global sporting event.
Never before has a UCI Road World Championships encompassed 10 different start locations, seen male and female riders compete alongside each other (like they did in the first-ever Team Time Trial Mixed Relay), or organise a ground-breaking para-cycling event (the Yorkshire 2019 Para-Cycling International) alongside it. More rainbow jerseys were also awarded than ever before and £15 million of Government funding already allocated to develop entry-level cycling facilities across England will ensure it leaves a long, lasting legacy as well.
Denmark rider and new world champion Mads Pedersen said: "It was a brutal day but that's the type of weather I like to race in. When I found myself in that three-man group at the end I would have been happy with any of the medals. Because of that I felt I had nothing to lose and luckily my sprint was enough to get the rainbow jersey. My focus all year had been on this race and this victory is going to change a lot for me; I'm no longer going to be regarded as the underdog.
"The crowd was crazy today, especially as there were so many people still around to watch us in weather like that. That was so nice to see and I want to thank them for being on the roadside. This was a really good race and when you win one as hard as this, you feel very proud."
Great Britain rider Ben Swift said: "It was six and a half hard hours in the saddle and I just didn't have it at the end today. I gave it my best shot but it wasn't enough. The fans were incredible and the atmosphere was building and building with every kilometre. They gave me some massive support and I'm incredibly grateful. It's been a great Championships and great for cycling here in Yorkshire, and the UK."
Yorkshire 2019 CEO Andy Hindley said: "We had to make some difficult calls regarding the route today because it simply wasn't suitable to race on some of the roads. We had to think about the safety of the public as well as the athletes because we have a duty of care to them. We'd planned for every eventuality and our team did a fantastic job to change things at such short notice.
"It was horrific weather but that didn't stop the public lining the route. Every village, road and climb was packed so I have to say a massive thank you to the people of Yorkshire for turning out and welcoming the riders today. Congratulations to Mads Pedersen as well, he pulled off a phenomenal win.
"It's been an amazing nine days. Every single race, including our para-cycling event which kicked things off, has been spectacular. It's taken over three years of planning to reach this point and it's been a superb team effort. My staff at Yorkshire 2019 have been tremendous, as have our delivery partners, local authorities, emergency service providers, transport providers, utilities providers, volunteers – the list could go on and on. I want to say a massive thank you to them, and to everybody who supported this event."
Sun Shines as Van Vleuten Seals Historic Solo Success in Elite Women's Road Race
Annemiek van Vleuten not only produced one of the rides of the 2019 UCI Road World Championships, but of any Championships ever, as she sealed a stunning solo triumph in the Elite Women's Road Race.
Van Vleuten launched her race-winning attack with over 100km to go on the Lofthouse climb and never looked back as she evaded her pursuers for over three hours of action. At times the 36 year old's lead had looked bridgeable, but she pressed on bravely and achieved an incredible victory that will live long in the history books.
Once van Vleuten had crossed the finish line, her team-mate Anna van der Breggen arrived 2min 15sec later to wrap up a Dutch one-two, with Australia's Amanda Spratt rounding off the podium a further 13 seconds behind.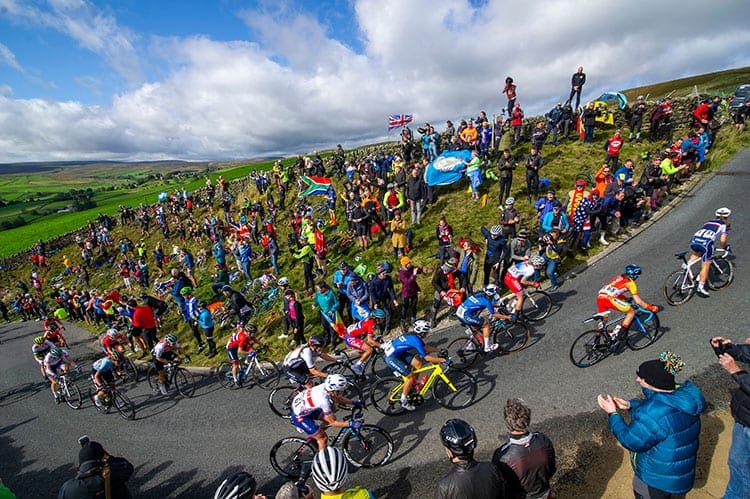 The weather gods had looked down kindly on Saturday's racing as all of the 149.4km trek from Bradford to Harrogate was bathed in early autumn sunshine. Vociferous fans cheered the peloton off in City Park and the crowds that greeted them on the Norwood Edge and Lofthouse ascents were comparable with those of the Tour de France which came to Yorkshire in 2014.
The county put on a real show once again, with magnificent land art being beamed to viewers right around the world and at one point even a herd of sheep near Masham were spotted donning rainbow jerseys.
The racing was equally spectacular, with Yorkshire's own Lizzie Deignan producing a courageous ride to try and reel van Vleuten back in before eventually being swept up as she began the final lap of a packed Harrogate circuit.
The day belonged to the Netherlands however, whose medal tally at the Championships now stands at eight with only the Elite Men's Road Race remaining on Sunday.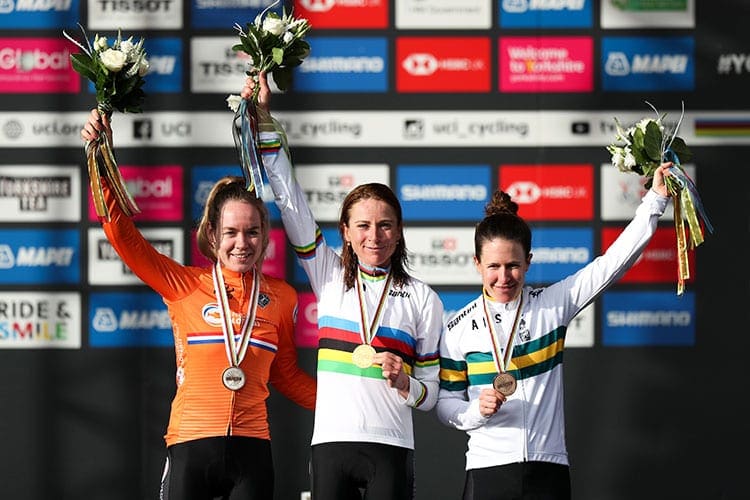 Netherlands rider Annemiek van Vleuten said: "That was crazy. I knew the climb was really far from the finish but once I'd attacked my coach told me to keep riding hard and I was lucky I had really good legs. It was definitely not planned but I'd trained so hard for this – put in so many hours on the bike – and I thought 'if anyone can do this, it's you'. As I was riding I was thinking 'maybe I could make history today', and if it didn't work out I knew Anna [van der Breggen] was in a great position behind.
"It was only towards the end that I dared to believe, and I was being cheered on by so many fans. The crowds in Bradford were huge at the start and I had so much encouragement out on the course as well. British fans are amazing and I want to thank them all for helping make this win so amazing."
Great Britain rider Lizzie Deignan said: "Today was absolutely phenomenal and a massive privilege to be able to experience. I'm so grateful for the opportunity to ride a home World Championships and I just want to say thank you to all those people who supported me. It's a day I'll never forget and I'm so proud of Yorkshire. Congratulations to Annemiek too, she was in a class of her own today."
Yorkshire 2019 CEO Andy Hindley said: "As Annemiek went on the attack people were telling me 'you can't win from that far out', but she proved them all wrong with an outstanding performance. It was an amazing effort to stay out in front for as long as she did with no help whatsoever, and it's just a shame Lizzie wasn't able to go with her when she made her race-winning move."
Photos – SWpix.com
This page contains affiliate links, where we get a commission if you decide to make a purchase through the links(at no cost to you) and helps support the site. As an Amazon Associate, we earn from qualifying purchases.