More than 200 Veterans to Ride Free at Annual Tour de Foothills in Upland
Just days before Veterans Day, more than 200 military veterans will ride for free in one of California's biggest bicycling events, the annual Tour de Foothills, Saturday, Nov. 9.
Starting and ending in Upland, the Tour de Foothills is expected to draw more than 1,000 cyclists over four separate events. Riders include competitive riders, cycling clubs, weekend enthusiasts and families that would rather go for a leisurely cruise than test their speed and endurance.
The event also features a contingent of para-cyclists, including several who hope to qualify for the 2020 Paralympic Games in Tokyo. Past Paralympian and current U.S. National A Team member Jenna Rollman from the Challenged Athletic Foundation is scheduled to participate.
All veterans, active military members and para-athletes ride for free.
"The Tour has grown to become the best cycling event in Southern California," said Richard Mayo, Tour de Foothills ride director. "Not only is it incredibly popular among competitive riders, but the family ride is a wonderful event where anyone and everyone can be part of the fun."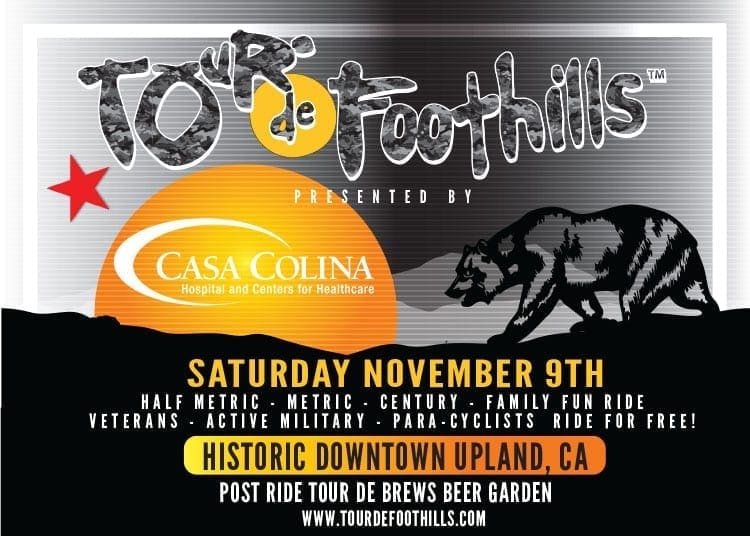 Four Ride Options
Founded by the Upland Chamber of Commerce in 2005, the Tour's challenging 100-mile ride gets the day started when it leaves Historic Downtown Upland at 7 a.m. With an uphill climb to 16th St., the Century route takes riders east to Rancho Cucamonga and then circles back west through scenic San Gabriel Mountain foothill communities to Pasadena before returning to Upland.
Three additional rides of varying length also depart from Historic Downtown Upland, including the Metric Century ride (62 miles) at 7:30 a.m. and the Half-Metric Century ride (31 miles) at 8:30 a.m.
The popular family ride begins at 9:15 a.m. and welcomes riders of all ages and abilities. The ride tours the serene Pacific Electric Trail from Upland to Rancho Cucamonga, Central Park and back again over 12 miles. Riders can complete as much of the course as they desire. Rest and refreshment stops are located at various locations along the trail and throughout all of the longer routes.
The family ride also offers bicycle safety instruction from REI in Rancho Cucamonga. Parents and children ages 5 to 12 are encouraged to attend the family ride, which is priced at just $30 per family.
Presented by Casa Colina Hospital and Centers for Healthcare in Pomona, the Upland Chamber of Commerce's annual cycling event's post-ride festival, Tour de Brews, will feature an array of craft breweries, food vendors and product and service exhibitors from noon-6 p.m. in downtown Upland.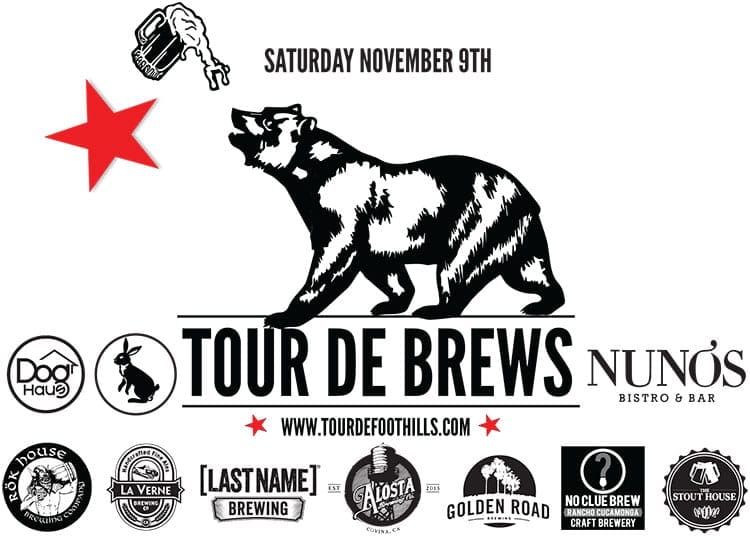 More than a dozen community organizations and causes benefit from proceeds raised from the Tour de Foothills, including Paralympic athletes, local youth cycling programs, local high schools, veterans' organizations, Multiple Sclerosis Society and other groups helping the hungry through No Kid Hungry, among others. Last year's Tour de Foothills raised more than $20,000 for these and other non-profit organizations. A complete list can be found at tourdefoothills.com Who We Help.
All routes start and finish in historic downtown Upland just north of the Upland Metrolink station.
Registration & Sponsors
To register, visit www.tourdefoothills.com. Registration must be completed by Nov. 1 to take advantage of early check-in the night before the ride. There will be same day registration day of event.
The Upland Chamber of Commerce presents the Tour de Foothills. Event sponsors are Casa Colina Hospital and Centers for Healthcare, Holliday Rock, DoubleTree by Hilton Claremont, Family Foot Center Podiatry Group, Care for Women's Medical Group, Ontario International Airport, Cornerstone Insurance, Uptown Auto Center, Chino Commercial Bank, Langwasser & Co, Inc. CPA, Assistance Insurance Agency and Moga Law Firm.
Rest stop sponsors are Carden Arbor View School, Upland Military Banner Program, Assistance Insurance Agency, Incycle Bike Shop Pasadena, Main Street Garage and Multiple Sclerosis Society. Sprouts and Whole Foods 365 will provide the food at each of the stops.
For more information about the Tour de Foothills, visit www.tourdefoothills.com or call 909-204-4465. https://www.tourdefoothills.com/register
This page contains affiliate links, where we get a commission if you decide to make a purchase through the links(at no cost to you) and helps support the site. As an Amazon Associate, we earn from qualifying purchases.