If you are attending grades 6-12 in Laguna Beach then come ride with the Laguna Beach Interscholastic Mountain Bike Team. All skill levels are welcome from first time beginners to seasoned shredders!
The Team is registered with the National Interscholastic Cycling Association (NICA). All coaching and volunteers are subject to NICA accreditation and rules. Come ride with our expert coaching staff to build foundational skills or train hard so you can be ready to race!
The season runs December thru May and includes 5 races between March and May. There are races for Middle School, Freshman, Sophomore, Junior Varsity, Varsity, and more. Compete against over 75 schools within the local SoCal League.
All levels of riders to the Team's practices at the Top of the World in Laguna Beach on Monday, Wednesday & Fridays (3:30 to 5pm). The Team rides mostly in Aliso Woods Canyon and currently has 15 – 20 kids, ranging from 6th graders (level 1) through JV 2.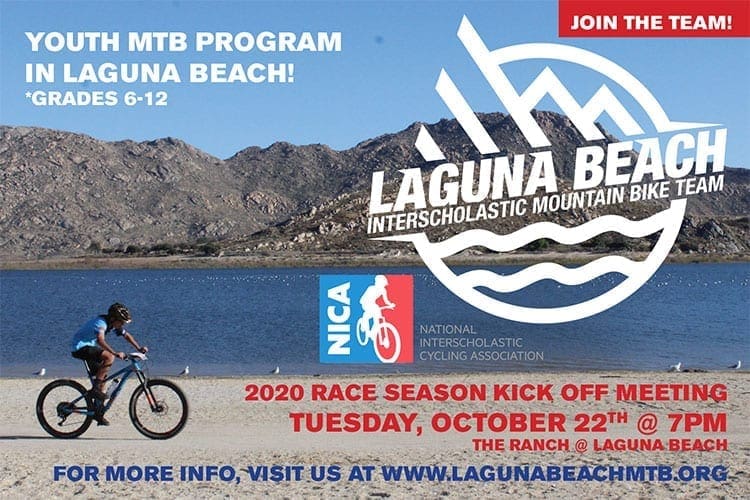 2020 Race Season Kickoff Meeting, Tuesday, October 22, 2019
Practice Starts Monday, December 2, 2019
Monday, Wednesday, Friday – 3:30pm – Alta Laguna
Note: Practice times and days subject to change
Attend the 2020 Race Season Kick Off Meeting
When: Tuesday, October 22nd at 7:00 PM
Where: The Ranch at Laguna Beach
Laguna Beach Dirt Fondo Fundraiser – November 16th
On Saturday, November 16th, 2019, the Laguna Beach Interscholastic Mountain Bike Team and Laguna Canyon Foundation presents the 4th Annual Laguna Dirt Fondo.
The Dirt Fondo will celebrate Laguna's Open Space by challenging mountain bike riders on the best trails, fire roads, and bike paths in Laguna.
The Dirt Fondo is not a race, instead the emphasis will be on having a fun and safe time and to learn more about the Laguna Coast Wilderness area and Aliso Woods Canyon trail system. There will be 25 and 50 mile route options with the start / finish at Laguna Cyclery.
The ride is a fundraiser for the Interscholastic Mountain Bike Team. All net proceeds will go to the team. Donations will also be solicited for LCF's trail program.
For more information, please visit www.LagunaBeachMTB.org
This page contains affiliate links, where we get a commission if you decide to make a purchase through the links(at no cost to you) and helps support the site. As an Amazon Associate, we earn from qualifying purchases.