This spring, EF Pro Cycling is offering a menu of virtual rides and Instagram social hours to stay close to our fans and the rest of the cycling world. As seen over the last few weeks, online connectivity has become even more integral to daily life, helping people stay in touch with one another.
Over the coming weeks, fans will be able to join us on the [Zwift] roads and gravel, or drop into an Instagram live social hour with Alberto Bettiol, Rigo, or Jonathan Vaughters. EF Pro Cycling will also bring you some new content with tips, recipes and how to look after yourself… from home.
"We're all in this together, and that's the most important thing, that we support each other through times like these." Rigo Urán says. "That's why we want as many people to join us online and ride together or come join us on Instagram for some social hangouts. It's important that we all stay in contact and reach out to one another during these tough times, to remind each other how great it's going to be when we're able to see each other out on the roads again."
Urán is not the only one appreciating being able to connect virtually with our cycling community, Alex Howes is also looking forward to spending time with fans online and hoping that we can all inspire one another to stay active: "Our goal at EF Pro Cycling has always been to inspire people to get out there and come together so that we may all learn a thing or two about each other and the world we all share.

"We all have our own reasons for racing but in so many ways, we do it for the fans. We dig deep for those cheering from the sides of the road and the friends and family watching back at home. These little digital get-togethers are as much for us as they are for you. In this time of isolation, we all need to come together (virtually of course!) and remind each other that this too shall pass, and that adventures on the open road are not just a dream, but a reality we'll all see soon enough."
EF Pro Cycling will host standing group rides on Zwift Tuesdays from now through May, and their social hours on Instagram Live Fridays through May as well. We'll also join some of our friends at Rapha and Cannondale (as well as others) for virtual rides and Instagram takeovers.
"We've had the best fans for as long as I can recall," team CEO Jonathan Vaughters said. "We aren't able to see them on the roads this spring, but hopefully we can take this as a time to engage and connect with people and the sport differently."
Stay up to date by checking the schedule below. More events will be added in the coming weeks here.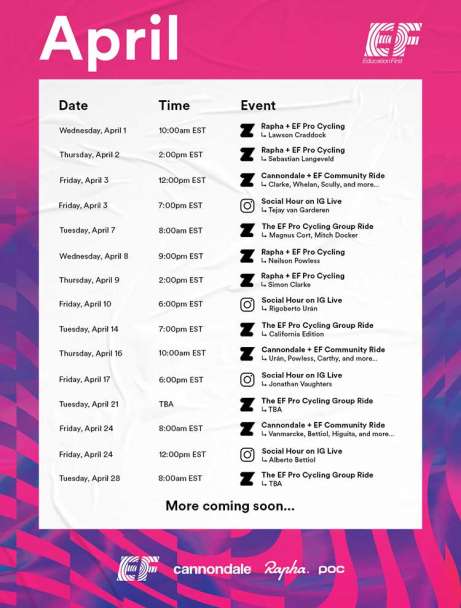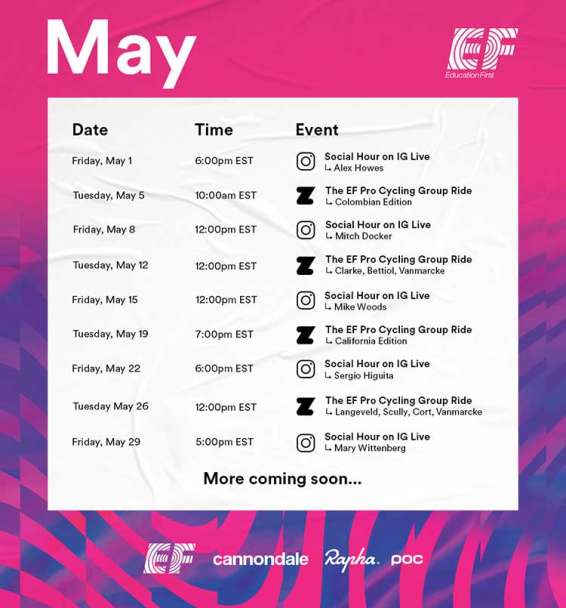 This page contains affiliate links, where we get a commission if you decide to make a purchase through the links(at no cost to you) and helps support the site. As an Amazon Associate, we earn from qualifying purchases.