If someone would have told us last summer, when we began preparations for the 2020
SoCalCycling.com Team
race season, that a worldwide pandemic would take place and cause a catastrophic health crisis and an economic shutdown that included putting cycling events on hold, it would have seemed unimaginable!
Fast forward to early January when we first learned about the Coronavirus in China, which then hit closer to home when the SoCalCycling.com Team's Italian bike sponsor Bottecchia was put on lockdown. Amazingly, Gizmo Cycling arranged for Bottecchia to ship the Team's beautiful custom painted Emme 4 frames just days before the Italian lockdown went into effect.
The SoCalCycling.com Team riders arrived at the end of February to California from their respective countries, which included New Zealand, Mexico, Puerto Rico in addition to our California based riders, and our wonderful Redlands Bicycle Classic host Stace Ellsworth and her daughter graciously hosted several of the Team riders with a place to call home and train for the season.
As the Team prepared to race for the Tour de Murrieta in early March, our clothing partner Borah Teamwear made sure that we received our custom Team apparel on time as the SoCalCycling.com Team was getting ready for the bigger races of the season.
FSA, Vision and KMC Chain made sure that we had our bike components, so that we could build the bikes once we had the custom painted 2021 Bottecchia Emme 4 frames in hand. We also took into account that their might be shortages with some of the other components due to the Coronavirus, so we ordered our components earlier than normal as we were dealing with companies in Italy, Taiwan and China.
After some marathon bike building sessions, the Team bikes were built and ready for the SoCalCycling.com Team to race at the Tour de Murrieta! A huge thanks to bike mechanic Eddie Meza and the Competitive Edge Cyclery for allowing the Team to build the bikes at the shop.
Ready to Race
The Tour de Murrieta would be the first big race for the Team to compete with a full squad. The Team raced well earning a 6th place overall and was pumped for the upcoming season including competing at the Redlands Bicycle Classic and Tour fo the Gila.
Unfortunately, just as the Team was ready to rock, the Coronavirus had other plans and caused the World, including bike racing, to screech to a halt! It has been a little bit shocking to navigate the circumstances, but everyone's health and safety is of utmost importance, so we will adapt and look forward to when the Team can safely resume racing again in the real world versus the virtual world!
SoCalCycling.com Team Roster
SoCalCycling.com is excited to support and sponsor the SoCalCycling.com Elite Cycling Team for the seventeenth year in a row. Media partner SoCalCycling.com continues to provide the support and structure for Team members to compete at a high level. Over the years, the Team has found success and is proud to see several Team members progress through the ranks to a pro contract.
For 2020, the SoCalCycling.com Team includes Category 1 riders that features an impressive squad with all-around strengths and abilities. As in past seasons, the Team is comprised of a mix of experienced riders and young, talented riders that show dedication to the sport.
2020 Team Roster
Ben Bertiger (USA)
Rene Corella Braun (Mexico)
Ben Foster (USA)
Luis Javelly (U23 – Mexico)
Hamish Keast (U23 – New Zealand)
Luis Molina (U23 – Puerto Rico)
Carlos McPherson (U23 – Mexico)
Osvaldo Mora (U23 – USA)
Mario Zamora (Mexico)
Frank Sarate, Team Director (USA)
The SoCalCycling.com Team competes in races located in Southern California, as well as select NRC and NCC races.
2020 SoCalCycling.com Team Partners
The SoCalCycling.com Team is fortunate to partner with a supportive team of partners that share the same vision and passion for the sport of cycling.
For 2020, the SoCalCycling.com Elite Cycling Team is excited to announce the support of the Team's new partners: the Law Firm of Richard L. Duquette and Pacific Premier Bank, in addition to 2020 partners: SoCalCycling.com, Jenson USA, Borah TeamWear, Bottecchia USA, Clif Bar, Full Speed Ahead, Vision, KMC Chain, Gizmo Cycling, ABUS, Larsen's Restaurants, Continental Tires, Rocky Mounts, SH + eyewear, Crono, SCC Slick and Echelon Design.
The Law Firm of Richard Duquette has recovered millions in damages for injured bicyclists since 1983. Attorney Duquette is an experienced bicyclist himself and has dedicated his practice to helping this community. He is experienced in all types of cases involving bicycle crashes, injuries, and other legal troubles. Attorney Duquette said, "The Law Firm of Richard Duquette is proud to sponsor the SoCal Cycling race team & magazine in 2020 in support of the sport of bicycling in So Cal!"
Founded in 1983, Pacific Premier Bank® is a state-chartered bank headquartered in Irvine, California, serving businesses and consumers throughout the United States.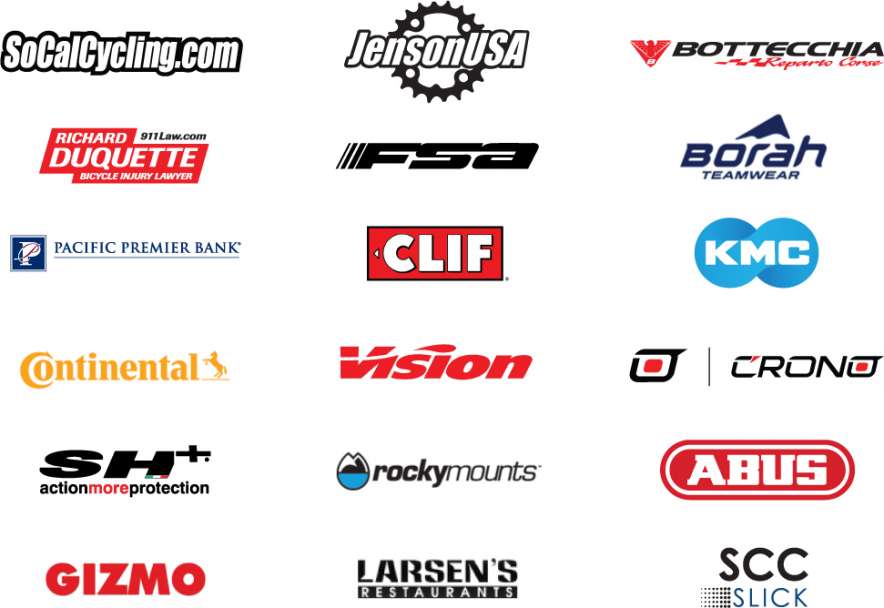 Follow the SoCalCycling.com Team
Stay up to date with the Team throughout the race season on the Team's website and on Social Media.
Web Site: SoCalCyclingTeam.com
Facebook: facebook.com/SoCalCyclingTeam
Facebook: facebook.com/SoCalCycling
Twitter: twitter.com/SoCalCycling
Instagram: instagram.com/SoCalCyclingcom
Photography by Christy Nicholson / EchelonDesignPhoto.com
This page contains affiliate links, where we get a commission if you decide to make a purchase through the links(at no cost to you) and helps support the site. As an Amazon Associate, we earn from qualifying purchases.