Three Events Are Planned for Remainder of 2021, Beginning August 15
CicLAvia is returning to the streets of Los Angeles, announcing plans for three full-scale open streets events in 2021. Kicking off on Sunday, August 15, the first event will be CicLAvia-Wilmington where the joys of biking, skating, walking, and community activities take place. On October 10, CicLAvia will celebrate its 11th anniversary with a fan-favorite route through downtown for CicLAvia–Heart of LA. The third event on December 5 will be CicLAvia-South LA.
By turning public streets into public parks for a day, many Angelenos credit CicLAvia with illustrating how accessible neighborhoods can be to visitors and to their own residents, as more people can safely travel, commute, and reconnect via active transportation.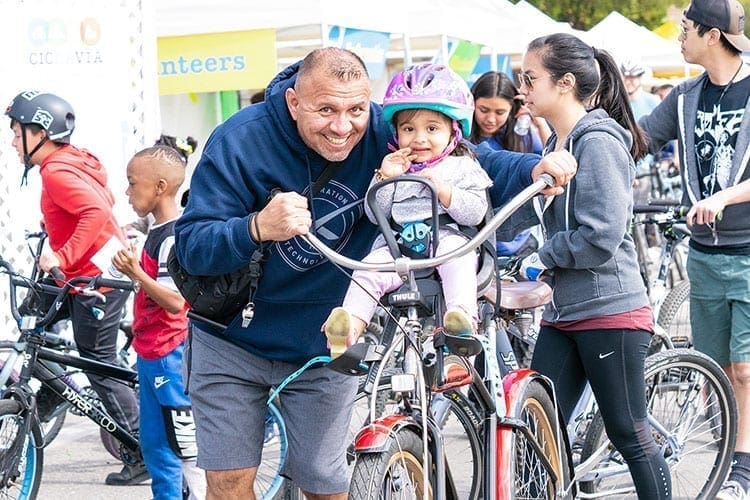 Photo by Farah Sosa
"We are thrilled to share this news with Los Angeles," said Romel Pascual, CicLAvia's executive director. "With the state now open, Angelenos are eager to return to some of the enjoyable and memorable activities and routines we've been missing for the past year, while hopefully maintaining slower streets, outdoor dining and cleaner air. Our mission promotes positivity and safety, and we hope to help instill social confidence and restore comfort to the community."
After CicLAvia had to cancel five events in 2020, the nonprofit shifted its focus to conducting outreach to inform and facilitate small mom-and-pop restaurants to maximize their use of outdoor dining via the City of LA's L.A. Al Fresco Dining program. It also championed safe biking, as well as pedestrian and people-powered activities, encouraging people to safely get out in their neighborhoods for exehttps://www.ciclavia.org/alfrescorcise, fresh air, and respite from being confined to home.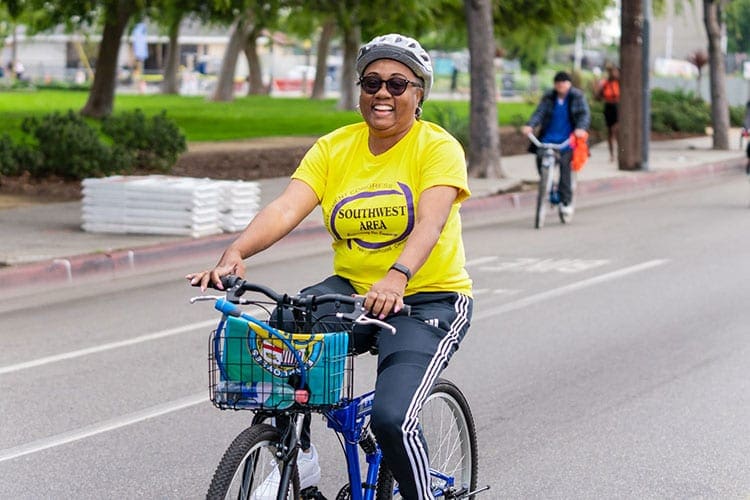 Photo by CicLAvia
"The return of CicLAvia is a bright light as we slowly recover together as a city," said LADOT General Manager Seleta Reynolds. "Our streets and public spaces should be places of joy and connection for communities. There is no event like CicLAvia to make that real for Angelenos."
"CicLAvia is an important component of LA's recovery and the experiences we've collectively shared at CicLAvia reinforces how dynamic, connected and resilient we are as Angelenos," adds Pascual."Please come out and celebrate with us whether it's your 35th CicLAvia, or your first."

"CicLAvia Open Streets Events are Back"
CicLAvia Sundays are back with open streets events for the remainder of 2021. CicLAvia is where joy meets purpose, restoring comfort to the community and reminds us of the value of public spaces for all. CicLAvia reinforces what matters most to us – connection with each other and with our communities. Whether one bikes, walks, strolls, skates, or jogs, we create more incredible moments and experiences enjoying our city streets together. Inspired by Bogotá's weekly ciclovía, CicLAvia temporarily closes streets to car traffic and opens them to Angelenos to use as a public park.
Free for all, CicLAvia connects communities to each other across an expansive city, creating a safe place to bike, walk, skate, roll, and dance through Los Angeles County. CicLAvia is a 501(c)(3) non-profit that catalyzes vibrant public spaces, active transportation, and good health through car-free streets. CicLAvia engages with people to transform our relationship with our communities and with each other.
WHERE and WHEN:
• Wilmington, Sunday, August 15
Heart of LA, Sunday, October 10 (CicLAvia's 11th Anniversary Celebration)
South LA, Sunday, December 5
Visit https://www.ciclavia.org/ for more detailed information.