CicLAvia–Heart of LA
Presented by Metro
~ Returns to Downtown L.A. and Surrounding Neighborhoods ~
Celebrating Over a Decade of Open Streets with
Six Miles of Open Streets
Sunday, October 10, 2021; 9am – 4pm
On Sunday, October 10, from 9 a.m. – 4 p.m., CicLAvia returns to DTLA and surrounding neighborhoods for a birthday event celebrating over a decade of open streets. Presented by Metro, and in partnership with the City of LA, the public will enjoy a six-mile route connecting MacArthur Park, Downtown, Chinatown, and East LA to Mariachi Plaza of open streets at CicLAvia–Heart of LA. Bike, skate, run, walk, skateboard, and spectate; people of all ages and abilities are welcome. CicLAvia is a free, open event – show up anywhere along the route at any time, and have fun!
CicLAvia is back with Sunday open streets events. CicLAvia is where joy meets purpose, restoring comfort to the community and reminds us of the value of public spaces for all. CicLAvia reinforces what matters most to us – connection with each other and with our communities. Whether one bikes, walks, strolls, skates, or jogs, CicLAvia creates more incredible moments and experiences enjoying the city streets together. Inspired by Bogotá's weekly ciclovía, CicLAvia temporarily closes streets to car traffic and opens them to Angelenos to use as a public park.
Looking for a fun way to explore the route? CicLAvia has partnered with Niantic for Pokemon Go and Harry Potter: Wizards Unite apps to discover special in-game locations and explore the local community. Also, be sure to celebrate by visiting CicLAvia's Birthday Dessert Pop-ups at Phoenix Bakery (Chinatown), Uli's Gelato (DTLA), Café Dulce (Little Tokyo), or La Soledad Bakery (MacArthur Park); purchase a special CicLAvia birthday treat at each location to receive a different limited edition CicLAvia button – collect all four!
All Hubs will have restrooms, bike parking brought to you by Amazon, bike repair, free water, food trucks, and first aid. Catch a free pedicab ride at any hub. Pedicab stops are near the info booth at each hub. Metro Bikes will be available on a first-come, first-served basis at existing bike share stations along and near the route.
CicLAvia closely follows LA County Public Health guidelines. Masks are now required on public transit and in all indoor public places in Los Angeles County, as well as at events with over 10,000 attendees. If you forget yours, CicLAvia will have complimentary masks available at the Info Booths – and CicLAvia-branded masks for sale.
For those not fully vaccinated yet, there will be free, drop-in vaccination clinics with both Pfizer (12 and up) and Johnson & Johnson (18 and up) available.
Please read about the Rules of the Route here: https://www.ciclavia.org/ciclavia-safety. Reminder: wear a helmet when you're riding a bike, skateboard, or skates – and if you're under 18, it's the law. The CHP booth at the Mariachi Plaza Hub will be giving out free helmets to anyone under 18, while supplies last.
CicLAvia-Heart of LA Highlights:
MacArthur Park Hub – Visit the L.A. Zoo, REI, and Spin Booths, along with Shared Harvest Fund who will be hosting a free drop-in Covid-19 vaccine clinic.
Civic Center Hub – Check out the custom CicLAvia '10/10: Celebrate the Streets' art installation. It's a mobile, modular interactive collage installation, celebrating LA's biggest "block party," and featuring neighborhoods from past routes, created by Designing in Color (DCo). Sign up for a free LA Public Library Card and enjoy strolling puppeteers from Bob Baker Marionette Theatre.
Chinatown Hub – Visit the LACMA booth to learn about the Obama Portraits Tour and Black American Portraits exhibitions and pick up an art kit. Visit the LA Phil booth. The Chinatown Business Improvement District offers ping pong and other games and encourages attendees to visit the many Chinatown local eateries.
Mariachi Plaza Hub – Visit the Boyle Heights Community Market for lunch and fresh produce as well as Musical performances at the Bandshell. Be sure to stop at the Las Fotos Project photo booth. There will be another free drop-in Covid-19 vaccination clinic and CHP will provide free helmets to those who are 18 years old and under, while supplies last.
Free for all, CicLAvia connects communities to each other across an expansive city, creating a safe place to bike, walk, skate, roll, and dance through Los Angeles County. CicLAvia is a 501(c)(3) non-profit that catalyzes vibrant public spaces, active transportation, and good health through car-free streets. CicLAvia engages with people to transform our relationship with our communities and with each other.
CicLAvia-Heart of LA, Sunday, October 10; celebrating a decade of open streets in Los Angeles
CicLAvia is a free, open event – show up anywhere along our route at any time, and have fun!
Street Route: MacArthur Park Hub via W 7th St to Broadway–DTLA Civic Center Hub; to N Broadway to Chinatown Hub; and W 1st St to Central Ave to E 4th St to Boyle Ave to E 1st St, Mariachi Plaza Hub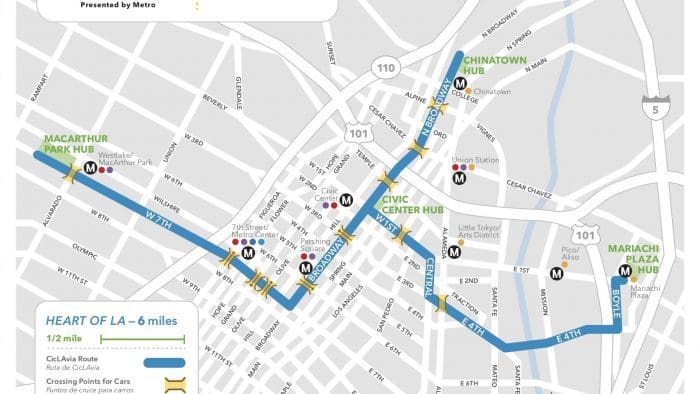 Visit https://www.ciclavia.org/heart_of_la21 or https://www.ciclavia.org/ for more detailed information.
This page contains affiliate links, where we get a commission if you decide to make a purchase through the links(at no cost to you) and helps support the site. As an Amazon Associate, we earn from qualifying purchases.