Another Exciting Day of Car-Free Streets
Connecting the Neighborhoods of South Central, Exposition Park, Leimert Park and Crenshaw

December 5, 2021; 9am-3pm
On Sunday, December 5, CicLAvia will open up 5.5-miles of streets in South LA connecting the neighborhoods of South Central, Exposition Park, Leimert Park and Crenshaw. For all ages and abilities, the public is invited to bike, skate, scooter, run, walk, skateboard, hitch a ride on a pedi-cab, spectate and enjoy the route. CicLAvia is a free, open event – show up anywhere along the route at any time, and have fun!
CicLAvia is where joy meets purpose, restoring comfort to the community and reminds us of the value of public spaces for all. CicLAvia reinforces what matters most to us – connection with each other and with our communities. Whether one bikes, walks, strolls, skates, or jogs, we create more incredible moments and experiences enjoying our city streets together. Inspired by Bogotá's weekly ciclovía, CicLAvia temporarily closes streets to car traffic and opens them to Angelenos to use as a public park.
Only people-powered vehicles are allowed. No electric scooters, skateboards, hoverboards, unicycles, motorcycles and other non-people-powered vehicles are allowed at CicLAvia. Class 1 e-bike pedal-assist allowed. Class 2 e-bikes are allowed when the throttle is powered off. Class 3 e-bikes are allowed when pedal-assist is powered off. Motorized wheelchairs are allowed. Learn more here.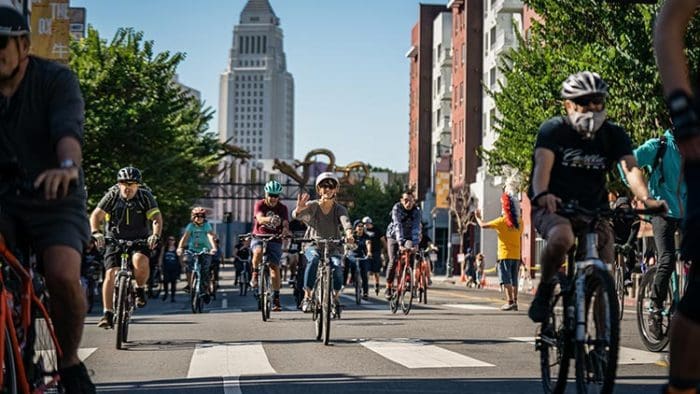 Photo by Jon Endow
CiCLavia is closely following LA County Public Health guidelines as we approach the event. Masks are now required on public transit and in all indoor public places in Los Angeles County, as well as at events with over 10,000 attendees. If you forget your mask, they will have complimentary masks available at our Info Booths and CicLAvia branded masks for sale if you want to add one to your collection.
Participants assume all known and unknown risks of participation in CicLAvia. More information regarding participants rights can be found here: ciclavia.org/south_la21
Free for all, CicLAvia connects communities to each other across an expansive city, creating a safe place to bike, walk, skate, roll, and dance through Los Angeles County. CicLAvia is a 501(c)(3) non-profit that catalyzes vibrant public spaces, active transportation, and good health through car-free streets. CicLAvia engages with people to transform our relationship with our communities and with each other.
• CicLAvia-South LA; Sunday, December 5, 2021 – Route details to follow shortly
MORE INFORMATION
Please visit ciclavia.org/south_la21 for more detailed information.
Top photo by Laura Rudich
This page contains affiliate links, where we get a commission if you decide to make a purchase through the links(at no cost to you) and helps support the site. As an Amazon Associate, we earn from qualifying purchases.