For many of us, cycling is becoming an even bigger part of our lives. This is down to a number of different reasons. One of these is because it is a great, and fairly cheap way of getting around our local neighbourhoods quickly. When the weather is nice, there are few things better than hopping on your bike, securing your helmet, and heading off onto the open road.
Then there are the environmentalists out there, who see cycling as the sustainable mode of transport and look to use their bikes for all journeys when possible, to avoid the use of cars, buses and taxis, to help protect the environment. It is a noble cause, and with many cities introducing additional cycle lanes, hopefully, more and more people will take it up.
Of course, there are the people who love cycling as they see it as a way of keeping fit. Many people, especially those who are a bit older and with some disposable income, can spend thousands of dollars on the latest cycling equipment, so they can show off to their cycling club when they meet up each week. They are usually clad head to toe in lycra and have carbon fibre bikes that probably cost more than the average car.
Not only is it a hobby and obsession, but the sport of cycling is becoming more and more popular. At the recent Tokyo Olympics, there were many different cycling events, both on the road and on the velodrome. Cycling fans were treated to the likes of Laura Kenny winning a gold medal in the women's Madison, making her the first British woman to win golds at three consecutive Olympic games. Meanwhile, in the men's road race, Richard Carapaz caused a major upset by winning gold, ahead of much more fancied riders such as Wout van Aert and Tadej Pogacar. Fans of cycling who also look for sports odds will be smart to keep an eye out for Carapaz's name at the next big cycling events.
Speaking of which, what are the big cycling events that we have to look forward to in 2022? Hopefully, we will have a jam-packed calendar, and that no more events are postponed or cancelled due to the coronavirus pandemic. Let's take a look at a few of the highlights that are coming up in the next 12 months.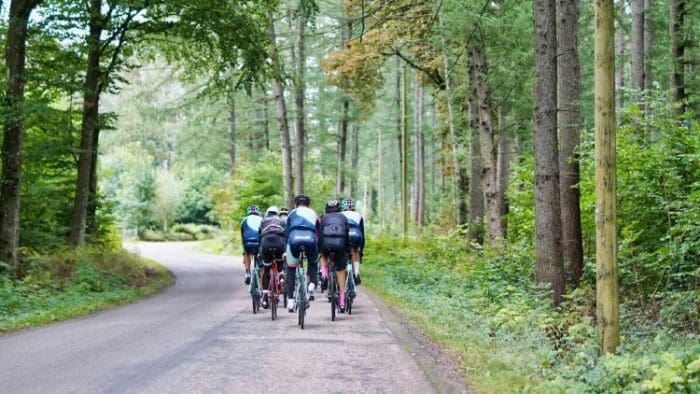 Tour de France could be the most competitive yet
Where better place to start than the biggest cycling event in the world, and one of the best-supported sporting events throughout the globe, the Tour de France. The 2022 Tour de France has 21 stages, which range from individual time trials, flat stages to mountain stages. To win, a rider has to be adept at all of the different types of stage, but have a great team around them too, as, without support from teammates, it is likely that they'll make it through the Tour unscathed.
Tadej Pogacar, who finished third in the men's road race at the Olympics, is the current general classification champion, having won both the 2020 and the 2021 editions. Will he be able to fend off the likes of Chris Froome and Geraint Thomas to claim a third victory in 2022? Few would bet against him at this stage.
Let's not forget Mark Cavendish, a sprinter who rides for Deceuninck-Quick-Step. A former green jersey winner, he only made it onto the 2021 Tour at the last minute, replacing an injured teammate. He then went on to perform incredibly well, winning 4 stages, earning him his second green jersey, and drawing level with Eddy Merckx as the man with the most stage wins in the history of the competition.
Other Grand Tour events should be equally thrilling
Another top cycling event is the Giro d'Italia, which in 2022 is taking place during the month of May. The Ineos Grenadiers have dominated the tournament in the last two years, with British rider Tao Geoghegan Hart winning in 2020, whilst his Colombian teammate Egan Bernal tasted victory in the most recent event. Given their wealth and experience in the cycling world, we wouldn't be surprised to see an Ineos rider cycle off with the trophy again in 2022.
We also have the La Vuelta a Espana to look forward to, which usually takes place in August/September. It is another endurance event, with 21 stages spread over 3 gruelling weeks. For the 2022 edition, we expect another strong performance from the Slovenian rider Primoz Roglic, who has won the last 3 events. A member of Team Jumbo-Visma, Roglic seems to be able to navigate his way around the Spanish countryside better than anyone else. He will be hoping to add a fourth title, as this would mean he would be joint top in the overall winners, alongside the Spanish rider Roberto Heras, who also has four wins in the competition.
This page contains affiliate links, where we get a commission if you decide to make a purchase through the links(at no cost to you) and helps support the site. As an Amazon Associate, we earn from qualifying purchases.