Will cycling ever be a mainstream professional sport in the United States? It's a fascinating question.
Sure, every sports fan seems to show some level of interest in huge races, such as the Tour de France. But cycling overall is not absurdly popular within the U.S. When states like Ohio and New York make pushes to legalize sports betting, they aren't doing so with the revenue they'll generate from cycling wagers in mind. Everything is marketed toward football, basketball, hockey, baseball, etc.
And yet, the lack of mainstream popularity for cycling doesn't matter much. Because while it's not the most celebrated professional sport within the states, it is one enjoyed by many amateur riders.
Some do it for exercise. Others do it for the scenery they get to take in. Certain riders enjoy the thrill and difficulty involved in the sport.
Whatever the motivation, there is a large subgenre of sports fans who take up cycling and challenge themselves by exploring the most riveting, if not outright difficult, courses around. And to celebrate these loyal riders, we've compiled a list of the toughest cycling climbs around the world—a compilation that can be appreciated by amateurs, pros and leisure riders alike.
Mont Ventoux, French Alps
At first glance, Mont Ventoux isn't overly intimidating. The terrain is relatively flat, and the climb itself checks in at a hair under 6,600 feet.
But then you start digging into the details.
And then you get smacked in the face, almost literally, by the riding conditions.
Winds at Mont Ventoux are known to exceed 200 miles per hour at their absolute highest—dangerous circumstances that have claimed the lives of even some pro riders throughout history.
Rila, Bulgaria
This climb starts nearly 900 feet above sea level and then has riders journey all the way up past 8,200 feet above sea level over a distance of about 9.3 miles.
On the bright side? The surrounding scenery throughout Rila is among the most gorgeous around.
On the not so bright side? The gradient throughout the course, which represents the magnitude of changes in the climbing scale, can rise as high as 20 percent in certain locations.
Needless to say, this climb is not for the faint of heart.
Alto De Letras, Columbia
Get ready to push your lungs to the limits if you're riding the Alto De Letras in Columbia. The top of this climb will leave you more than 12,100 feet above sea level.
Though this is not exactly confirmed, many believe that this might be the longest uphill trek in the world. It's not hard to see why. There is a stretch in which you're on a continuous climb for over 50 miles.
Riders will find solace in the intermittent downhill bursts. But these are short-lived relative to the length of the climb, and the sheer amount of ground you're required to cover has made it so very few cyclists actually make it to the top.
Hardknott Pass, United Kingdom
Give Hardknott Pass a cursory overview, and you might not be so intimidated. The entire climb is fewer than two miles long.
Don't let the brief distance fool you. This climb is still unfathomably difficult.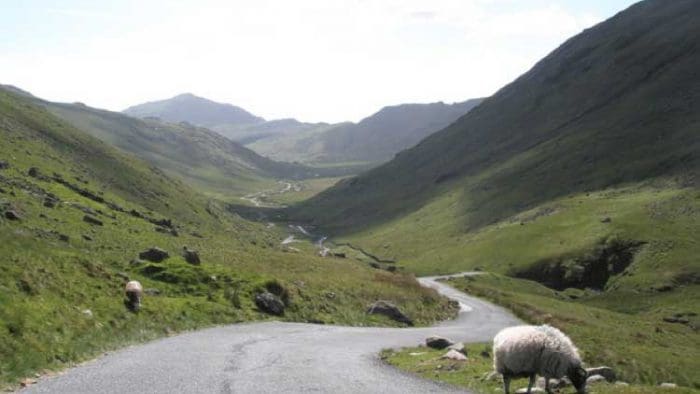 "The Hardknott Pass" by Geography Britain and Ireland is licensed under CC BY 2.0
It is continuous and steep, with a gradient that maxes out above 33 percent in certain areas.
Just to put the steepness of this climb in perspective, most riders believe that if you can complete Hardknott Pass, you'll be able to finish just about any other course in the world.
Stelvio Pass, Italian Alps
Ready to tackle a nearly 10,000-foot climb that boasts more than seventy thread-the-needle turns? Well, then the Stelvio Pass may be for you.
Not only is the climb long, but it sports one of the highest gradients around—albeit with a peak lower than Hardknott Pass.
Complicating matters even further, the mountains spend a huge chunk of the year covered in snow and ice, making it virtually impossible for anyone other than the most skilled riders to complete the climb. And heck, most pros won't even touch the Stelvio Pass unless they can be promised relatively perfect conditions. It's easy to understand why.
Top Photo – "Mont Ventoux" by Pixabay is licensed under CC BY 3.0
This page contains affiliate links, where we get a commission if you decide to make a purchase through the links(at no cost to you) and helps support the site. As an Amazon Associate, we earn from qualifying purchases.