Cycling is one of those unique hobbies that combines athleticism, adventure, and a few scenic views. From mountain roads to grassy hills, cycling is just as calming for the mind as it is beneficial for the body.
Places with natural splendor and good weather, like California, tend to be home to more cyclists. But the Golden State is also unique in its approach to the environment. Compared to other US states, Californians are more interested in environmental initiatives, from preservation to clean energy.
Typically, these types of projects come around during the Earth Day celebrations on April 22, when companies from around the world dive into unique conservation projects. Inevitably, bike lines are a talking point for meetings that focus on environmental protection. Luckily for Californians, north and south, locals are typically interested in an eco-friendly lifestyle, which has seen the state construct more bike lanes than neighbors around the continent.
Most of California has weather that's fit for cycling all year long. In Southern California, popular routes include the Santa Monica Mountains, Glendora Road, and the Donut loop. Up north, the range of bike trails tends to differ, as the environment is cooler, hillier, and more forested.
But that's not the only difference. Like all other things Californian, there are major cultural differences between cyclists from SoCal and NorCal.
The SoCal Story: Olympic Gold Medals
Earlier this year, professional cyclist Jennifer Valente from San Diego won her first-ever gold Olympic medal. She was the first female competitor to take home the title for the US—and she spent her most formative years training in San Diego, taking free classes at the San Diego Velodrome.
As such, Valente calls the San Diego Velodrome her "home track". As her admiration and love for the sport grew, she started cycling competitively a few years later. This led her to the Olympics for the first time back in 2016, when she took home a silver medal.
In total, the women's US cycling team has three Olympic medals in various cycling categories including road, mountain, and BMX. Previous to that, athlete Lance Armstrong (from Texas, not Southern California) was known for bringing home many medals.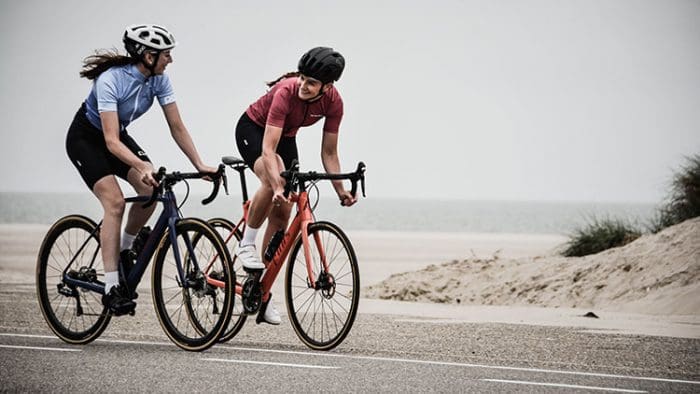 Photo by Coen van de Broek on Unsplash
Santa Cruz Soul & LA Events
Within SoCal biking culture, Santa Cruz stands out for its elevated offerings. In fact, there's an annual event called Santa Cruz Ride Out where thousands of cycling enthusiasts come together. It's not just endurance or commute cyclists who join, but BMXers, as well, who perform tricks.
Santa Cruz has been dubbed an idyllic location with its coastal trails and forest paths. It's also a place where many go to stock up on their cycling gear and fashionable cycling clothing.
Similarly, cycling events happen on a daily basis in LA. It's a hotspot for tourists who like to experience the city via bike. There are several organizations that are dedicated to promoting cycling culture in LA, specifically.
For example, Los Angeles Wheelmen, one of the oldest cycling clubs in the area, allows members from all over the world to join. Though it's accessible for all skill levels, it tends to be more popular among advanced cyclists. Another club, Midnight Ridazz, organizes cycling events at night where riders can enjoy LA architecture and city lights.
NorCal: Moving on Wheels
Earlier this year, pedestrians and cyclists enjoyed a car-free San Francisco. Rollerbladers, skateboarders, and cyclists all took to the streets to enjoy some of San Francisco's classic sites such as the Golden Gate Bridge, Twin Peaks, and the Hawk Hill loop.
According to cyclist Jackie Loza, San Francisco is largely popular for long-distance cyclists. For example, the Christmas Ride is an annual 6-day long bike tour. Similarly, Oakland has become a popular urban cycling destination.
Cyclists typically begin their tour from the city and branch out towards the outskirts. For beginners, the route is often flat with very little traffic. Oakland also has a prominent bike-oriented movement and culture, such as the Riding for Peace and Justice and Critical Mass.
Finally, the big city of San Jose is known to be bike-friendly. In fact, it got a bronze award for its bike accessibility by the League of American Bicyclists. Though the bike routes are not plentiful, cyclists can still enjoy some site seeing tours.
Photo by Viktor Bystrov on Unsplash
This page contains affiliate links, where we get a commission if you decide to make a purchase through the links(at no cost to you) and helps support the site. As an Amazon Associate, we earn from qualifying purchases.