On Sunday, July 10, in partnership with the Los Angeles Department of Transporation (LADOT), CicLAvia will open up 3 miles of Western Avenue, from Exposition Blvd. to Florence Avenue, so that the neighborhoods of Vermont Square, Harvard Park, Chesterfield Square and Exposition Park, and King Estates can experience the joy of safe, people-powered transportation on car-free open streets. For all ages and abilities, the public is invited to bike, skate, scooter, run, walk, skateboard, hitch a free ride on a pedi-cab, spectate and enjoy the open streets route. CicLAvia is free. Show up anywhere along the route at any time and have fun!
CicLAvia turns public streets into public parks for a day. Instead of building permanent infrastructure, CicLAvia builds unifying social fabric, joyously connecting culturally diverse neighborhoods and neighbors to each other through open streets. Whether one bikes, walks, strolls, skates, or jogs, CicLAvia creates more incredible moments and experiences enjoying our city streets together. Inspired by Bogotá's weekly ciclovía, CicLAvia temporarily closes streets to car traffic and opens them to Angelenos to use as a public park.
Only people-powered vehicles allowed. No electric scooters, skateboards, hoverboards, unicycles, motorcycles and other non-people-powered vehicles allowed at CicLAvia. Class 1 e-bike pedal-assist allowed. Class 2 e-bikes allowed when throttle is powered off. Class 3 e-bikes allowed when pedal-assist is powered off. Motorized wheelchairs are allowed. Learn more here.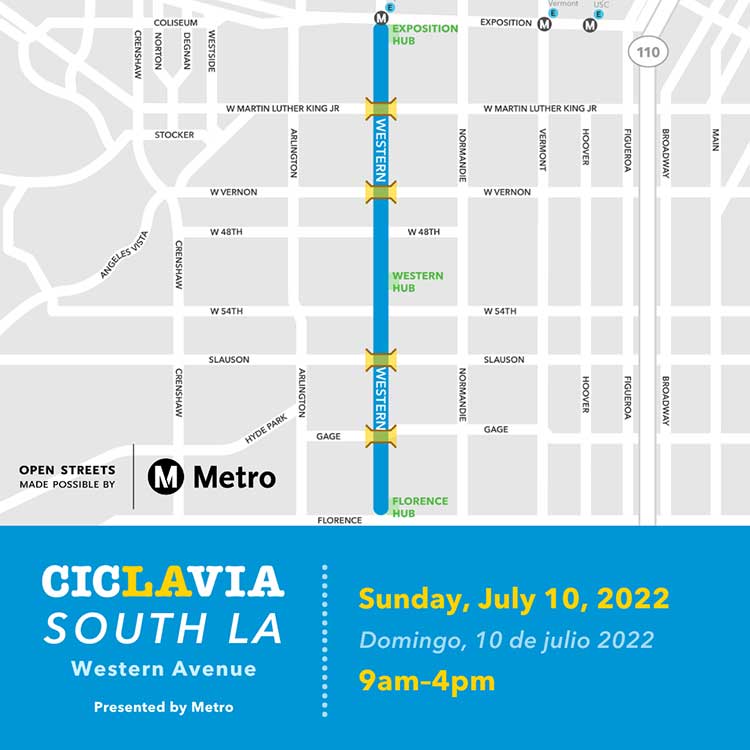 CicLAvia is planning three additional open streets Sundays in 2022:
CicLAvia-Meet the Hollywoods on August 21
CicLAvia-Heart of LA on October 9
CicLAvia-South LA on December 4
Participants assume all known and unknown risks of participation in CicLAvia. More information regarding participants rights can be found here: https://www.ciclavia.org/south_la22
Free for all, CicLAvia connects communities to each other across an expansive city, creating a safe place to bike, walk, skate, roll, and dance through Los Angeles County. CicLAvia is a 501(c)(3) non-profit that catalyzes vibrant public spaces, active transportation, and good health through car-free streets. CicLAvia engages with people to transform our relationship with our communities and with each other.
Details:
• CicLAvia-Western; Sunday, July 10, 2022; 9:00 a.m.- 4:00 p.m. – The Western Avenue 3-mile open streets route connects the neighborhoods of Vermont Square, Harvard Park, Chesterfield Square, Exposition Park, and King Estates, between Exposition Blvd. to the north and Florence Avenue to the south.
MORE INFORMATION:
Visit https://www.ciclavia.org/south_la22 for more detailed information
This page contains affiliate links, where we get a commission if you decide to make a purchase through the links(at no cost to you) and helps support the site. As an Amazon Associate, we earn from qualifying purchases.